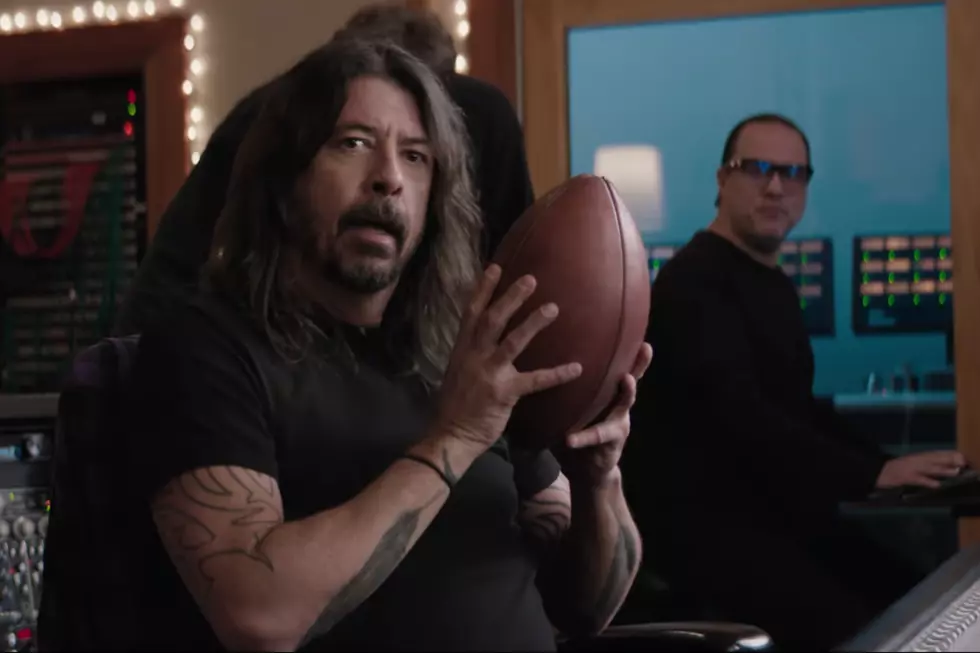 Dave Grohl Gives Thanks to Canada in Crown Royal Super Bowl Ad
YouTube
Dave Grohl gives thanks to America's northern neighbor in a new commercial for Crown Royal, airing during the Super Bowl.
"Today, let's thank Canada," the Foo Fighters frontman begins in the spot before thanking the Great White North for "legends of music" as records displaying Rush, Joni Mitchell, Oscar Peterson and Celine Dion flash on screen. Grohl then proceeds to thank Canada for a wide range of things, ranging from "heroes of comedy" (including Martin Short and Seth Rogen), to peanut butter, the ironing board, the paint roller, the egg carton and the battery. The head Foo even drives his gratitude train towards sports, thanking Canada for hockey, basketball and football.
Watch Grohl's Crown Royal commercial below.
The full Super Bowl spot continues the theme from teaser ads released last month. In one clip, Grohl was seen rattling off a list of seemingly disconnected objects, all of which were born in the Great White North.
"Peanut butter? What?" he asked incredulously. "The walkie? The paint roller? The battery? No. Trash bags? The replay? No way. The egg carton? ... Electric wheelchair? ... Hawaiian pizza?"
In another 15-second teaser, Grohl could be seen delivering a simple "thank you" into the microphone with a number of different voice inflections. Meanwhile, a newer two-minute long spot features Grohl in a studio control room, guiding guitarist Donna Grantis through a shredding rendition of "O Canada."
Grohl is certainly no stranger to Crown Royal, having listed it on Foo Fighters' tour rider for years.
"Our dressing rooms are always filled with friends," Grohl told Blink-182's Mark Hoppus on his After School Radio podcast. "You haven't seen everyone in a long time, and you're doing shots of Crown Royal, and you're like, 'Yay!' And everyone's like… taking pictures with each other. And it's like a reunion every night."
Grohl also made sure to bring along a bottle of Crown Royal to his 2022 appearance on the Hot Ones YouTube series, toasting another band with a fondness for the beverage: Pantera.
"Now, I don't know if you know about Pantera, but they're the most wicked heavy metal band of all time," Grohl raved. "And they would do these shots, they call them black tooth grins. And you can make it a few different ways, but it's basically a little bit of Crown, a little bit of Coke ... they go back smooth."
Foo Fighters Albums Ranked
From the one-man-band debut to their sprawling, chart-topping classics, a look at the studio releases by Dave Grohl and band.