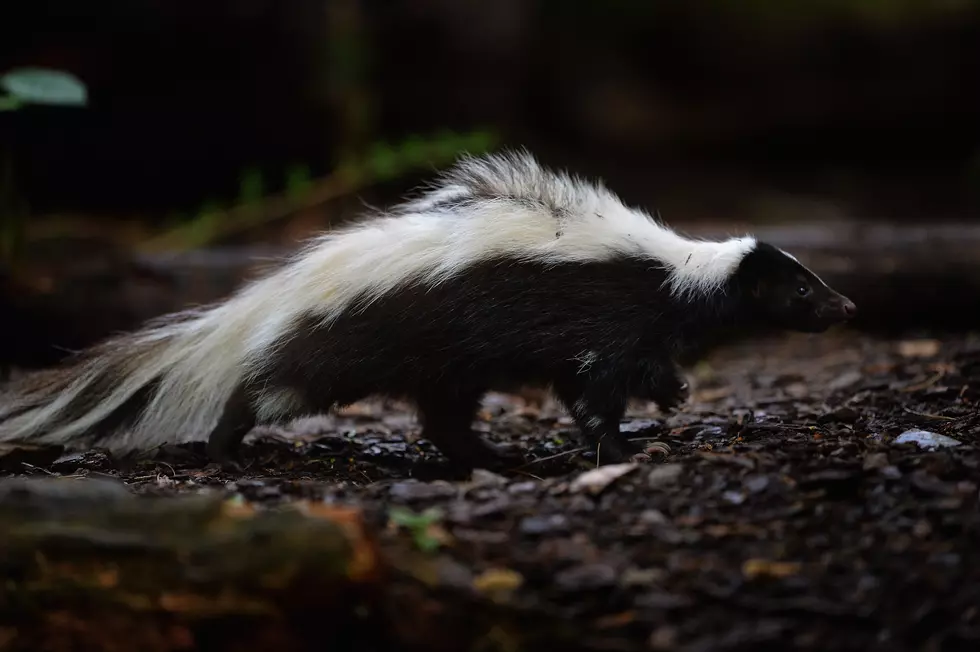 It Was a Bad Night For Skunks in New Preston
Getty Images
I came across a skunk massacre as I was driving into work this morning through New Preston, did you smell it too?
I am one of the thousands of commuters who travel along 202 everyday. My drive is from Torrington to Brookfield. Over the past few weeks, 202 has been freshly paved in between Bantam and New Preston. I love driving on fresh blacktop, but my drive in today was a stinky one.
There were three skunks splattered along that freshly paved stretch of 202 this morning. It was brutal. There's nothing like the hot smell of skunk juice seeping through your vents and assaulting your senses at 4:45AM.
Striped Skunks are common in Connecticut, they're found in residential and urban areas, and can weigh between 6 to 14 lbs. Skunks are primarily nocturnal, they don't hibernate, but they do enter a state of dormancy in the winter. Just before dormancy, they eat more frequently to fatten up. This search for food unfortunately takes them across our roads. Three skunks met their doom last night in New Preston, must be some good foraging behind Rumsey Hall?
But that smell, oh man, it's sickening. Skunks have two musk glands with amiable nipples under their tail. Each gland holds enough liquid for 5-6 sprays, which skunks can spray 10-15 feet away in order to hit their intended target. There's not much you can do to get that smell out of your nose, but if you do get hit by a direct blast, skip the tomato juice. Instead, mix together a quart of hydrogen peroxide, 1/4 cup baking soda, and a squirt of laundry detergent.
The Best Pot Pies That I've Tried Around Connecticut
We all love chicken pot pies, but have you ever tried a clam pot pie? A Seafood pot pie? I love different variations of the classic recipe. Here are my favorite locally-made pot pies around Connecticut.
My Favorite Works of Art in Downtown Torrington (So Far)
I thought Torrington was very similar to Waterbury when I moved to town, I was wrong. One difference is the incredible municipal support of the arts. I find works of art around town all the time, I love it. Here are a few of my favorites, so far.
Lush 'Storybook' House In Connecticut On The Market For $795K
Admit it, you want to live in The Shire. Don't we all? I dream of owning a gorgeous English cottage hidden by the surrounding woods, with gorgeous gardens and huge stone hearths to keep the Connecticut winter at bay. Well, if you have $795,000, you can own a 25 acre fixer upper in Connecticut, it's on the market, take a look inside.