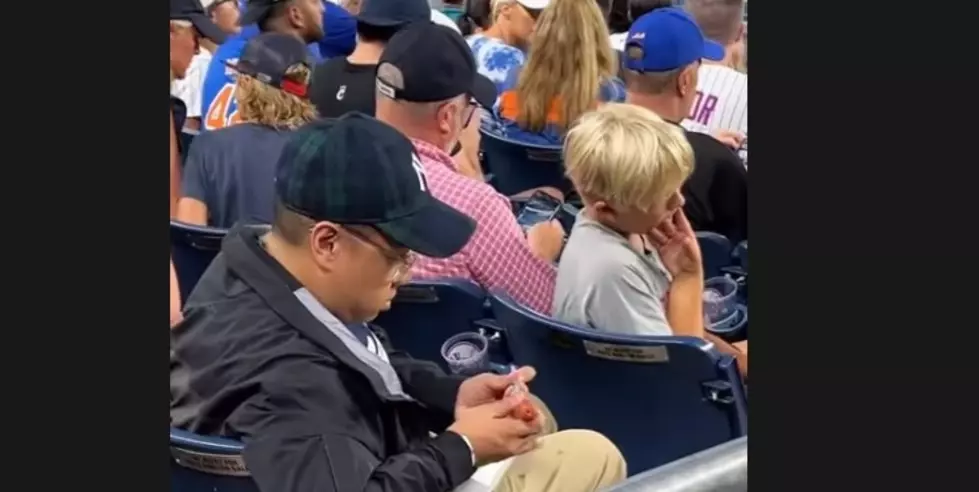 Internet Goes Wild for Yankee Fan That Used Hot Dog as a Beer Straw
Youtube
He's the viral sensation of the week in New York, the Yankees fan who turned a hot dog into a meat straw.
While sitting at Monday's Yankees/Mets game, a man altered the meat-tube so he could use it to drink his beer. The video soon went viral shortly after being posted.
In the video, he can be seen punching a hole through the dog with a straw and then dipping it into his drink. According to the Cheapism Blog, a hot dog and beer at Yankee Stadium will run you $9 total.
The savagery of this move can not be over-stated. I love the ballpark but over the years I've seen some foul behavior and this goes on that list. You might say, "What's the problem? He's not bothering you?"
To that, I'd reply, "he is bothering me, I have to sit here and watch it." You might reply, "you don't have to watch him" and I'd say, "yes I do."
It is 100% one of those things that grabs your attention and won't let go whether you want it to, or not. If a dude is going HAM on a meat straw at the game, there is no way I'm taking my eyes of of that to see Giancarlo Stanton wave at an off-speed pitch, absolutely never.
The vigor that he used when sucking the beer through the meat straw must be noted. It appears that he wants that beer in his belly, more than any man has ever wanted, anything in there life.
P.S. Can we stop bastardizing the Yankee hat, uniform, logo? There is 0 reason to have a plaid Yankee hat made or sold.
Let's watch again, I can't stop.
BTW - The Yankees beat the Mets 4-2 last night. 
9 Memorable Sports Illustrated Swimsuit Covers
7 Pro Baseball Players Who Have Connecticut Ties
4 Athletes Whose Reputations Changed After Their Playing Days
Remember These NFL QBs and Their Contributions?