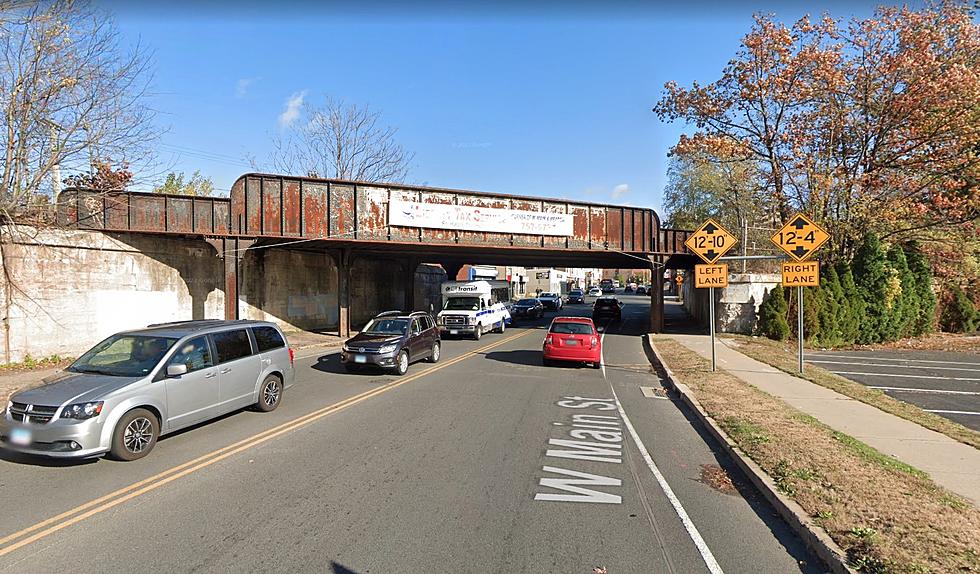 If Your Vehicle is Over 12 Feet Tall, Please Avoid Waterbury
Google
For the love of God Waterbury, something has got to give. How many destroyed oversized vehicles does it take to address the low train tracks underpasses on West Main Street and Bank Street?
It funny for a lot of fellow members of the Waterbury Talks Facebook group, it's almost become a weekly thing, right? It happened again this morning, an oversized vehicle tried to go underneath the West Main Street railroad overpass early this morning, and ripped the hell out of the top of their vehicle, and closing a portion of West Main Street again during the Thursday morning rush.
You can clearly see in the Google photo above, the right lane going East on West Main Street has twelve feet and 4 inches of clearance, while the Westbound lane has twelve feet and 10 inches of clearance. Do we need to focus Klieg lights on those signs? I know that most are distracted by the smell from KFC, or the characters hanging out in front of Walgreens and Top Shelf in the plaza there, but can the city install a couple of those blinding LED flashing displays instead? Maybe an electronic message board with "Check your vehicle height before proceeding, or you'll wreck yourself"
The Bank Street underpass' height restriction falls between the two West Main Streets, it's only twelve feet and seven inches.
I understand that this is a problem that's dragged on in Waterbury for decades. What we would think of in terms of simple solutions truly aren't, the city can't mill the street down into a dip, and obviously raising the train tracks would have been done by now if that was any kind of solution. Keep enjoying those crunches Brooklyn.
Waterbury: Before and After Dollar General
Over the past decade, 6 Dollar General locations have opened around Waterbury. When the Fairfield Avenue in Town Plot store was built, it blew my mind. I never thought a full retail store would be built there. Do you remember what the neighborhood looked like before?
10 of the Best Places in Connecticut to Enjoy a Juicy Hot Dog
Food Truck Festivals Will Take Over Connecticut This Summer
We've finally figured out that the easiest way to attract a walk-up crowd to your event is hire a few food trucks. The Food Truck Festival circuit is hot for the Summer of 2023 Connecticut, here is a month-by-month breakdown of upcoming events.