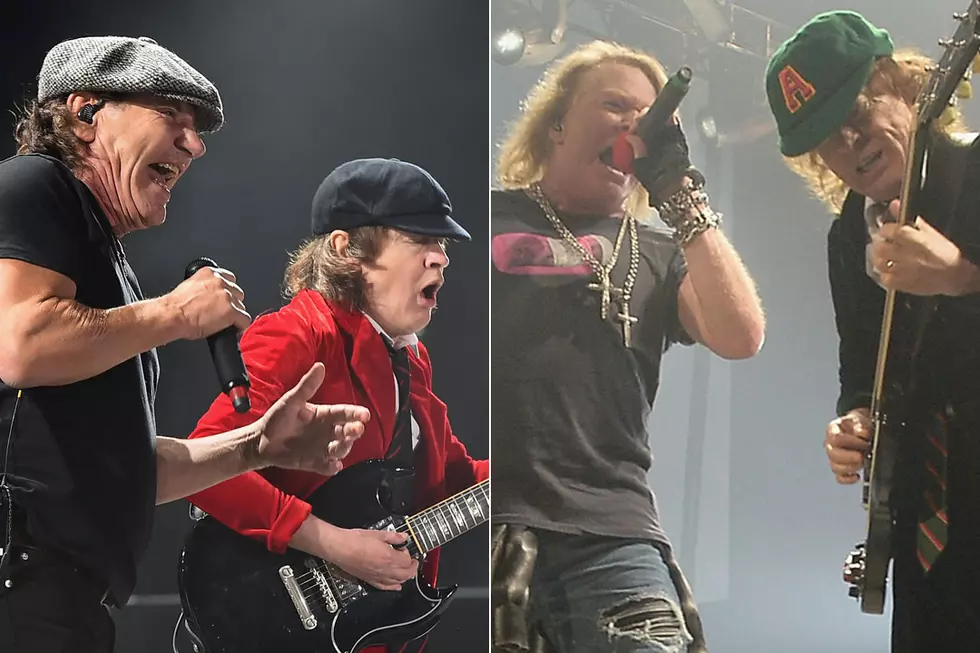 Has AC/DC Made The Right Decision By Going On Without Brian Johnson? [POLL]
Kevin Winter / Gustavo Caballero, Getty Images
The day April 19th had probably been one that Brian Johnson remembered very fondly for a long time. Unfortunately, that day has now turned into a bittersweet one. After 36 years with the band he is now being replaced by Guns 'N' Roses singer Axl Rose.
It was on April 19th, 1980 that Brian, then a 32-year old struggling singer, landed the gig of a lifetime. He was officially announced as the new lead singer of AC/DC. At the time the band was hot off the heels of 1979's "Highway to Hell" album when their high-profile singer Bon Scott died unexpectedly. For the surviving members of the band finding a new singer was a no-brainer. They were young, they had the wind at their backs. The future was bright.
Now here we are almost exactly 36 years to the day later and the band has made the same decision, at least for the time being. As of now Axl Rose will front the band during the final 12 shows of their "Rock Or Bust" tour. Beyond that, there have been no guarantees regarding Brian Johnson's position in the band. I guess they really meant it when they proclaimed "Rock Or Bust". They are going to rock on no matter what. But is it the right decision?
Let's first look at the primary reason which supports the band's decision - Money. It is likely that there are legal liability issues here. The band signed contracts, they promised to perform these shows and there is a boat load of money on the line. The odds are that if AC/DC cancels these shows they face lawsuits by the promoters, the venues, etc. Money Talks indeed.
Now let's look at the argument against this decision - Loyalty. Let's face it, this is not the same situation that the band was in 36 years ago. At that time they still had many years ahead of them. It would have been a shame for them to stop. This time, however, the remaining band members are now in their 60s, their founding member Malcolm Young is no longer in the lineup due to his own health issues.
With Brian Johnson stating that he is "personally crushed" that he cannot perform is it really worth replacing him? Maybe a display of solidarity would be a better way to end the band's career than doing this. This current situation has a bit of a circus-like atmosphere in my opinion.
If I am one of those AC/DC fans who already bought a ticket I'm disappointed. Don't get me wrong, I am an Axl fan but this just isn't AC/DC. It was hard enough knowing Malcolm Young wasn't going to be there but at least they were able to keep it in the family by having Malcolm's nephew Stevie fill his shoes. Replacing Brian Johnson with Axl Rose? It just doesn't feel right. I'd rather just get a refund thank you.
Aside from the fact that Brian Johnson is one of the all-time greatest singers in hard rock history, he has always come off as a super nice, down-to-Earth guy who has done nothing but sing the praises of AC/DC and Bon Scott since the day he joined the band. He deserves better.
He certainly deserves more than just a somewhat callous press release by the band this week stating that they "wish him all the best with his hearing issues and future ventures". Really? Adding insult to injury the band also considered using a an AC/DC tribute band singer to replace Brian. So now he has been relegated to just an interchangeable part? The guy has been with the band for 36 years.
So to you Brian Johnson I say this: You helped me rock for many years and I salute YOU.
What do you think? Vote now and give us your thoughts in the comments section below.
You can listen to Eric Senich live on Saturdays from 10am to 3pm on 95.1 FM. You can also listen online by clicking here or by downloading the radioPup app for your mobile device.