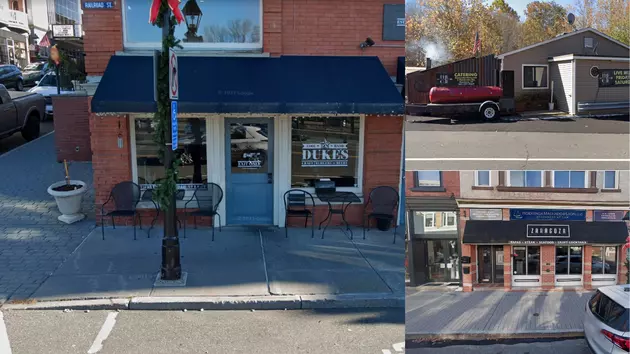 Doors Close in New Milford, But Here Comes The Brisket
Google
Wow Bank Street Group, you move fast. I saw the news on social media groups over the weekend that a couple of popular restaurants in New Milford had suddenly completely shut down. Fear Not New Milford, if you were sick of tapas, brisket is on the way by the end of the Summer.
Zaragoza, Cool Hand Duke's, and Duke's Tavern, located on Bank Street and Railroad Street in New Milford, are gone. Duke's Tavern had only recently opened at 59 Bank Street in April. Cool Hand Duke's was at 30 Railroad Street since 2018, and Zaragoza at 31 Bank Street opened in 2016. All were owned by the recently-formed Duke's Hospitality Group. Signs that were posted on the doors of the restaurants made their way to social media, and they included a form of 'stay tuned, something is coming soon'. Now we know what's coming.
We talked to the Mayor of New Milford Pete Bass this morning, and when we asked about Zaragoza and Duke's closing he told us:
"I was speaking with The Bank Street Group, and they were looking to bring in some new restauranteurs, and The Cue happens to be one of them. I'm very excited for them to be moving into downtown New Milford. To have them (The Cue), which has done so well at their other location (Pembroke Road - Danbury) come to such a highly visible Bank Street location, it's great"
The location that will become The Cue - New Milford at 59 Bank, and 30 Railroad Street.
According to Bank Street Group, the change is coming, and The Cue's second location should be open this Summer. As far as the former Zaragoza goes? Stay tuned.
The Connecticut Malls That Really Don't Bring Joy Anymore
Even in this Amazon age, I still love cruising the malls of Connecticut. I've always loved Danbury Fair and Westfarms, but lately I've found that most of them are so sparse, they're depressing, especially these.
7 Things Most CT Residents Will Never Get to Experience
Connecticut is a special ecosystem with it's own rules and behavior. While many of our customs are the same as the rest of the country, some things just never caught on in the Constitution State. Here are 8 Things Most CT Residents Will Never Get to Experience
Danbury to NYC: 25 Unforgettable Stops Along the Way
Embarking on a scenic drive from Danbury to New York is an exciting journey through beautiful landscapes and charming towns. You'll find many hidden gems, historical sites, and natural wonders along the way. Get ready for an unforgettable road trip as we share 25 captivating places to stop, turning this drive into an adventure of its own.