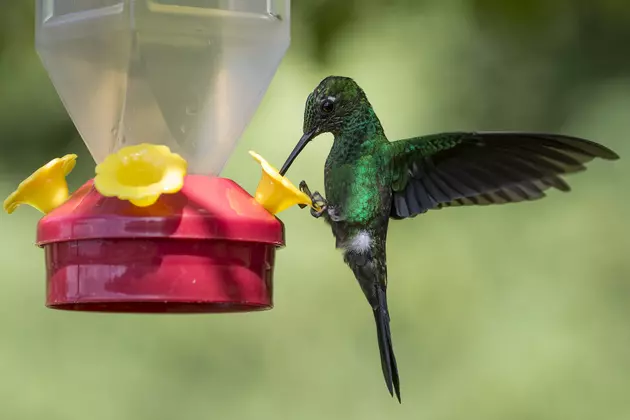 Connecticut is Experiencing Extreme Hummingbird Anticipation
Getty Images
It started in March, I noticed fellow animal-loving friends sharing the photo and story of the little dead hummingbird that passed because one of you DIDN'T USE WHITE SUGAR. Sorry, I felt bad for the poor little fella too, and I wanted to reiterate. Anyway, Damn Connecticut, you sure are anticipating their arrival this year as much as I am.
Everywhere on Connecticut social media these past few weeks, this question - Have you seen any hummingbirds in Connecticut yet? The answer that I've seen most frequently is "Nope". But, I'm starting to read a few solo appearances in Western and Southern Connecticut.
There are 6 Hummingbird species found in Connecticut according to Beautyofbirds.com. The Rubythroated Hummingbird are most common, they're classified as natives, and usually arrive in early May. Broad-billed Hummingbirds may wander into Connecticut between July and December. Only one Calliope Hummingbird has ever been found in Connecticut, in 2006. The Rufous Hummingbirds is a rare visitor, as are the White-eared Hummingbirds.
All of my neighbors at our apartment complex in Waterbury bought hummingbird feeders at the onset of the lockdown in 2020. I spent the next two months watching and waiting every day for their incredibly fast movements, I found it to be so soothing. All of my neighbors used the standard red and yellow plastic feeder, but if you have the land and love, Audubon.org suggests that you plant trumpet honeysuckle, bee balm, hummingbird sage, and minimize the use of pesticides.
I don't know, it's been pretty cold on the overnight the past few days, those two days in the 90's got us all in a state of extreme hummingbird anticipation.
Rt. 202 Should Be Known As The Pretzel Trail in Connecticut
Between New Milford and Canton on Rt. 202, there are 3 different pretzel masters, each with a unique pretzel product. I will be the first to call 202 the Connecticut Pretzel Trail
Check Out These Extremely Fun Upcoming 'Adult Only' Events in Connecticut....
Food Truck Festivals Will Take Over Connecticut This Summer
We've finally figured out that the easiest way to attract a walk-up crowd to your event is hire a few food trucks. The Food Truck Festival circuit is hot for the Summer of 2023 Connecticut, here is a month-by-month breakdown of upcoming events.