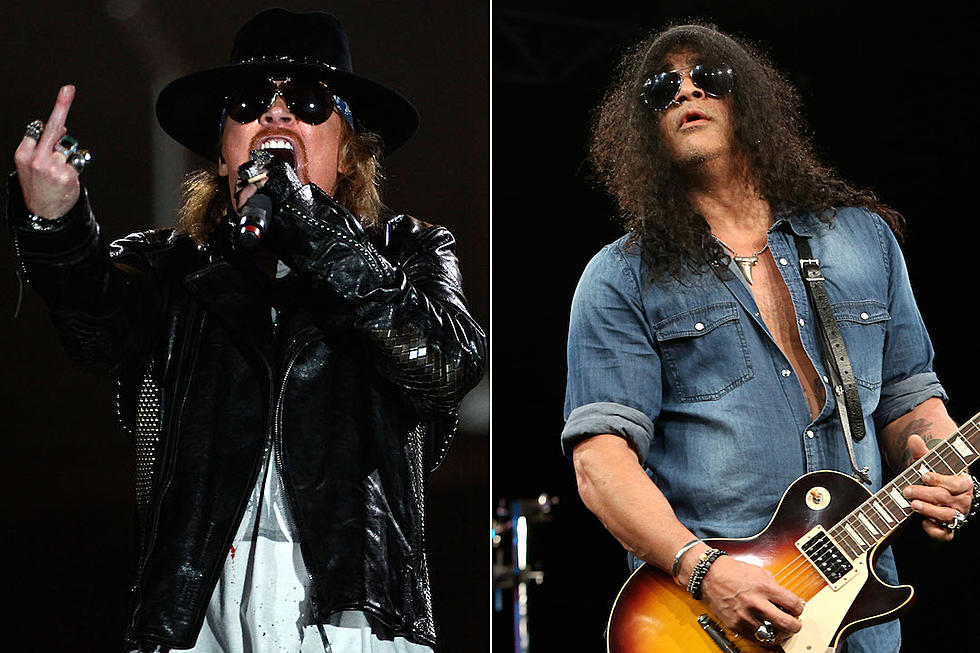 Axl Rose Has a 'Ton' of Material for Potential Guns N' Roses Album
Robert Cianflone, Getty Images / Jesse Grant, Getty Images
Following their incredibly successful 2017 reunion, Guns N' Roses may have new music on the horizon. Slash recently shared that frontman Axl Rose has a "ton" of music that he's already recorded and that the band plans to continue touring and hopefully recording new music.
In an interview with Classic Rock magazine [transcribed by NME], Slash says, "Now that we've actually mended fences and gotten back together and done this, we're going to keep it together." He adds that the band is getting "along fucking great" and he thinks they are "going to go on well into the future."
"Axl's got a ton of shit that he recorded already." Slash continues, "So we're going to get in there and just start getting into that thing, and then if we do a record and then do a tour, I could see that cycle going on endlessly."
While the prospect of new GNR music could whip fans into a frenzy, Slash does attempt to manage expectations saying they don't have any definite studio time booked adding "We'll see what happens." With Axl Rose's well-documented track record of long-gestating records (see Chinese Democracy), it will likely be a long time before we hear new Guns N' Roses music. Also, Slash is preparing to release his latest album with his solo project, Slash Featuring Myles Kennedy and the Conspirators. Living the Dream, their third album, will be released on Sept. 2. They've also got a tour scheduled: check out the dates here.
In the meantime, Guns N' Roses will next take the stage in Monterrey, Mexico on November 3rd. See all of their tour dates here.
Guns N' Roses 'Appetite for Destruction': The Story of Rock's Most Dangerous Album
Every Guns N' Roses Song Ranked