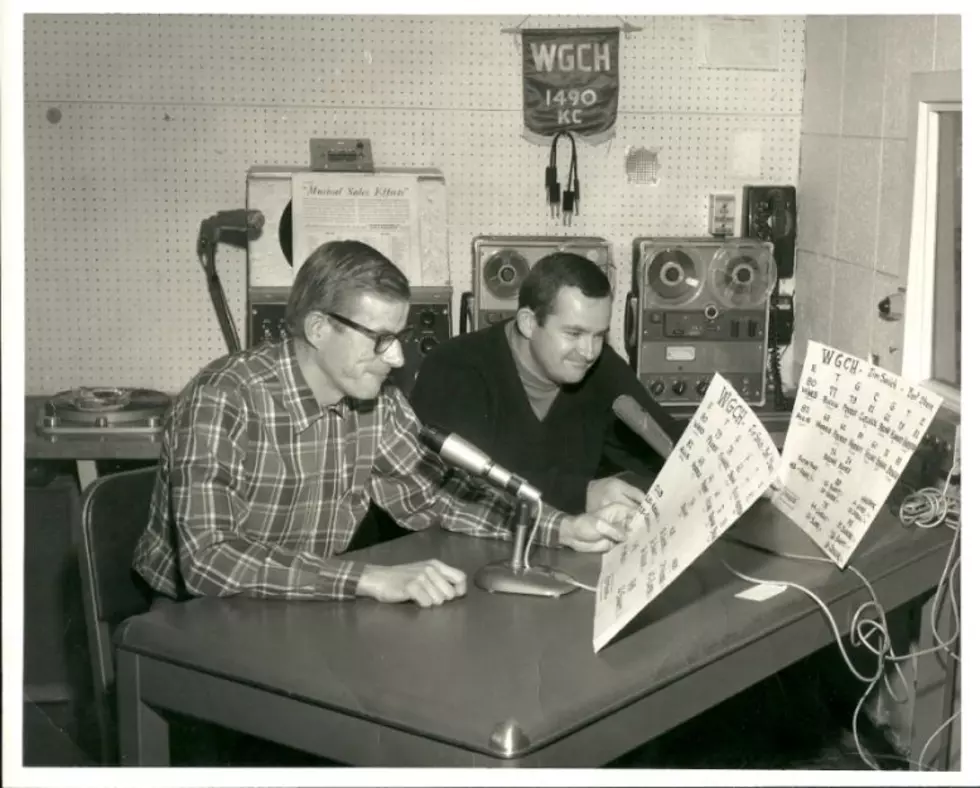 The Story Of The Radio Man Who Inspires Me Every Day: Jim Senich
My Dad Jim Senich (R) with his sportscast partner Bert Steere at WGCH in Greenwich early '70s / Eric's photo collection
He spun the latest hits on 45s, interviewed sports legends, almost became an NFL broadcaster and literally got caught with his pants down while on the air.
This is the inspiring story of my father Jim Senich's four-decade radio career.
THE JOURNEY BEGINS
It all began at an apartment on Chestnut Ave in Waterbury sometime in the early 1950s. My Dad was just a kid dreaming of what he wanted to be when he grew up. Whenever he wasn't playing baseball or stick ball with his neighborhood friends in the local parks of Waterbury during the summertime he was listening to the games on the radio. That's when he heard the soothing voices of legendary sportscasters Red Barber and Vin Scully coming through the crackling AM radio waves as they called the latest Brooklyn Dodgers games on WMGM AM out of New York.
"I wanted to be a ballplayer but thought being an announcer was the next best thing," said my Dad. "And then I heard Bob Crane on WICC around the same time and that was it."
Bob Crane was my father's older cousin and was already into a successful career of his own as a broadcaster. At that time Bob was the popular morning show host on WICC in Bridgeport. He eventually moved on to the West Coast where he eventually landed the role of Colonel Hogan in the popular 60s television sitcom "Hogan's Heroes".
In 1957 Dad made his first step towards his dream of being on the radio when he attended The Leland Powers School of Radio in Boston. It was there in one of his classes that he sat next to another future broadcaster Dick Robinson. Robinson would also go on to become a successful broadcaster and founder of The Connecticut School of Broadcasting.

HIS FIRST PROFESSIONAL GIG
After graduating from Leland Powers in 1959 it was time for my Dad to get his first break in the business and it happened right here in Danbury at WLAD when he was 19. The year was 1960.
"I drove by there for an interview with no appointment," he said. "The program director liked the way I sounded and I got the split shift. It was 9 a.m. to Noon on the AM playing Bobby Darin and artists like that, then 7 p.m. to midnight on the FM playing classical music."
His starting salary at WLAD was a whopping 1 dollar an hour but it didn't matter to my Dad. He was going to be on the air! He still remembers the first song he ever played that morning in 1960. "It was 'Only You' from The Platters then I played 'Who Needs You?' by The Four Lads. We played them on 45s."
WLAD was also the first time Dad experienced the harsh business side of radio.
"The program director pointed out the guy who I was replacing who was literally on the air in the studio," said Dad. "The PD says, 'That's the guy you're replacing.' I felt terrible for the guy. I went home and told my Dad. He used it as an opportunity to teach me about the working world and said, 'Just remember, someday that's gonna be you on the other end of the stick.' And he was right."

SWINGING WITH BING CROSBY
Not too long after his debut at WLAD in in Danbury my father went into the Army and was stationed in Augusta, Georgia. He didn't have to leave his love for radio behind in Connecticut, however, as he landed a gig at WBAI in Augusta doing the Saturday midday shift and early Sunday mornings. It was also there that my Dad had a show at the local television station called the Post Television Station. That's where he landed his first big-time celebrity interview.
"I interviewed celebrities that came through because Augusta was the home of the Masters Golf Tournament so when they came through in the spring I interviewed them. That's where I interviewed Bing Crosby," said Dad. "He was as easy going as he was on film."
[The year was 1962. We hadn't gone to the Moon, JFK was our President and my Dad was spinning 45s on WNAB in Bridgeport. Here is a recording of one of his shows from that year.]

THE WILD TIMES AT WNAB
After six months in the Army Dad returned to Connecticut and Connecticut radio. He worked for WBRY in Waterbury playing music weeknights from 7 till midnight. Soon after he was headed to Bridgeport for a four year stint with WNAB in Bridgeport as the weeknight DJ. He would soon discover, however, that it wasn't going to be without its challenges.
"The general manager there was an S.O.B.," said my Dad. "He would leave me notes telling me, 'Don't try and be funny.'"
Apparently that same S.O.B. of a GM was also a guy with some quirky hang-ups.
"He would drive around with his windows up in the dead heat of summer with his windows up and no air conditioner," said Dad. "He wanted people to think he had a lot of money. Those days only the people with money could afford air-conditioned cars. One day he's driving me around in his car and I'm sweating like crazy!"
As if the GM wasn't strange enough, there was the owner of the station.
"Harold Thomas was his name," said Dad as he smiled, shaking his head back and forth, still in amazement all these years later. "I was on the air one night and heard somebody trying to jiggle the door downstairs. I opened the door and this guy dressed like a bum came flying through. I grabbed him by the collar and threw him out. Later on the GM called me and asked if anything interesting happened that night. I said, 'Yeah, a bum came into the station and I threw him out.' He said, 'Oh yeah? Guess what? That bum you threw out was the owner!'"
[My father had a close relationship with his older cousin Bob Crane for many years. When Bob eventually moved out to the West Coast to do morning radio the two stayed in touch and sometimes Bob would even send audio letters to my Dad. Here is one where he offers Dad some career advice and encouragement.]
THE COWBOYS COME CALLING
It was around this time that my father's first chance at the big-time came calling. The Dallas Cowboys were a brand new team in the NFL in 1960 and this was Dad's chance to go for the job as the team's radio play-by-play guy.
"I was on the air one night and got a call out of the blue from a big wig in the Dallas area," he said. "They wanted another air check tape. I sent it and the guy called back and said, 'If you get the job how much do you want per game?' That was confusing to me. I couldn't see how I could live on just money per game. I needed a basic salary. I had two babies. I never heard from them again. I finished runner up and Frank Gliever got the job."
Soon after my father moved on to Greenwich where he worked at WGCH for five years. He first did mornings playing music before calling high school football and basketball games. He followed that by heading to my hometown of Southington around 1970 working for the then-new WNTY AM doing a morning show. He also called high school sports and covered the Connecticut Falcons softball team featuring the legendary pitcher Joan Joyce.
Following his stint at WNTY Dad headed back to Greenwich and WGCH from '71 to '75 and this time around he scored some big-name interviews. Legendary pitcher Tom Seaver stopped by the studio along with NBA Referee Richie Powers. Former star members of the New York Giants including Frank Gifford, Kyle Rote and Head Coach Ally Sherman were all offering their time to my Dad and he made the best of every minute.
CAUGHT WITH HIS PANTS DOWN
Dad's days at WGCH included some impressive moments as well as some funny moments.
"At WGCH we had a big open window where people walking by on the street could watch you while you were on the air," Dad said. "We would always run a taped stock report so I let the tape roll and went to the bathroom. When I was sitting on the toilet I realized that the guy who made the tape made a mistake and all of a sudden I hear him say, "Son of a bitch! We gotta run this over again! Take 2!' I panicked. That's when I got up, ran out into the hallway with my pants down, ran into the control room, stopped tape and said into the microphone, 'We'll be back after this short commercial message.' That's when I saw two little old ladies in the window. I didn't know what to do so I just waved. They were in shock!"
In 1975 my father's career shifted to Bristol where he worked at WBIS doing news and sports full-time. It was then that he read about a brand new weekly newspaper was starting in the next town over, Southington, and they were looking for a Sports Editor. He applied and got the job. He ended up working at The Observer in Southington from 1975 to 1989.
ESPN
In 1978 my Dad had heard about a brand new television station called ESPN. It was to be an all-new concept: a 24 hours sports network. It was right down my Dad's strike zone. He had the experience, the voice, and the looks. This was his chance to make his move.
"The VP there named Scotty Connal called and invited me to have lunch," said my Dad. "They were just selecting their announcers and he made it look like I was almost a solid bet to work part time if not full time. We went up to the studios and he introduced me to the program director. He said, 'Call me back tomorrow and we'll talk.' There was never another tomorrow. I don't know if it was a set up or what but it was cruel. I called but they never returned my call."
Dad continued to work at The Observer and enjoyed being a reporter but his passion for radio never left him. While working full-time at The Observer he was on the air every Saturday morning at WWCO in Waterbury. "Super C-O! Your brother Chad used to come to work with me just about every Saturday," he said.
I remember finally joining my brother on one of those trips. It was the first time I saw my Dad in action behind the mic and I was mesmerized. My Dad is on the radio! I look back at that morning now and it may very well be the moment I fell in love with radio myself.
A BROADCASTING HOME-RUN
As the 1990s approached my father was ready for a change. He went back to the business he fell in love with full-time once again. He landed a job at WATR in Waterbury where he would call high school football and basketball games. He also had a mid-day talk show. That's where he landed the interview of his career.
"Interviewing Ted Williams, without a doubt the highlight of my career," said Dad. "The guy who set up the interview said to me minutes before handing the phone to Ted, 'Don't forget, you're interviewing the greatest baseball hitter of all time.' I said, 'I'm ready.' I wasn't nervous 'cuz I was well prepared."
He was also going to have to prepare for the possibility of Ted saying whatever came to mind, which could be dangerous especially when you're interviewing him live.
"The guy said, 'Be careful, Ted's language gets pretty salty.' He slipped a few [curse words] out there but we covered it over. Plus I had the seven-second delay but I don't remember having to use it with Ted."
[My Dad told me that his interview with Ted Williams was the highlight of his career. This interview took place in 1997.]
It seemed like my Dad was on a roll when it came to getting baseball legends on his show. He also interviewed Phil Rizzuto and Yogi Berra during his time at WATR.
As the 90s came to a close Dad ended up working for the city of Waterbury as their Public Relations Director before entering the 2000s as Director of Communications for The State of Connecticut Judicial Branch before deciding to retire just a few years ago.
When I sat down and talked with my Dad about his radio career two things stood out in my mind. One was he had and still has endless passion for radio. "I loved every minute of it," he told me. "Every time I turned that microphone on it was exciting."
The other was the other was the great relationship he had with his father throughout his career.
"My Dad followed me wherever I worked and would sit in with me while I was on the air. Afterwards we'd go out and get something to eat and just talk," said Dad. He then welled up a little and his voice shook a little when he thought about him. "He was a great father...A GREAT father."
So are you Dad. So are you...
Happy Father's Day.
[My Dad the Pink Floyd fan calling into i95 Father's Day weekend 2015]
You can listen to Eric Senich live on Saturdays from 10am to 3pm on 95.1 FM. You can also listen online by clicking here or by downloading the radioPup app for your mobile device.