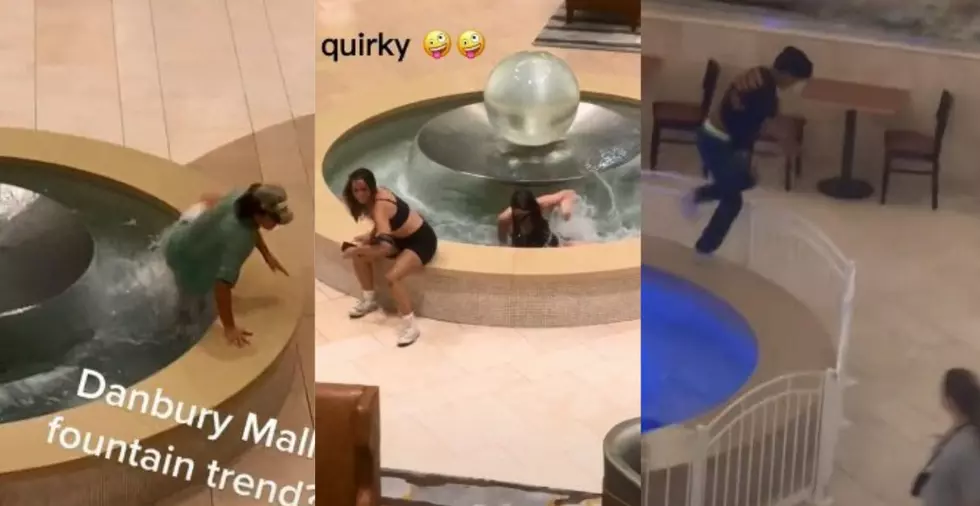 Staff Forced to Drain Fountain at Danbury Fair Mall After Swim Trend
Tik Tok
NOTICE: To my knowledge, this prank is no longer trending OR a problem. I'm only one man and I'm not a teenager so I just got wind that it was a rough summer for security at the Danbury Fair Mall.
WARNING: Do NOT try the stunt below as you could be facing criminal charges. There also will be NO follow-up article so don't think we will make you famous.
If you came for a psychological analysis of why humans love a good dare, you came to the wrong place. If you wanted to know why seemingly reasonable people do outrageous things to impress one another, you got on the wrong bus. This is a "hey, look at this" situation, if there ever was one.
This past summer (2022), was all about illegal swimming in the Danbury Fair Mall water fountain. People would run to the fountain and jump in as a friend would capture the moment on video. The following video was posted by @fluffhead on August 27, 2022. Buckle up for rock-bottom athleticism.
Girl 2 really had some difficulty trying to get out of there. And the third person? What are you doing? Who waits for security to be paying attention before they decide to go? Ponderous move. 
The next video was posted by @saw968, also on the 27th of August. This young man looks like he works in a golf pro-shop, so it should not be hard to find him, if they haven't already.
Hey shoe-less Joe, did it ever occur to you that the floor might be slippery? Or, did you think that taking your shoes off might draw undue attention?
The next video was posted by @goawaymel on August 29, 2022. At this point, the Mall had taken some measures to deter folks from entering the fountain. They put a large gate around the fountain and beefed up security.
That one was a bit anti-climactic, but we needed a break to prepare us for the next one.
The final video was posted by @motionglory on August 31, 2022, after the gate had been installed. You'll see our suspect leap the fence like Spiderman, enter the water for a lap, and then exit with the quickness. Then the video cuts to an empty fountain.
This is why we can't have nice things.
I'm so thankful that there was no social media when I was young. My youth activities would have caused universal outrage from the community and brought great shame on my family.
P.S. My favorite thing about this article is that I'm the only one who didn't do anything wrong, but I'll catch more hell than everyone combined.
Greater Danbury Area Google Images Hilariously Overanalyzed
Danbury Google Images Hilariously Over-Analyzed: Part 2