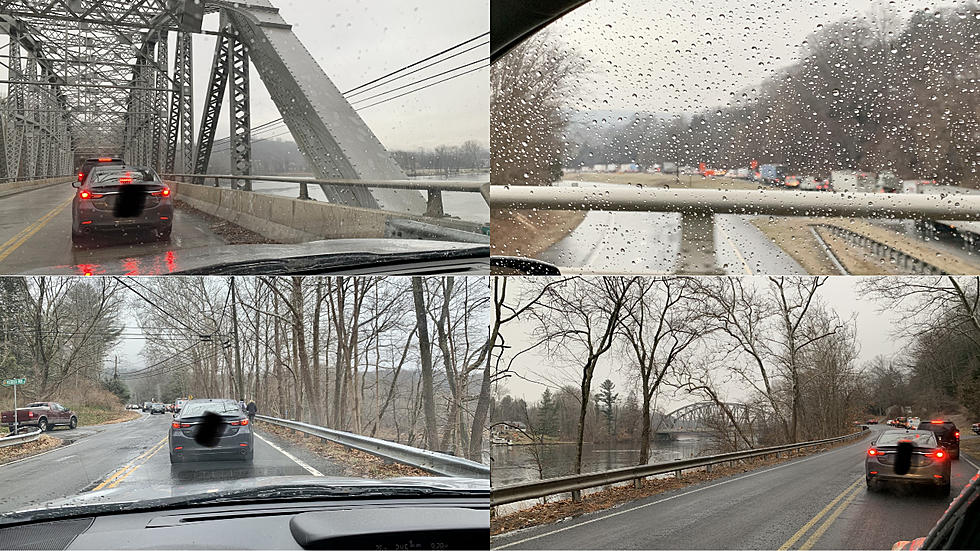 It Looked Like A Creepy Stephen King Movie in Southbury This Morning
Photos by Large "Slippery" Dave
Well, that sucked. It took me 3 hours to get from my place in Waterbury to my job in Brookfield this morning due to that ice storm. I guess I was foreshadowing yesterday when I wrote about a Connecticut family that passed around their stash of oranges to fellow stranded motorists in snowbound Virginia. Thousands of motorists got caught this morning for hours in their vehicles as an ice storm blanketed Connecticut.
It was like a scene from a Stephen King film getting onto I-84 Westbound at Exit 18 in Waterbury at 7:30 this morning. Like one of those 'end of the world' scenes, where you're the only one left alive after the great ice storm of 2022. I was the only vehicle for around 3 miles, until I got to the top of the big hill into Middlebury, there was the first of many vehicle I'd see spun-out on the shoulder. As I got towards Exit 16, the D.O.T sign on the side of the road was flashing the horrible message of - I-84 WESTBOUND CLOSED EXIT 14-10 - ACCIDENT.
I got off at Exit 15 in Southbury, and made my way down Main Street S. to River Road by 8 AM, and that's where I started crawling with the sea of humanity. It took me around 2 hours to get from the Bridge across the Housatonic River and Lake Zoar to Church Hill Road in Sandy Hook.
Around a half an hour in to our standstill, a couple of vehicles in front of me had enough, and it started a mini-escape for a few people. They tried pulling a K-turn in the middle of the bridge, on pure ice. It wasn't pretty, and I thought a few people were going to just slide into each other. Then the worst part happened, I lost cell service.
Without a cell phone, I was glued to the radio. Ethan, Lou, and Kelly Quinn were the shining lights of us stuck on River Road and Glen Road, it was nice to hear all of the listeners chiming in about how horrible it was everywhere through the chat feature of the i95 mobile app. Thankfully, at around 10 AM, a Southbury salt truck, closely followed by a big orange DOT plow came through and laid down a thick layer of salt.
It was eerie driving past around 4-5 vehicles that were empty and abandoned. I'm assuming that the occupants had to use a nearby tree to hide behind to pee. There were plenty of other drivers who had no reservations in the back up, I saw around 3-4 guys pop out of their vehicles to shake the dew off of their lily.
I've seen hundreds of angry messages on social media since I've gotten safely to work. Most of them are from parents who are raging about the delayed school cancellations or closing announcements.
Well, as of right now, I'm safe and warm in my studio, the temperature has risen here to 40 degrees, and now I can look forward to Friday's commute, and our next chance of snow here in Western CT. As long as it's snow, I'll take it, these ice storms are brutal.
Some of the Best Snow Tubing in CT, MA, and New York.
Your Top Picks For Best Connecticut Food-Related Articles of 2021
Connecticut is an amazing place to stuff your face. We've gathered together your top choices for food-related articles that we've written over the past year, here's the top 10.
10 Wild But True Facts About CT Roads + Motorists
Each year, the average American spends
54 hours a year
in traffic. We are out on the roads so often we are bound to learn a few things about the roads themselves and our fellow drivers but there are some things many of us will miss. Here are some wild but true facts about Connecticut's roads and motorists that you may not know.