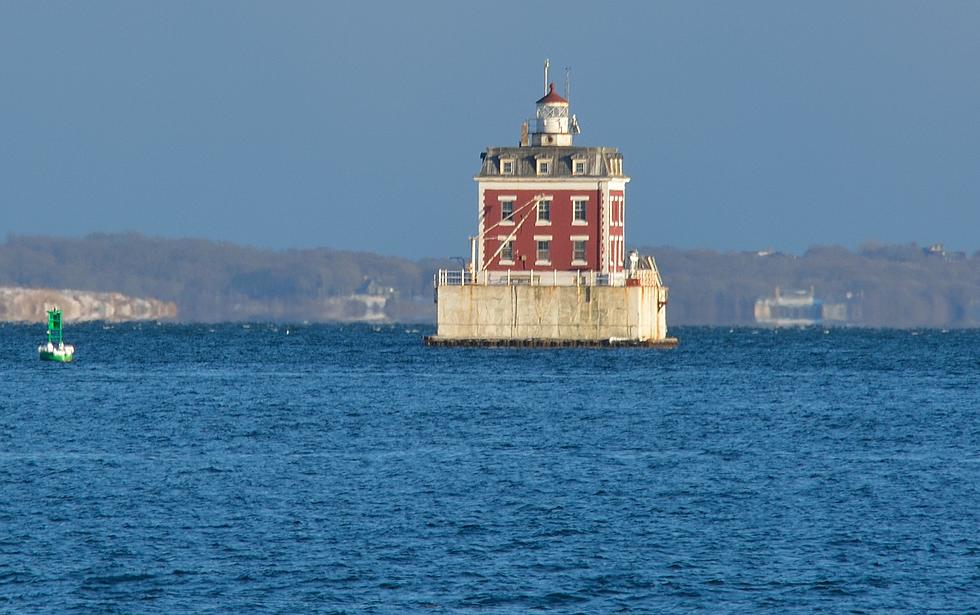 Is This Connecticut Lighthouse Haunted? One Man Called it Hell on Earth
Getty Images
My first trip to New London came a few months after the COVID-19 stay-at-home orders were lifted.
My wife and I knew that we desperately needed to get our kids moving and take them on an adventure out of town. We wanted to go somewhere within striking distance of our home in Danbury and find an adventure we could afford. After some research it appeared New London was going to be the destination so we got a hotel room and packed our things.
The weather for that long weekend was phenomenal and we made our way to the best Connecticut beach I've ever seen. It's called Ocean Beach Park, a beautiful stretch of white beach on the Long Island Sound. We got settled on the sand, the kids began to play and I reached for my phone and started snapping photos. I kept fixing my camera on this one peculiar spot that looked like a mansion in the middle of the water.
We had a nice four days in New London, I posted the pictures to social media and I never thought about the "mansion" again. Then, one day I was having a conversation about the trip with a friend who has lived in Connecticut much longer than I have. I asked him about the massive structure and he told me it was a haunted lighthouse.
This kind of thing is right up my alley so I started Googling away and found one terrifying tale after another. What I thought was an odd mansion is known as New London's Ledge Lighthouse. It was established in 1909 and reports of paranormal activity at the Ledge go back all the way to the 1930's.
The ghostly accounts include doors that would open and close, blankets that would get yanked off of beds, TV's turning on and a foghorn that would sound, all without the help of human hands. Even more terrifying, docked boats that were tied down would somehow become united and begin drifting out to sea.
Who is the central figure in this nautical nightmare? The legend centers around a man named John "Ernie" Randolph. Randolph would have most likely been a light keeper or keeper's assistant that lived there with his wife between 1916 and 1926. Randolph's legend is best described in the book "Connecticut Ghost Stories and Legends" which reads:
"Randolph's wife could not take the seclusion of the lighthouse and became very depressed about living in the middle of the bay with very little contact with the outside world. She implored him to take another job on the mainland, but the keeper was steadfast in his duty. One day, she vanished from the light. He later found out she sailed off into the sunset with the Captain of a Block Island ferry. Poor Ernie was so distraught that he climbed to the top of the light, slit his own throat and dove into the waters below. His body was never found, and from that moment on, Ernie was said to be the ghost that haunts the Ledge Light." 
The co-authors of the book spoke with Jeremy D'Entremont the President of the American Lighthouse Foundation who says he cannot rule out that a man named John "Ernie" Randolph worked at the lighthouse between 1915 and 1926.
If bumps in the night don't make the hair stand up on your neck, how about this? According to Damned CT, "From time to time, the ghost of a tall, bearded man in a slicker and rain hat has been seen."
Only In Your State says one unnamed officer called the lighthouse "Hell on Earth" and wrote a short poem called "A Rock of Slow Torture" which read: "May New London Ledge's light shine on forever because I'm through. I will watch it from afar while drinking a brew."
That's pretty creepy and now I want to live at the Ledge Light.
P.S. Thomas D'Agostino and Arlene Nicholson are the co-authors of "Connecticut Ghost Stories & Legends." Do yourself a favor and buy the book, there are some fascinating stories in there.
Check out the Ethan, Lou & Large Dave Podcast on Apple and Spotify
See Newtown Sanitarium Through the Lens of an Award Winning Photographer
Fairfield Hills Psychiatric Hospital is located in Newtown, CT. The campus has been in varying degrees of restoration/development since it closed on 1995. The Town of Newtown owns it and has turned some structures into municipal buildings while others have been leased out to private businesses. The remaining vacant structures have become magnets for ghost hunters and artists.
Recently, I spoke to one of those artists, a photographer named Bryant Abbot. Our digital talk was unique and entertaining. Abbot shared his photos, his personal story and his inspirations with me. Below are his pictures of Fairfield Hills and some of what we talked about.
Paranormal Experts Say Derby's Sterling Opera House is one of the Most Haunted Places in CT
According to
Only in Your State
, Derby's Sterling Opera House is one of the most haunted locations in all of Connecticut. These are some images from inside the historic and eerie Sterling Opera House.