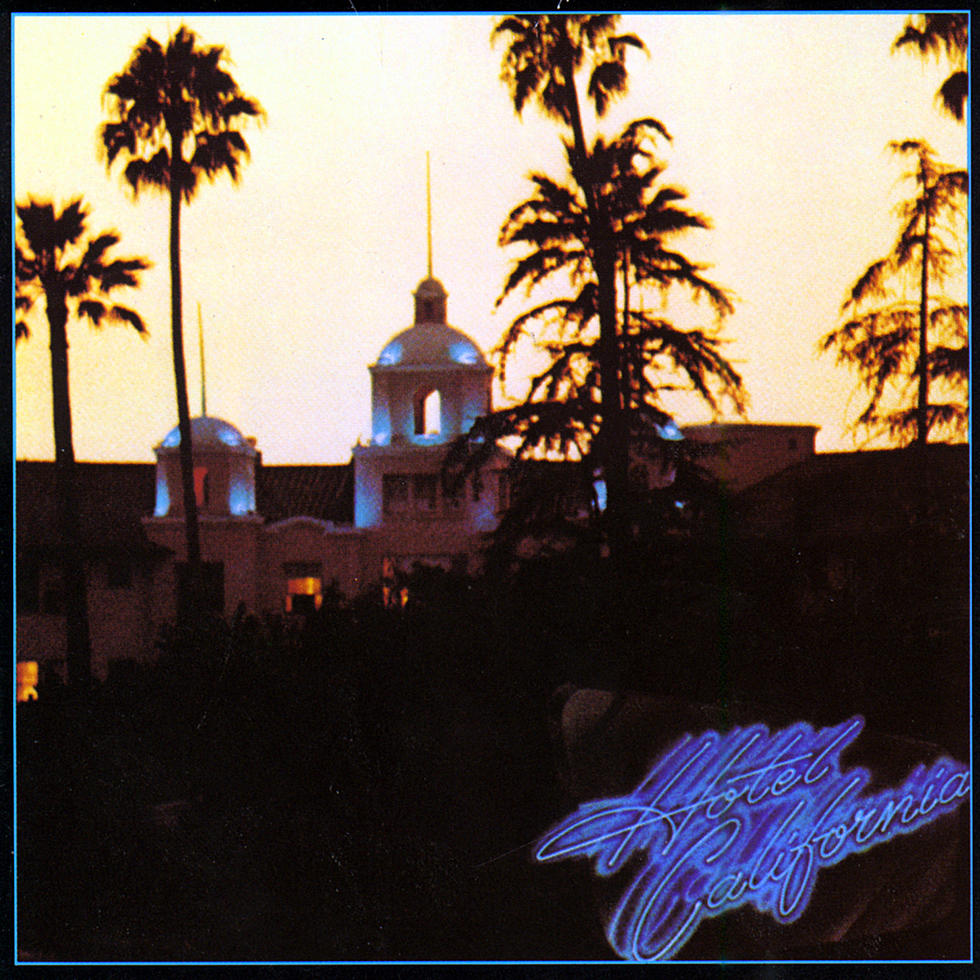 Four Decades Later & Hotel California Is Still Five-Star: Name Your Favorite Track [POLL]
Asylum Records
Welcome back to the Hotel California. Still plenty of room, still open any time of year. Still one of rock's greatest masterpieces.
Yesterday the Eagles released a 40th anniversary deluxe edition of their legendary album 'Hotel California'. For Eagles fans it's like getting a surprise bonus tour through the hallowed hallways and mystical rooms of their favorite getaway. Not that we need these accoutrements to realize that this is the Eagles' finest moment and one of rock's greatest albums. We've known that from the first time we checked in and agreed never to check out again.
The Eagles released 'Hotel California' on December 8th, 1976. It became the band's best-selling album of original material (only their Greatest Hits 1971–1975 has sold more) with over 16 million copies sold in the U.S. alone and over 32 million copies sold worldwide. The album topped the charts and won the band two Grammy Awards for the two #1 singles "Hotel California" and "New Kid in Town". The album was also nominated for Album of the Year but lost to another legendary album you may have heard of - Fleetwood Mac's 'Rumours'. In 2003, the album was ranked number 37 on Rolling Stone magazine's list of the 500 greatest albums of all time.
So Eagles fans I wanna know which track off of 'Hotel California' is your personal favorite. Before you vote I'll give you my choice and that's "Life In The Fast Lane". Being a huge Joe Walsh fan I can't understate the importance of Walsh's addition to the band (this is his first album with the Eagles) and this is a prime example. Walsh added muscle to the band's sound and "Life In The Fast Lane" is Exhibit A.
What makes this song "five-star" good is the song-writing magic of Don Henley and Glenn Frey sprinkled over the iconic riff. The story as told by the band is that Walsh just broke out with the riff during rehearsal one day and both Henley and Frey were within earshot. Immediately the songwriting partners knew there was something there and it wasn't long before the two wrote the lyrics. Those classic Eagle-esque lyrics were inspired by a day when Frey was riding on the freeway with a drug dealer known as "The Count". Frey asked the dealer to slow down and the response was, "What do you mean? It's life in the fast lane!"
Now it's your turn. Vote for your favorite track from 'Hotel California' and feel free to tell our readers why it's your favorite song below or through i95's Facebook page.
You can listen to Eric Senich live on Saturdays from 10am to 3pm on 95.1 FM. You can also listen online by clicking here or by downloading the i95 ROCK Mobile App.