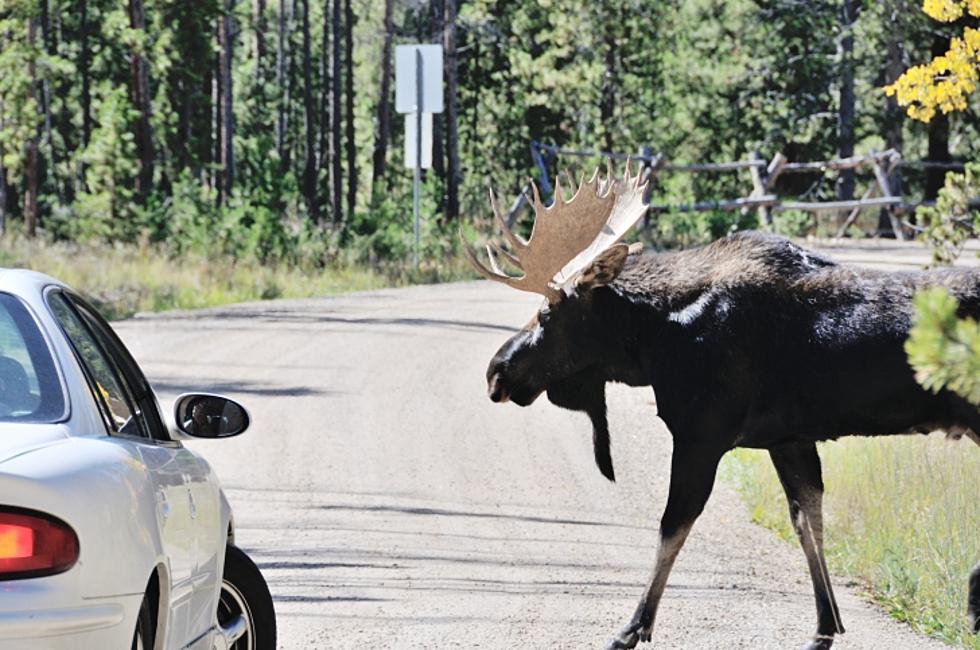 CT Officials Warn Moose on the Loose, Will Things Be As Dramatic as 2022 Saga?
steverts
State officials are warning of a moose on the loose in the Watertown, CT area.
According to Metro 24/7:
State environmental officials are warning of the sighting of a large moose in the areas of Routes 63 and 73 in Watertown.
Officials are asking that drivers be particularly careful in the area of I-84 and Route 8. They are asking drivers to slow down and drive defensively especially since a moose is tall enough to crash through your windshield during a strike.
Is this happening again? Is this the 2023 version of the most captivating moose hunt in CT history? It was just about 8 months ago that the Greater Danbury area was gripped by the story of a moose that was spotted in multiple public locations, including the AMC Theater in Danbury.
I-95 Meteorologist and independent news man Jack Drake broke the story on 9/27/22 when he began distributing a video he received from Michael Bower.
After that, it was all moose news in Danbury and the surrounding communities. The moose was also spotted in Newtown, in the Hawleyville area. The picture below was taken by Jimmy Glynn.
Then the Daryl Pittman photos came out from Danbury.
View this post on Instagram
Then, the hilarious "F--- Moose" video made the rounds.
View this post on Instagram
A post shared by i95Rock (@i95rock)
It was not over at that point, the moose was also seen in Pawling New York by Randy Jones.
Check out the Ethan, Lou & Large Dave Podcast on Apple and Spotify
I'm praying this Watertown sighting turns into the sequel to the great moose mania of 2022.
Danbury Resident Has Astonishing Close Encounter With Famous Moose
His name is Daryl Pitman, and he's a Danbury resident who recently had a super-close encounter with a moose that has become famous in the Greater-Danbury area. In the past few days this moose has been seen in multiple Danbury locations, it's been seen in Newtown, New Fairfield, Woodbury and even Pawling, NY to name a few.
I saw Daryl's pictures in a different moose related thread and reached out to him. I asked him to tell me more. I wanted to know if these photos were real? Did he take the pictures? Was this in Danbury? When was this? How did he feel. An excited Daryl got back to me with the following responses.
Greater Danbury Bobcat Sightings, Too Close for Comfort
This morning (4/28/21) on the Ethan and Lou Show we were discussing a viral video from North Carolina. In it, a couple was brutally attacked by a rabid bobcat but according to
USA Today
, they are going to be OK.
This sent me off on a tirade about bobcats because this happens to be one of my pet peeves. In the Greater-Danbury area, wildlife sightings are frequent and when one animal gets photographed, everyone piles on and says, yeah me too You saw a bear? I saw a bear!
I made the case that too many people are claiming to have seen bobcats recently, and with no proof. I said, look I know they are prevalent but they can't be around in the numbers that people will have you believe. Every Frank and Fran in the area says they saw one yesterday.
I said, if you saw a bobcat, prove it. It looks like I may have been underestimating the bobcats and the Ethan and Lou listeners because they did prove it and in a hurry. These are the Greater-Danbury Bobcat Sightings That are Too Close for Comfort.