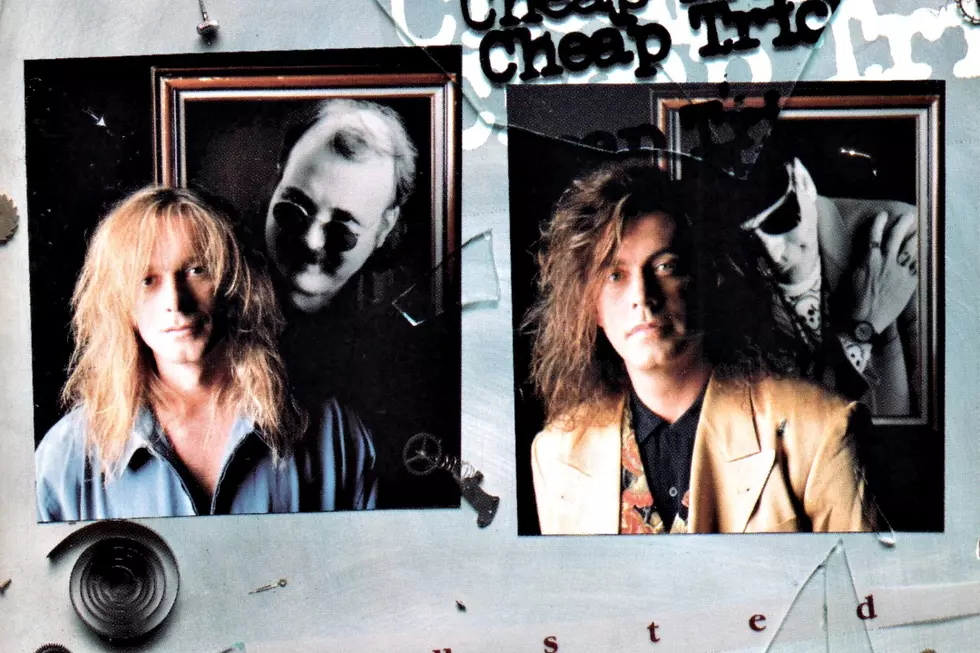 How Cheap Trick's Comeback Came to an End With 'Busted'
Epic
Cheap Trick's 1988 album Lap of Luxury sparked an unlikely comeback for the veteran band, giving them their first No. 1 single with "The Flame." Sadly, their newly regained commercial success would prove to be short-lived.
Lap of Luxury had proved a bittersweet victory for the members of the group, who acquiesced to execs at their label, Epic Records, demanding that they turn to outside songwriters in search of more radio-friendly material. Although that approach paid huge dividends with "The Flame," a co-write from professional songwriters Bob Mitchell and Nick Graham, the band was determined to have a more active hand in the songwriting process for their next release.
At the same time, Cheap Trick knew they could only diverge so far from the template they'd used for Lap of Luxury, and when they set about working on the follow-up, they retained Luxury producer Richie Zito. The result, titled Busted, arrived on June 27, 1990 and served as a carefully engineered bridge between the smart-aleck power pop of their past and the power ballad formula of the present.
This was immediately apparent in the liner notes, where the writing members of Cheap Trick — guitarist Rick Nielsen, singer Robin Zander and bassist Tom Petersson — collaborated on nine of the 11 songs, but were joined at various points by no fewer than six outside writers.
Where Lap of Luxury worked in a cover of "Don't Be Cruel," Busted made room for an album-closing rendition of Wizzard's "We're Gonna Rock 'n' Roll Tonight." Zander shrugged it off in an interview with the Morning Call, chalking it up to the continued quest for hits: "If I were able to judge which songs would be successful, I'd be a record executive making seven figures a year."
Busted also made room for a couple of famous friends, enlisting Foreigner co-founder Mick Jones for co-writing and guitar support on the eventual single "If You Need Me" and Pretenders leader Chrissie Hynde for vocals on "Walk Away." Elsewhere on the record, Sparks singer Russell Mael lends a vocal hand on "You Drive, I'll Steer," while former Poco member Kim Bullard adds keyboards throughout the album.
Watch Cheap Trick's 'Can't Stop Felling Into Love' Video
It's a mainstream rock album that takes absolutely no chances, in other words. But a formula is only a formula because it works, and in the context of the many so-called "corporate rock" records that relied on overproduction and songwriting by committee during the '80s and early '90s, Busted actually does a pretty fine job of accomplishing its (admittedly limited) goals.
Nielsen's guitars aren't exactly in your face, but they're definitely present in the mix; Zander's vocals are smooth, but they're still powerful; and there's a Diane Warren ballad in the track listing ("Wherever Would I Be"), but it's stuffed between the snotty rocker "I Can't Understand It" and "If You Need Me."
Listening to Busted in the summer of 1990, in other words, you might have thought Cheap Trick were finally on their way toward having their cake and getting to eat it too — that they'd found a way to stay in tune with mainstream record buyers while maintaining a modicum of artistic integrity. It was a problem that many of their peers had struggled with during the '80s, and not always gracefully.
While Busted definitely wasn't as aggressive as the band's earlier work, it did an admirable job of straddling the Top 40 line. Even albums that sound like they've been precisely calibrated for platinum sales can whiff on occasion, however, and for whatever reason, Busted signaled a quick end to Cheap Trick's comeback, stalling at No. 48 on the charts while sending only one of the album's four singles, "Can't Stop Fallin' Into Love," into the Top 20.
By the following year, the band's long association with Epic came to an undignified end with the bare-bones, contract-fulfilling The Greatest Hits. But if Busted's relative failure was a temporary setback, it was also a mixed blessing: Cheap Trick were just as eager to close the book on their glossy '80s output as Epic was to rid themselves of the band.
Shortly after leaving the label, they signed a huge new contract with Warner Bros., where they released Woke Up With a Monster in 1994. Unfortunately, that deal didn't turn out the way the group thought it would, either. Cheap Trick would continue to fight their way through commercial ups and downs and business woes over the ensuing decades.
 
 
See Cheap Trick Among Rock's Most Underrated Albums