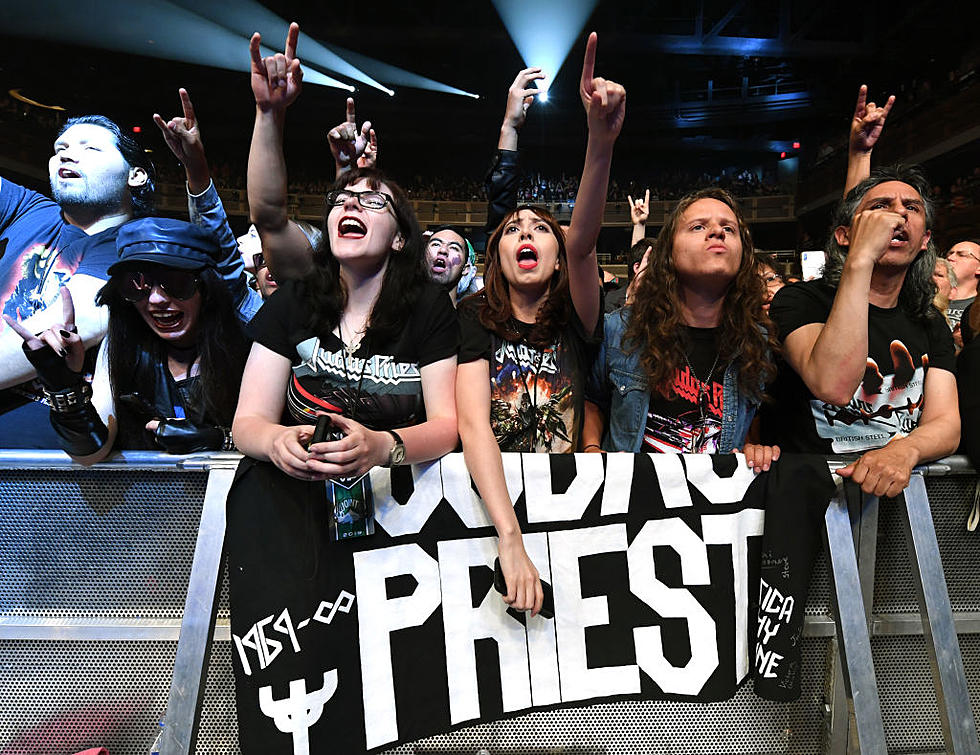 Why Your Favorite Band Not Getting In The Rock & Roll Hall Of Fame (Yet) May Be a Good Thing
Getty Images
Every year around this time the latest list of nominees for The Rock and Roll Hall of Fame are announced and every year the same complaint is voiced by fans - How could (insert famous band here) not be in?!
Trust me guys, I feel your pain. I'll get to the list of bands and artists who could be in but aren't in a bit but first let's look at this situation from a different perspective. Let's think about the future.
Imagine if all these bands we argue passionately for get in all at once. What will be left to look forward to ten years from now? Twenty years from now? Who will be left to induct? What artist today will be considered rock and roll legend then?
Just think, this could be what we can look forward to in 2027:
[CAUTION: Listening to this could be hazardous to your health]
To the Rock and Roll Hall of Fame voting committee I say this - Spread it out for as long as you can! Take your sweet time rolling them out a little at a time 'cuz the way things are in rock and roll today I can't see too many artists worthy of hall of fame status ten, 20 years from now.
Below is a list of standout artists and bands who are eligible but haven't gotten in the Rock and Roll Hall of Fame….Not yet anyway.
.38 Special
Bryan Adams
Alice In Chains
Bachman Turner Overdrive
Pat Benatar
Billy Idol
The Black Crowes
Blind Faith
Blue Oyster Cult
Bon Jovi
Boston
Jimmy Buffett
The Cars
Joe Cocker
Phil Collins
The Cure
Def Leppard
Derek and the Dominoes
Dire Straits
The Doobie Brothers
Electric Light Orchestra
Emerson, Lake & Palmer
Melissa Etheridge
Foghat
Foreigner
Peter Frampton
The J. Geils Band
Grand Funk Railroad
The Guess Who
Don Henley
Bruce Hornsby
Humble Pie
INXS
Iron Maiden
Jane's Addiction
Jethro Tull
Journey
Judas Priest
Kansas
Little Feat
John Mayall
The Marshall Tucker Band
Meatloaf
Molly Hatchet
Eddie Money
Montrose
The Moody Blues
Motley Crue
Mott The Hoople
Mountain
Stevie Nicks
Ted Nugent
Ozzy Osbourne
Robert Palmer
Pearl Jam
Poison
Ratt
Scorpions
Smashing Pumpkins
Soundgarden
Squeeze
Billy Squier
Sting
Supertramp
Steppenwolf
Styx
T. Rex
Thin Lizzie
George Thorogood
Toto
Pete Townshend
Twisted Sister
UFO
Joe Walsh
Whitesnake
Edgar Winter
Steve Winwood
Yes
Warren Zevon
The Zombies
List courtesy of notinhalloffame.com

You can listen to Eric Senich live on Saturdays from 10am to 3pm on 95.1 FM. You can also listen online by clicking here or by downloading the radioPup app for your mobile device.