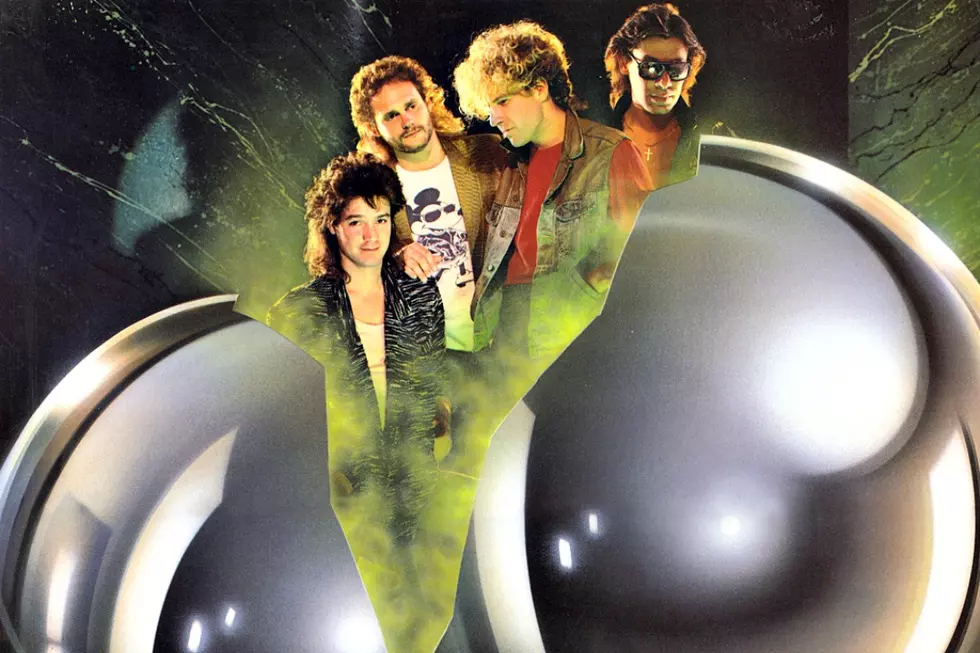 When Van Halen Started the Sammy Hagar Era With '5150'
Warner Bros.
Van Halen's label, Warner Bros., certainly worried over what Roth's departure might mean for the band. During the search for Roth's replacement, label execs argued for a name change, and for a brief period, it looked like they might opt for a rotating series of guest singers instead of recruiting a full-time frontman (or frontwoman: Scandal's Patty Smyth has said she was approached for the job). Roth, meanwhile, was busy going platinum with his solo covers EP Crazy From the Heat.
In the midst of uncertainty, guitarist Eddie Van Halen got a tip from an unlikely source: The mechanic working on his Lamborghini shared another rock 'n' roll client, singer Sammy Hagar, whom the band knew from Hagar's days fronting Montrose. Although Hagar had gone on to become a solo artist in his own right, the idea proved too intriguing not to explore.
Hagar and Van Halen quickly hit it off, and after playing with Eddie and fellow VH co-founders Michael Anthony and Alex Van Halen, he knew he needed to join what he'd later refer to as "the ultimate rock 'n' roll band." After being jilted by Roth, Hagar's new bandmates took a quick shine to their freshly appointed singer's powerful vocals — not to mention the fact that he could play guitar, adding another component to their live show. The overall effect, as Alex liked to quip in the days after Hagar's arrival was announced, was like driving a Porsche after years of owning a Volkswagen.
"There was no real camaraderie [with Roth]," Alex told Creem. "I'm not saying that we fought all the time or anything like that, or that we hated each other, because that's not the truth at all. It was basically a cut-and-dried, black-and-white situation. We looked at the structure and said, "Hey, this works – okay, so let's do it." Well, now we have something that feels right. And works." "Dave is a very creative guy and working with him was no problem," Eddie told Rolling Stone. "It was living with the guy."
"I was sick of being Sammy Hagar, the fearless leader who was responsible for everything," Hagar explained in conversation with the Philadelphia Inquirer. "I had been going through that for seven years and was getting really tired of it. Joining Van Halen and doing a record and going out on tour with them sounded more exciting than doing another Sammy Hagar record."
"I've never seen such a spark as there was that first day in the studio," added Eddie. "We started playing and Sammy started singing. It just clicked. It was magic."
If the musical chemistry clicked, the actual process of getting an album to tape wasn't quite as seamless. The group's longtime producer, Ted Templeman, had broken ranks to helm Roth's upcoming full-length solo debut, so engineer Donn Landee stepped up to produce the new Van Halen sessions. But with the label yanking at the reins and Hagar seeking a neutral party to make sure the new lineup achieved its full potential in Van Halen's home studio, Foreigner co-founder Mick Jones was eventually brought in to help oversee recording.
Listen to Van Halen Perform 'Why Can't This Be Love?'
As Hagar later told UCR, Landee was none too pleased with the interloper's arrival.
"Donn was producing the record with us," Hagar explained. "And then I decided that I really wanted some help, because I didn't know these guys that well and they didn't know me that well. I didn't want to run into an uncomfortable situation … but I just thought, 'Let's bring in a producer and make sure that we've got our eye on the ball here. This is way too important.'"
Jones mused: "Here was I, walking in from a completely different place in a way and stepping in [with a] 'Who's this guy?' kind of thing. I got that feeling at the beginning from Donn Landee. He wasn't particularly thrilled to see me, I don't think." That feeling proved on target after Landee locked himself in the studio with the tapes, threatening to destroy them and prompting what Jones referred to as "a real standoff." Tensions were eventually brought back to a low simmer, but for a little while, "It was touch and go whether the tapes were going to survive."
Eventually, the group gathered steam in the studio, and by February 1986, they were ready to wrap a nine-song set they titled 5150 — both the name of Eddie's studio and the California police dispatch code for a mentally disturbed person at large. The new record arrived in stores March 24, 1986, just a few days before the band played the opening show on its first tour with Hagar. If audiences were unwilling to accept Van Halen's new singer, they'd find out in a hurry.
Happily for Hagar and Van Halen, the band's new sound proved an immediate success. 5150 topped the charts, becoming the group's first No. 1 album while spawning a series of singles — including the Top 40 pop hits "Why Can't This Be Love," "Love Walks In" and "Dreams" — and proving they hadn't lost any of their momentum in Roth's absence. As the band members saw it, fans responded to the new songs because even with a new guy at the mic, Van Halen still sounded pretty much like ... Van Halen.
"We're not a bunch of Toto types who just play with everybody. And we're not rock stars who play two chords and scream a lot," Alex said. "We make music with a certain vibe and have the skills to make people listen to it."
Hagar added: "The truth of the matter is, there's no mistaking Van Halen's sound. I'm just a singer in this band, you know? And if they would've put somebody else in my place, this stuff would still sound like Van Halen. It's amazing how much identity the music in Van Halen has. I don't sound like Roth singing, by any means, but it still sounds like Van Halen. There's such a strong identity in the sound."
That sound would go on to help define mainstream rock over the ensuing decade. Each of the albums Hagar recorded as Van Halen's singer (1988's OU812, 1991's For Unlawful Carnal Knowledge and 1995's Balance) followed 5150 to No. 1, and the group embarked on a series of successful tours while managing to remain relevant on pop stations as well as rock radio. The wheels would eventually come off this happy union, but after unleashing the first dose of their big rock sound, Van Hagar were flush with enthusiasm and seemed poised for indefinite success.
"Roth — toward the end — had become a solo artist already, in my book. The real Van Halen fans, I don't think they really liked Crazy From the Heat," Hagar told the Chicago Tribune in 1986. "So it was kind of like there was, maybe, 65 to 70 percent of the true Van Halen fans still there waiting to see what Eddie and Alex were gonna do. Then I came in and brought my audience, and about 60 percent of 'em were Van Halen fans already. You add all that up, and you've got a pretty damn big record."
 
 
The Best Song on Every Van Halen Album
See Rock's Epic Fails: Van Halen Edition