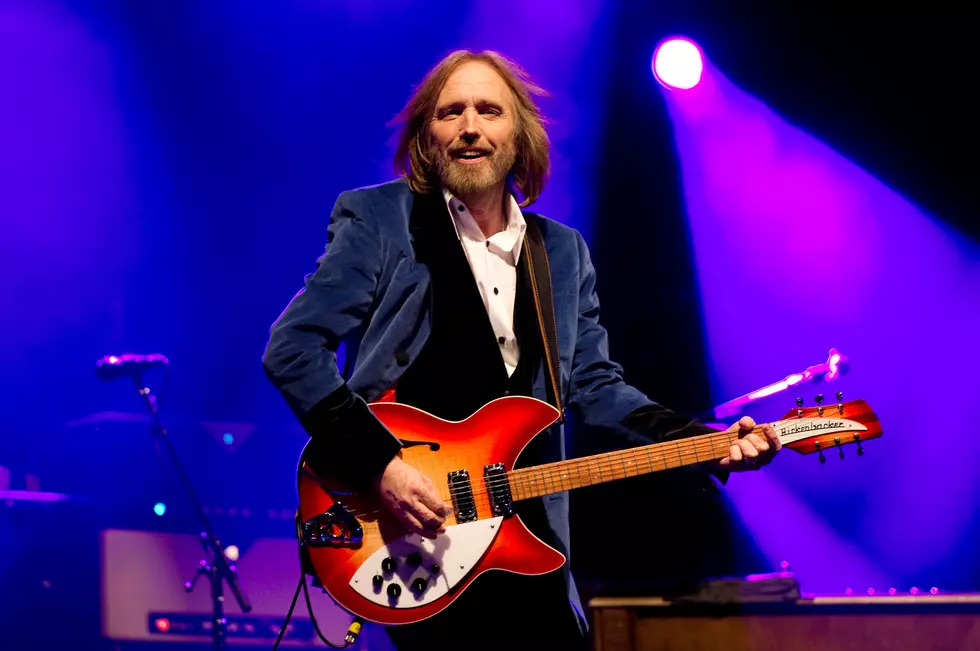 The Tom Petty "40 For 40″: 40 Great Years, 40 Great Songs
Getty Images
I got lucky, babe, when I found the music of Tom Petty.
Tom Petty is celebrating his 40th year with the Heartbreakers this summer and what a career it's been. Over 80 million record sold worldwide, 15 top 40 singles, two of them going top ten and a Rock and Roll Hall of Fame induction in 2002. He is one of the most prolific artists in the history of the business.
I first became a fan of T.P. back in the summer of 1989 when I heard "I Won't Back Down" on the radio. I quickly went out and bought 'Full Moon Fever' on cassette and wore it out. I eventually had to buy another copy I listened to it so much that summer.
That following fall I decided to dig deeper into Petty's catalogue. Any money I made from my part-time job was spent at Strawberries Records buying a few more Petty albums. What a time that was. There's nothing like discovering a great artist. From his '76 debut with the Heartbreakers right up until his most recent album 2014's 'Hypnotic Eye' I've eagerly awaited to hear what he would come up with next and he's never disappointed.
What's amazing about Petty is that he's not a guy who will blow fans away with his ability to play an instrument or sing, he never had the rock star good looks either. What he does have, however, is the most important gift of them all - the ability to write a great song. And, man, has he written some great songs over the last four decades.
In honor of his 40 years as one of the greatest artists in rock history, these are Tom Petty's 40 greatest songs:
40

"First Flash Of Freedom" (2010)

Album: 'Mojo'

39

"Letting You Go" (1981)

Album: 'Hard Promises'

38

"You Can Still Change Your Mind" (1981)

Album: 'Hard Promises'

37

"Time To Move On" (1994)

Album 'Wildflowers'

36

"Jack" (2006)

Album: 'Highway Companion'

35

"The Last DJ" (2002)

Album: 'The Last DJ'

34

"Dogs On The Run" (1985)

Album: 'Southern Accents'

33

"Free Girl Now" (1999)

Album: 'Echo'

32

"Change Of Heart" (1982)

Album: 'Long After Dark'

31

"A Face In The Crowd" (1989)

Album: 'Full Moon Fever'

30

"Nightwatchman" (1981)

Album: 'Hard Promises'

29

"Walls (Circus)" (1996)

Album: Songs and Music from "She's the One"

28

"Room At The Top" (1999)

Album: 'Echo'

27

"Rebels" (1985)

Album: 'Southern Accents'

26

"Shadow Of A Doubt (A Complex Kid)" (1979)

Album: 'Damn The Torpedoes'

25

"American Dream Plan B" (2014)

Album: 'Hypnotic Eye'

24

"Listen To Her Heart" (1978)

Album: 'You're Gonna Get It!'

23

"Swingin'" (1999)

Album: 'Echo'

22

"I Should Have Known It" (2010)

Album: 'Mojo'

21

"You Wreck Me" (1994)

Album: 'Wildflowers'

20

"It's Good To Be King" (1994)

Album: 'Wildflowers'

19

"Jammin' Me" (1987)

Album: 'Let Me Up (I've Had Enough)'

18

"I Need To Know" (1978)

Album: 'You're Gonna Get It!'

17

"A Woman In Love (It's Not Me)" (1981)

Album: 'Hard Promises'

16

"Here Comes My Girl" (1979)

Album: 'Damn The Torpedoes'

15

"Into The Great Wide Open" (1991)

Album: 'Into The Great Wide Open'

14

"Don't Do Me Like That" (1979)

Album: 'Damn The Torpedoes'

13

"Even The Losers" (1979)

Album: 'Damn The Torpedoes'

12

"You Don't Know How It Feels" (1994)

Album: 'Wildflowers'

11

"The Waiting" (1981)

Album: 'Hard Promises'

10

"Mary Jane's Last Dance" (1993)

'Tom Petty & The Heartbreakers Greatest Hits'

9

"Breakddown (Live)" (1985)

Album: 'Pack Up The Plantation: Live!'

8

"Learning To Fly" (1991)

Album: 'Into The Great Wide Open'

7

"Don't Come Around Here No More" (1985)

Album: 'Southern Accents'

6

"You Got Lucky" (1982)

Album: 'Long After Dark'

5

"Runnin' Down A Dream" (1989)

Album: 'Full Moon Fever'

4

"Refugee" (1979)

Album: 'Damn The Torpedoes'

3

"Free Fallin'" (1989)

Album: 'Full Moon Fever'

2

"I Won't Back Down" (1989)

Album: 'Full Moon Fever'

1

"American Girl" (1976)

Album: 'Tom Petty & The Heartbreakers'