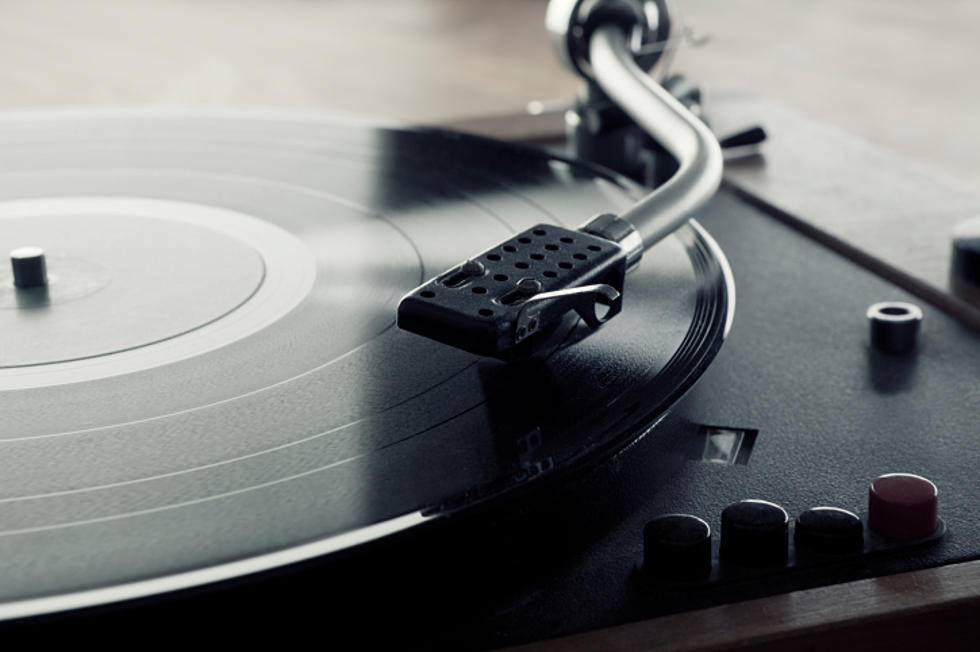 The Ten Greatest Vinyl Record Songs
Marek Krempa
Gently drop that needle and raise your fists in the air, it's time for classic rock nation to celebrate vinyl records.
Today the aisles of record stores around the country will be filled with music lovers seeking out one-day-only offers from a list of legendary classic rock artists. The reason? It's Record Store Day. That's right, today we get to celebrate the beauty of those big beautiful black circles packed with glorious music. Every vinyl record lover knows that dropping the needle on a favorite record is like opening a bottle of vintage wine. It only gets better with age.
If you haven't yet, check out the Record Store Day website now to find a record store nearest you and get in on the fun. Actually, hold on. Before you do that, check out this list of the ten greatest vinyl record songs. They're sure to get you in just the right groove.
10

The Alarm showed their love of vinyl on this hard-driving, punk rockin' track from 2004. The song's opening lyrics say it all: "A spiral scratch gave me my life back. A vinyl solution ended my confusion". Appropriately enough this song was released on 7" vinyl when it came out.

9

"Phonograph Blues"

Robert Johnson

Pretty much all of the legendary blues rock artists you hear on i95 will tell you Robert Johnson had a huge influence on them. Here Johnson expresses his love for phonographs and a lovely lady named Beatrice. Now this is vintage blues music.

8

"Rock & Roll Records"

Eric Clapton & Tom Petty

In 2014 Eric Clapton recruited a long list of musical friends to pay tribute to his late friend and musician J.J. Cale on the album "The Breeze: An Appreciation of JJ Cale". Clapton is joined by Tom Petty on this ode to vinyl.

7

"Old Records Never Die"

Ian Hunter

Mott The Hoople singer Ian Hunter gets his healing from a song especially when it comes from an old record. Funny, this song came out in 1981 and here we are in 2017 with sales of vinyl records continuing to rise each year. I guess you're right Ian, old records never die.

6

"Roll Over Beethoven"

Chuck Berry

This Chuck Berry classic goes back the mid 50s, a time when DJs spun nothing but vinyl records. It also marked a time when teenagers were no longer interested in Tchaikovsky and Beethoven. Instead, they wanted Chuck Berry, Elvis Presley and Buddy Holly.

5

"Put Another Record On"

Genesis

This comes from the classic 1981 Genesis album 'Abacab'. As it turns out, the very first time I ever heard this album was on vinyl. My older brother had a copy of it and I loved the way it sounded so much I decided to record it from vinyl onto cassette. I played it all the time in my car during my high school days. All these years later a song from that same album winds up on my list of greatest vinyl record songs. Very cool.

4

"Old Time Rock & Roll"

Bob Seger & The Silver Bullet Band

Bob Seger knows good rock and roll music when he hears it, especially when it comes off of an old vinyl record. Now do as the man says, take those old records off the shelf and turn it up!

3

"Big Ten Inch Record"

Aerosmith

This tribute to the 10-inch 78 RPM records of the early 1900s was originally a big hit on the R&B charts in 1952 for tenor-sax player Bull Moose Jackson. Aerosmith delivers on this jumpin' cover from their classic 'Toys In The Attic' album.

2

"Spin The Black Circle"

Pearl Jam

Eddie Vedder demands you spin that black circle if only because it sounds so warm. Oh the joy. Interesting to note that this comes from Pearl Jam's 1994 album 'Vitalogy' which was released solely on vinyl two weeks before it was available on cd. Spin, spin!

1

"Vinyl Records"

Todd Snider

This really should be the Record Store Day theme song. It's just that good. Just play the song and check out the lyrics below and tell me this isn't the coolest tribute to vinyl ever.

I've got a dusty old pile of vinyl records sittin' on my floor
I've played each one of 'em over and over a dozen times or more
All I've got is a beat up chair a mattress a fork and another to spare
And that dusty old pile of records on my floor
I got Willie, Waylon and Woody Guthrie
Jimmy Buffett, Lyle Lovett and Bobby Gentry
Jerry Jeff, Bob Dylan, Donnie Fritts,
The Dead, The Doors, Patsy Cline, John Prine and more
I got Jackson Browne, Townes Van Zandt, Zeppelin, Lynyrd Skynyrd
Harry Chapin, Guy Clark and Van Halen
I got Rita, Kris, Keith Sykes and Country Joe when he was singin' with the Fish you know
I got Emmylou, U2 and Arlo, James Taylor, Jimmie Rodgers, Hank Williams, Mojo Nixon,
Hendrix, Haggard and a whole lot more
In that dusty old pile of vinyl records I got sittin' on my floor
One time in San Francisco
I was standin' in an airport line
In one bag I had all my clothes and in the other was all them ol' records of mine
The lady said I could only bring one bag
I had two, Oh what a drag
I had to jump on the plane and leave all my clothes behind
But I got Willie, Waylon and Woody Guthrie
Jimmy Buffett, Lyle Lovett and Bobby Gentry
Jerry Jeff, Bob Dylan, Donnie Fritts,
The Dead, The Doors, Patsy Cline, John Prine and more
I got Jackson Browne, Townes Van Zandt, Zeppelin, Lynyrd Skynyrd
Harry Chapin, Guy Clark and Van Halen
I got Rita, Kris, Keith Sykes and Country Joe when he was singin' with the Fish you know
I got Emmylou, U2 and Arlo, James Taylor, Jimmie Rodgers, Hank Williams, Mojo Nixon,
Hendrix, Haggard and a whole lot more
In that dusty old pile of vinyl records I got sittin' on my floor
Elvis Presley, Buddy Holly, Richie Havens and the Who
Aretha, Prince, Gram Parson, the Burrito Brothers too
John Lee Hooker and Bill Monroe, Jerry Lee Lewis and Bill Monroe
Ray Charles, Todd Snider, the Clash and the Ramones
I got all of Booker T's, Tom T. Hall's,
Bobby Bare, Belafonte and the New York Dolls,
Billy Joe, Jimmy Croce, Kiss, Crosby Stills and Nash,
John, June and Roseanne Cash
I got Forbert, Fromholtz, Stevie Ray,
T-Birds, Yardbirds, Sam and Dave,
And as some of y'all mighta guessed already
I got piles and piles and piles of Tom Petty
In that dusty old pile of vinyl records I got sittin' on my floor