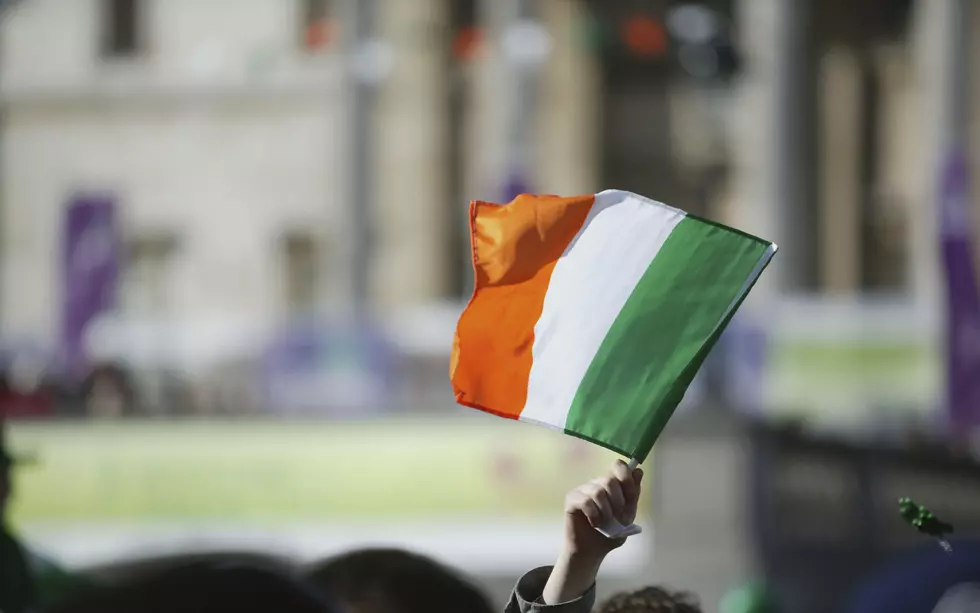 The 95 Most Common Irish Slang Words
Getty Images
Stall the ball, there's a hape of common Irish slangs comin' your way.
I had a college floor mate who use to call people "tools" all the time. Now I know where it came from. I figured out what it meant pretty quickly. It wasn't hard since he'd say it about someone who did something really stupid like get so drunk that he would wake up the next morning with one eyebrow shaved. And speaking of being drunk, if you are in Ireland you wouldn't use that word. You would go with something like: He's langers or he's ossified.
And now, thanks to the website slang.ie I give you the 95 most common Irish slang words in honor of St. Patrick's Day. It's truly deadly.
1. Sham - A friend
2. Gowl - Annoying stupid person
3. Feek - Gorgeous girl
4. Quare - Another meaning for very or unuasl
5. Yoke - Thing. any thing or object or person. A broad descriptive term for anything
6. Savage - Very can be good or bad
7. Pure - Really/very
8. Cat - An effusive way to say that something is awful or terrible
9. Sound - Reliable, dependable, a good sort
10. Tool - Idiot
11. Shades - Garda Siochana (term comes from the 2 shades of blue on the uniform)
12. Muppet - Fool
13. Banjaxed - Broken
14. Fierce - Very
15. Shift - French kiss
16. Gammy Useless
17. Manky - Very soiled, smelly etc.
18. Deadly - Fantastic
19. Ride - A goodlooking person
20. Bullin - 1. He was angry 2. The heifer was bullin 3. She was randy !
21. Gimp - Fool or idiot.
22. Flute -A bit of a silly person
23. Box - The female genitalia
24. Class - A term used for something good
25. Plastered - To be very drunk
26. Bogger -Rural person
27. Hames - To ruin or destroy
28. Meet - To french kiss someone
29. Rotten - Something horrible/ disgusting.
30. Mouldy - To get drunk or something thats disgusting
31. Ossified - Drunk
32. Wan - One
33. Feen - Male
34. Like - Used at the end of every sentence
35. Grand - Fine, ok, alright
36. Whist - Be quite
37. Stall - French kiss.
38. Bate - Exhausted
39. Hi - Put to the end of almost every sentence!
40. Gander - A look
41. Scuttered - In a very advanced state of intoxication.
42. Well - How are you? Is your day going well
43. Gaff - House
44. Beour - Female
45. Scoops - Alcoholic drink
46. Sketch - Used when keeping a lookout for an authority figure, and one is seen coming
47. Lamp - To hurt someone
48. Horse - A friend
49. Aye - Yes
50. Clatter - A slap or a belt
51. Score - To kiss someone.
52. Bure - Female
53. Sup - Hello
54. Slash - Urinating
55. Buck - Boy, man, lad
56. Wide - Aware of, understand
57. Gawk - Sick
58. Scatter - A group (esp of inanimate objects)
59. Puss - Sulky face
60. Amadan - Fool
61. Spanner - An idiot
62. Jackeen - Person from dublin
63. Mog - Person of low intelligence
64. Clem - Something bad
65. Chancer - Dodgy character
66. Gom - Fool
67. Bóg - Illegal dancing pill or bomb
68. Hape - Loads
69. Lock - Small amount
70. Cop On - An order to grab hold of yourself and not be so stupid
71. Baytin - Regional pronunciation for the word beating.
72. Coddin - Joking
73. Acting The Maggot - Acting in a particularly foolish manner
74. Snake - Sneaky person
75. Lash - Drinken session
76. Gatch - The walk of someone
77. Stall The Ball - Hold on a moment
78. Gombeen - Fool
79. Scratcher - Bed
80. Arseways - To make a mess of
81. Jammy - Lucky person
82. Gas - Funny
83. Jacks - Toilet
84. Craic - Fun,banter
85. Dose - Thats annoying
86. Mitch - To bunk off
87. Skank - Woman of ill repute
88. Slag - A woman of ill repute
89. Langers - Drunk
90. Stocious - To be very drunk. Pronounced: Sto-shess
91. Puck - To hit with a closed fist
92. Wee - Small
93. Massive - Great, super
94. Buckled - Under the influence
95. Gobshite - If someone gets on your nerves
Things Kids Did in the 80's That Would Spark Massive Outrage Today