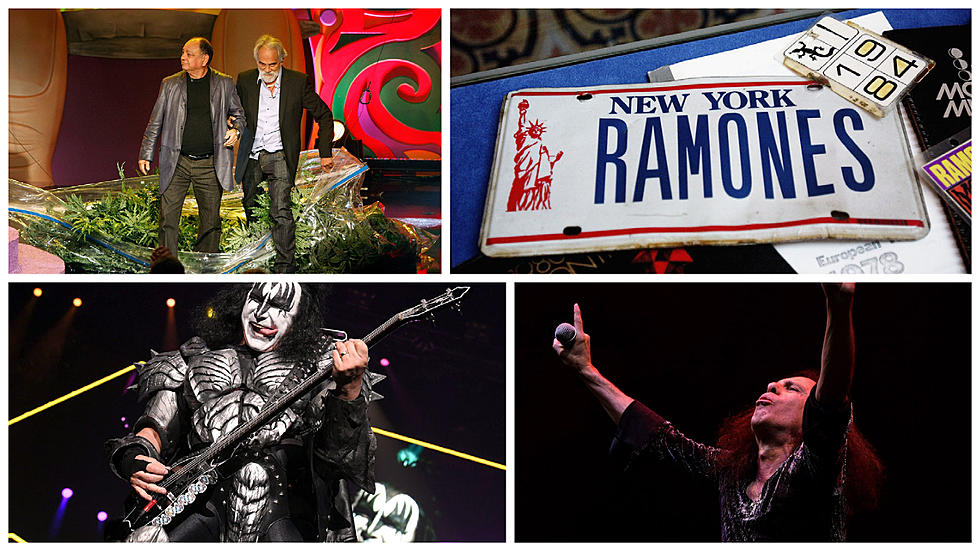 Remembering the Legendary Shows at Waterbury's Palace Theater
Getty Images
I recently had the pleasure of speaking with Sheree Marcucci, Marketing & Public Relations Officer for Waterbury's Palace Theater, which is located in the heart of downtown at 100 East Main Street.
I told her that my brother Mark had seen Queen, Aerosmith and some of the other great concerts that the Palace had on their stage in the glorious 1970's and 1980's, and I asked if she had some kind of list of the performances that were held there back in the day.
To my delight, she shared a partial list that the Palace's unofficial historian, Lou Belloisy had compiled. It covers performances at the Palace for a 15 year period, from 1971 to 1986, and I'd like to share some of the bands that you may not have known that graced that huge stage in my hometown.
For instance: Did you know that The Ramones played at the Palace, twice? They opened up for Johnny Winter on July 11, 1975, and they also opened up for Iggy Pop on 10-4-77. We've all heard that Queen graced the East Main Street stage, but, did you know how many times? Twice as a headliner, on 2-14-75 and 1-27-76, but they also opened for Mott the Hoople on 5-4-74.
The great Ronnie James Dio played the Palace twice, with his band Electric Elves opening for Badfinger on 2-5-72, and with his band Elf opening for Deep Purple on 11-11-72. Cheech and Chong lit up the Palace stage on 11-29-73, just a few days after Focus and the Spencer Davis Group's show on 11-23-73.
Pink Floyd played a legendary show at the Palace on 3-18-73, here's a recording of the performance -
The fabled Lynyrd Skynyrd show, where the band's tour bus got loose and crashed through a fence and gas station happened on 9-7-74. I found a snippet from a Lynyrd Skynyrd documentary that describes the incident -
The Grateful Dead played two nights at the Palace on their legendary 1972 World Tour, on September 23, 24:
One of the finest classic rock bands of all time, Rush, graced the Palace stage numerous times: 12-29-74, opening for BOC. 12-18-75 opening for KISS, and headlining on 12-8-76. The Boss himself, Bruce Springsteen rocked the stage in Waterbury on 8-21-76. That's only scratching the surface really.
A who's who of classic rock's best have also put on shows in Waterbury, including Fleetwood Mac, Manfred Mann's Earth Band, Kansas, Styx, Frank Zappa, Bob Dylan, Alice Cooper, Electric Light Orchestra, J. Geils Band, Steely Dan, The Kinks, Def Leppard, Sammy Hagar, ZZ Top, Cheap Trick, .38 Special, REO Speedwagon, Boston, Foreigner, Lou Reed, Jeff Beck, Journey, and good ol' NRBQ. Whew. That's a lot of legends.
The Palace has just announced a bunch of shows as Connecticut live entertainment slowly returns and one of the shows is for a band that has played that stage many times over the years, Blue Oyster Cult. They make their return to East Main Street on November 12, 2021. I can't wait for the sweet thunder of music to erupt from those legendary speakers again. Thank you Sheree and Lou!
Here's the 12 Species of Turtles Native to Connecticut