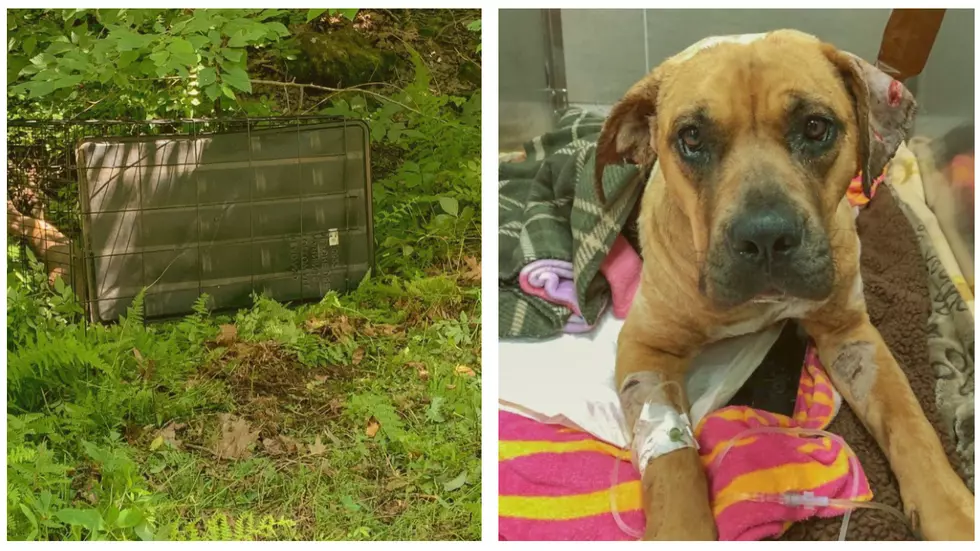 Numerous Animal Cruelty Cases Across Connecticut in Recent Weeks
Woodbridge Municipal Animal Control Facebook Image
This summer, there have been numerous cases of extreme animal cruelty in Connecticut. It seems like almost every week there's a new report somewhere in the state.
Animal cruelty is a Felony in the State of Connecticut, those convicted could face fines ranging from $1,000 to $10,000 and possible imprisonment of anywhere from one to ten years. Abandoning your dog without regard for its well being and safety falls under Connecticut General Statute 53-247.
The latest case in which a dog was abandoned and tied to a pole was reported last Saturday (July 27) in West Haven, the same town where, last month, a dog was found burned to death in a parking lot at Sandy Point Beach. A day before that, another dog was found tied to a tree in Norwalk's Cranbury Park, and a week prior to that, a dog in Bethany was found dead after being abandoned in a crate.
According to the News Times, other cruelty stories have also been reported during the month of July. On the 15th, a dog they are calling "Merritt" was allegedly tortured and struck by two vehicles on the Merritt Parkway and the New Haven Police Department are investigating the alleged poisoning of dogs all within the same neighborhood.
The cruelty has reached such a crisis level that the Woodbridge Municipal Animal Control took to Facebook with this post:
When will it stop? When will humans stop the senseless harm on innocent animals. When?
Here's what you can do to help. First, if you ever suspect or witness animal cruelty, you should call 911 immediately. I know it's cliche, but if you see something, say something.
Second, there are many organizations and shelters in the state that can assist you in finding a  new home for your pet. The Shelter Pet Project is one that can help you find a local shelter that will take your dog or cat and find it a new forever home. Of course, you can always find help by reaching out the the Connecticut Humane Society.
In the Greater Danbury area, the Danbury Animal Welfare Society, (203) 744-3297, and the Animal Welfare Society in New Milford, (860) 354-1350 are two places you can reach out to if your no longer able to care for or keep your pet.