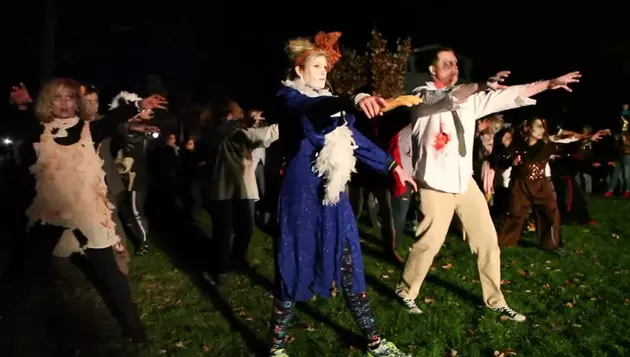 'Thriller' Flash Mob Looks to Recruit Zombies in New Milford
YouTube image/N.M. Flash Mob
It's become a Halloween tradition in New Milford, and this year is no exception. The Thriller Flash Mob is back and looking for the walking dead.
It's part of the "Trunk or Treat" event -- another New Milford tradition that promotes safe Halloween trick or treating for area children. The concept was started by Christine Teixeira, a former Radio City Rockette, who owns Jazzercise in New Milford.
Each year, since its debut on the New Milford Green new dance moves, and surprises are added to Michael Jackson's monsterous hit, Thriller. Christine's adaptation of the famous Thriller choreography is always a spectacle, but according to the Flash Mob's official Facebook page, you don't need to be a trained dancer to learn, just attend a few rehearsals.
They are now casting for dancers for this year's event. If you're 13-years-old or over, and you would like to join the 2017 Thriller Flash Mob, just click the link below to sign up.
Those 60 or so people involved in the performance go through a few fun, but extensive rehearsals between October 22 and October 29 at JK Shuffles 99 Danbury Rd, New Milford (Across from Home Depot parking lot). The performance date is, of course, Halloween evening starting at 6:30 pm on the New Milford Green.
Here's the video from last year's Thriller Flash Mob:
Remember the Scary Clown Thing? Our Moose Forgot It's Over: