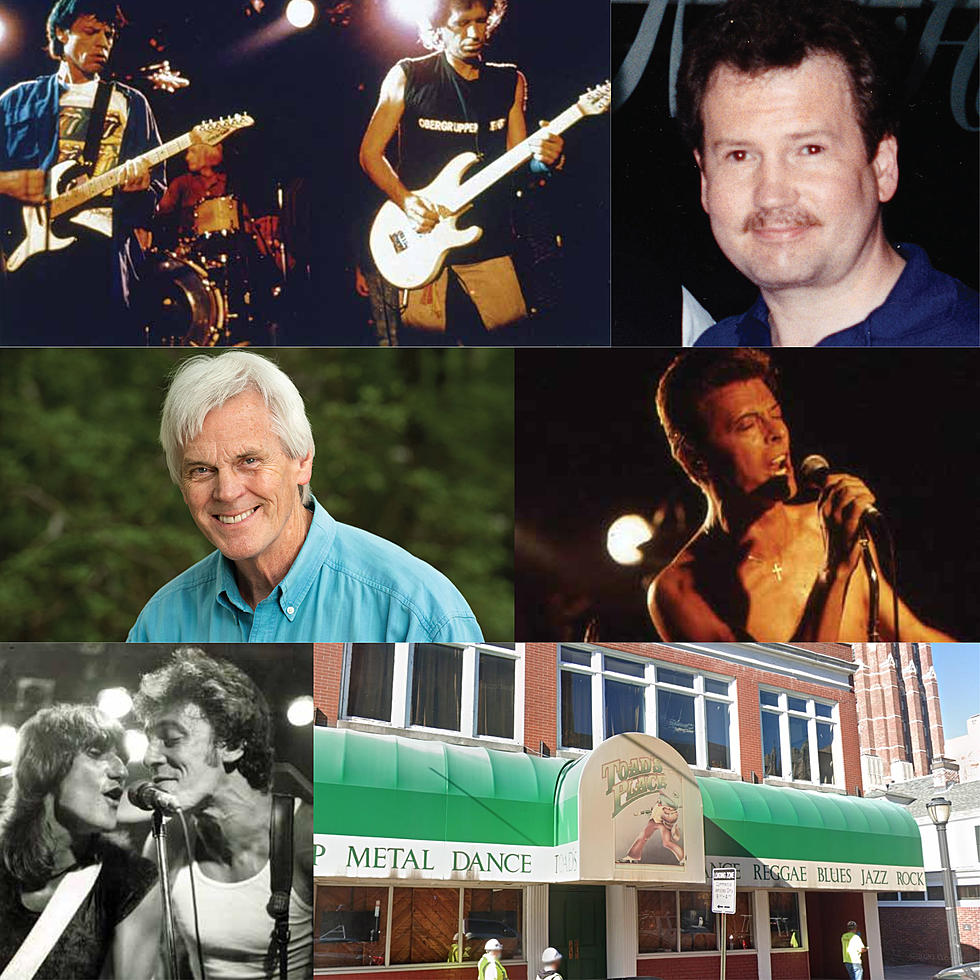 New Book Details the Storied History of New Haven's Legendary Toad's Place
Credit - Globe Pequot - Rowman & Littlefield. Toad's Place
If you're a fan of live music here in Connecticut, you've been to a show at Toad's Place.
The legendary intimate concert venue is located at 300 York Street in New Haven, and you've probably heard about some of the famous musicians: The Rolling Stones, Billy Joel, Bruce, Bowie, and countless others, that have played there over the decades.
The owner of Toad's Place, Brian Phelps, has amassed an incredible collection of memories, mementos, and his own photographs of the thousands and thousands of concerts that have taken place in his venue.
When the pandemic shut Toad's down, Phelps got to work with his friend reporter/journalist/author Randall Beach on writing a comprehensive memoir about their experiences inside Toad's, good and bad. The fruits of their labor has just been released to the public, and it's great.
The Legendary Toad's Place: Stories from New Haven's Famed Music Venue has just been released, and I burned through it, courtesy of a review copy that I received from the publisher. It's fascinating, and I got a chance to speak with both Brian and Randy about their experiences and how they came together to write the book about one of Connecticut's treasures.
The Legendary Toad's Place tells the complete story about how Toad's orchestrated the most famous concert in Connecticut rock & roll history. From the initial conversations with the band's representatives and Jim Koplik to trying to keep the oversized personality of Toad's former owner "Big" Mike Spoerndle in check long enough to not spoil the secrecy of the event, to co-author Randy Beach's best birthday present ever to his wife, the chapter devoted to the Stones show is worth the read alone.
But there's so much more. Including 28 full pages, arranged A to Z, of most of the bands that have graced the stage at 300 York Street. Think of the greats in entertainment -  They have played at Toad's Place - Dizzy Gillespie? Iggy Pop? Drake? Johnny Cash? Meatloaf? Weird Al? Yep, all of them, and thousands more.
A good portion of The Legendary Toad's Place is devoted to Phelps and Beach's recollections of the major shows and there are quite a few juicy tidbits that will make you laugh along the way while reading their journey. Beach recounted how he had brought his 11-year-old nephew Johnny to see Naughty by Nature in 1992, and watched in horror as the band threw out a vulgarity-laced 20 minute set. Johnny learned pretty quickly what O.P.P stood for.
The book also dives into stories about some famous celebrities that attended concerts at Toad's including Derek Jeter, Elijah Wood, Jodie Foster, John Cusack, Harry Dean Stanton, John McEnroe, Rodney Dangerfield, and former UConn basketball star Diana Taurasi, among many others.
Brian and Randy also recount a great story about how Toad's Place bouncers caught former President George W. Bush's daughter Barbara trying to use a fake ID to get into a concert by the group Jurrasic 5 in October of 2000.
Oh, do you remember that Toad's opened up a second location in Waterbury? For 3 1/2 years in the early 1980's, Toad's Place - Waterbury operated in my hometown. I had to ask Brian Phelps why it didn't work out, and he told me "Well, there were a couple reasons. First, it seemed like everyone left Waterbury on the weekends. We'd book a big name in Waterbury instead of New Haven, and they just didn't draw. And then the management team we had in place in Waterbury were stealing and using drugs, so, we had to shut it down."
My first time to Toad's was around 1991. I was working as an intern for 99 Rock WPLR, my first job in radio. A few of the guys that I worked with at WPLR- Mike Lapitino, Griffin, and Rick Allison - are quoted extensively throughout the book. I was just a 22-year-old kid when I started. It's so cool to read the backstories about what I had experienced at that time.
I've seen so many national-level acts in the 750-person capacity Toad's Place over the years. Some of my favorites were The Black Crowes, The Cult, Public Enemy, and Eddie Money. I thanked Brian for personally bringing some of my favorite bands to Connecticut, and I also thanked Randy for his wonderful work writing for The New Haven Register, New Haven Advocate, the Hartford Courant, and now, The Legendary Toad's Place: Stories from New Haven's Famed Music Venue.
I highly recommend picking up a copy of Brian and Randy's book. It's filled with interesting facts and stories about one of Connecticut's true homegrown treasures. Toad's Place is also hosting the official book release party on Wednesday, October 20, 2021 at 7PM. Tickets are free, and I'll see you there.
Connecticut Stores OPENED and CLOSED on Thanksgiving 2021...
Bad Reviews Of Connecticut's Most Famous Food
These establishments serve up items that are 90% universally loved in the reviews, but there's always a naysayer, and they're funny
A Walkthrough Of Connecticut's New Premiere Concert Venue
I got a behind the scenes tour of the beautiful new Hartford Healthcare Amphitheater in Bridgeport. Come with me