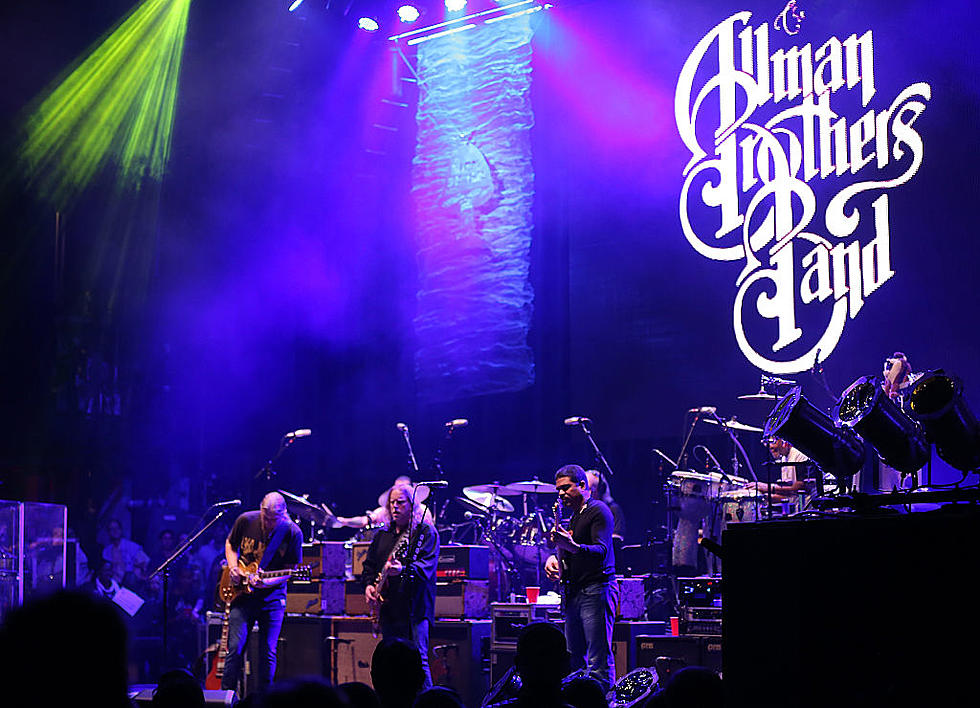 New Allman Bros. Release Takes Us Back To A Summer Night In Hartford 2003
Getty Images
The memories came flooding back the instant I hit the play button. It's a hot August night under the stars at The Meadows and the smell of incense, patchouli, beer and a certain spirit-enhancing smoke floats freely through a cool summer breeze. The thumping bass line of "Whipping Post" kicks in, I close my eyes and completely give myself up to the moment. My mind is floating.
Man, those were some good times.
A brand new live Allman Brothers Band album was just released and what a pleasant surprise it was to find out it includes a handful of tracks recorded on this very weekend 15 years ago in Hartford. Peach Picks: Cream of the Crop 2003 is packed with nothing but the best moments from the band's 2003 tour. All together there are 36 live cuts recorded between July 25th and August 10th of '03 at shows in Indianapolis, Pittsburgh, Darien Center, NY, Charlotte and Raleigh, NC, and from Hartford - specifically Sunday night, August 2nd at the Meadows Music Centre.
The five tracks taken from the Meadows are "Worried Down With The Blues", "Statesboro Blues", "Stand Back", "Melissa" and "Don't Think Twice, It's Alright" (w/ Susan Tedeschi on vocals) and they're all gems. No surprise to me, though. I started going to Allmans shows at The Meadows around 1997 and made it a point to see them every time they came around. Every show was different, every show was stellar.
Gregg Allman (vocals, keyboards), along with fellow founding members Jaimoe (drums) and Butch Trucks (drums) were joined by Warren Haynes (guitar), Marc Quiñones (percussion), Oteil Burbridge (bass) and Derek Trucks (guitar). This represented an era of the band where there was a rebirth among the members. Gregg had gotten himself clean while he and the rest of the '03 lineup had become a lean, mean machine. Hearing this album is a reminder of that. It's even extra special to hear these recordings again since, sadly, we've lost both Gregg Allman and Butch Trucks who both passed away in 2017.
Founding member and lead guitarist Dickey Betts had been out of the band since 2000. While he was definitely missed by fans the duo of Haynes and Trucks sure eased the pain. It's Haynes who served as the Supervising Producer of this collection and he remembers that summer tour as being one that stands out among others. On the band's official website Hayne's talked about why the '03 tour was so essential to the band's history.
"That was an important time in the growth of that incarnation of the ABB," said Haynes. "We had just released [our studio album] 'Hittin' The Note' and everybody was psyched to be playing a lot of new material from an album we all were very proud of and there was new life being breathed into a lot of the older songs."
A couple of the Hartford tracks were posted on YouTube so let's give them a listen. When you're done, do yourself a favor and check out the rest of this amazing collection of songs recorded during a time when it seemed like the road would go on forever. Unfortunately all good things must come to an end. Gregg Allman and Butch Trucks are no longer with us but their music? That will go on forever.
"Statesboro Blues"

"Melissa"

You can listen to Eric Senich live on Saturdays from 10am to 3pm on 95.1 FM. You can also listen online by clicking here or by downloading the i95 ROCK Mobile App.