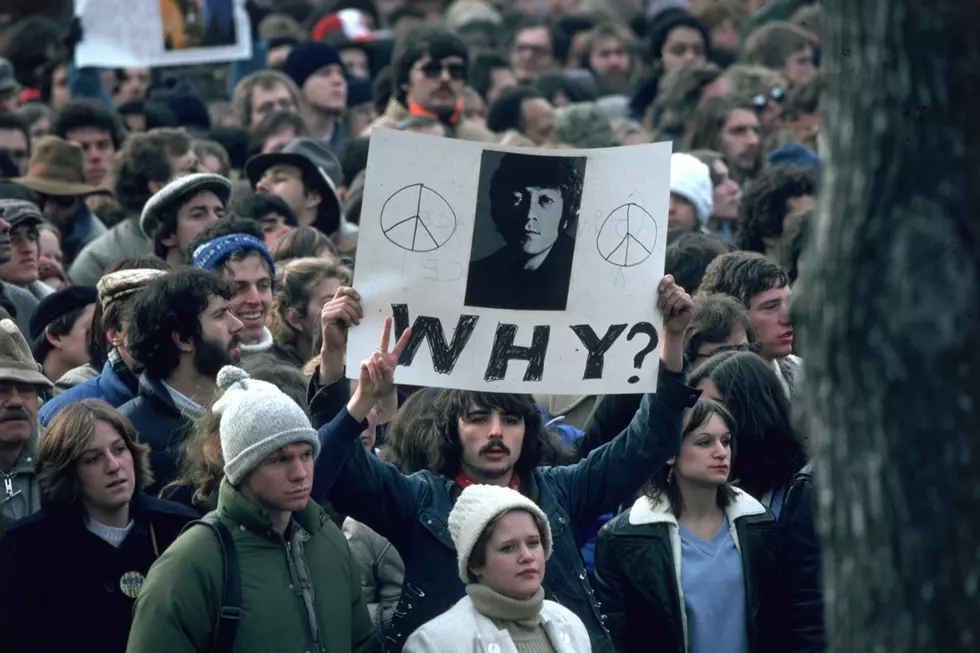 The Day Thousands Honored John Lennon With a Silent Vigil
Hulton Archive / Getty Images
When John Lennon was murdered on Dec. 8, 1980, one of rock's most brilliant voices was forever silenced — and on Dec. 14, that silence was shared by thousands around the world.
Less than a week after Lennon's death, mourners still clogged the streets around the New York apartment where the former Beatle was returning home with his wife Yoko Ono when he was felled by four bullets from an assassin's gun.
Though tributes sprung up around the world on Dec. 14, 1980 — including Lennon's hometown, Liverpool, where an estimated 30,000 people joined together to honor him — the largest took place in the city he called home when he died.
More than 50,000 people congregated in Central Park to honor Lennon, and although the emotional wounds from his death were still painfully fresh — and the presence of reporters from around the world threatened to turn the gathering into a media circus — as demonstrated by the archival footage you can stream above, the memorial was an overwhelmingly somber and respectful event.
Watch a News Report About John Lennon's Vigil
At Ono's request, Lennon's Dec. 14 memorial culminated with a 10-minute silent vigil that started at 2PM ET and was shared by mourners around the world — including radio stations that marked the occasion by temporarily halting their broadcasts. In the absence of a funeral for Lennon, who was cremated shortly after his death, it marked a way for anyone who wished to, as Ono put it, "to participate from wherever you are" in a commemoration of his life and legacy.
The silent vigil has become a hallmark of Lennon memorials, which continued starting the following year and have remained an annual tradition ever since. Today, the area of Central Park known as Strawberry Fields serves as a "living memorial" to Lennon, and marks one of several spots where fans traditionally gather to honor his memory.
For Ono, it's a persistent reminder of how strongly Lennon's message continues to resonate. "Sometimes [I think], 'Oh, well, John is not here,' but then I remember that John was here, and how great it was," she told Time. "He was giving out a lot of positive energy. You can look around and see that energy and remember him. Then it's not so bad."
John Lennon Albums Ranked