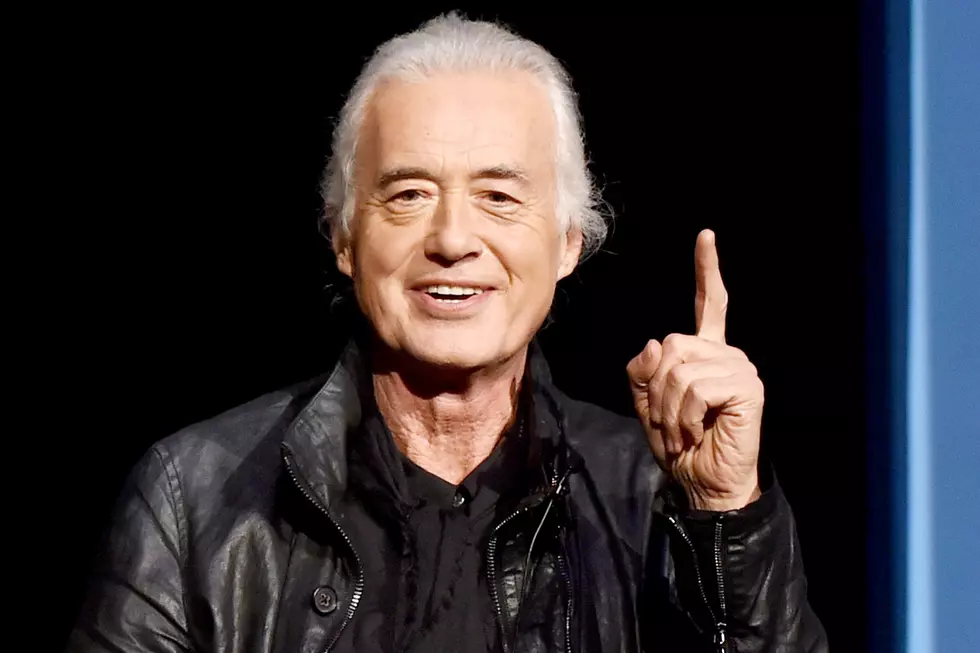 The Ten Greatest Non-Zeppelin Jimmy Page Songs
Kevin Winter, Getty Images
Isn't about time we give Jimmy Page a whole lotta non-Zeppelin love?
With Page making the statement this week that "It's time" for him to make another solo album in the coming year, I think "it's time" for the top ten Jimmy Page songs that don't have the Led Zeppelin tag on it:
10

"Wasting My Time" - Jimmy Page (1988)

Page's first official solo album 'Outrider' did not fare well commercially or critically when it was released in the summer of 1988. In fact, I remember seeing the cassette in many bargain bins shortly after it's release but it did have it's moments like the opening single "Wasting My Time".

The main riff is monstrous and the solos throughout are stellar. It also didn't hurt to have the late John Bonham's son Jason playing drums on the track. This song also features Page's former Firm band-mate Tony Franklin on bass with vocals by John Miles.

9

"Over Now" - Coverdale/Page (1993)

Right from the opening chord Page pulls you in on this track from the 'Coverdale/Page' album. It kicks into a "Kashmir"-esque groove which Page attack's with a ferocity very reminiscent of classic Zeppelin.

8

"Absolution Blues" - Coverdale/Page (1993)

Here's another killer track from the very underrated 'Coverdale/Page' album.

The opening instrumental is a Gothic masterpiece. It's dark, it's mysterious, it's something Alisteir Crowley would be delightfully pleased with. I can just see him grinning ear to ear enjoying this piece of dark magic.

7

"Tear Down The Walls" - The Firm (1986)

Jimmy Page has an internal rhythm like no other guitarist in rock and roll. This is hands-down one of my all-time favorite Page riffs and that includes his work with the mighty Led Zeppelin.

Thankfully Jimmy knows how to pick the perfect rhythm section to keep up with him. The Firm boasted a lineup that was second to none. You know Paul Rodgers voice from Bad Company but it's bassist Tony Franklin and drummer Chris Slade who bring this riff to life.

I'd love to see this band reunite. Who knows? Maybe it'll happen someday before Page hangs up the guitar for the last time.

6

"Shake My Tree" - Coverdale/Page (1993)

This is the second single released off of the 'Coverdale/Page' album and the first time I heard it on the radio I knew it was Jimmy Page. I didn't even need to hear the DJ tell me so. This is classic Page.

5

"Pride And Joy" - Coverdale/Page (1993)

When word got out that Jimmy Page was going to record an album with former Whitesnake front-man David Coverdale there was definitely some head scratching going on with Page fans. After all this is the guy who Robert Plant accused of being a Plant imitator. Plant even went as far as calling him "David Coverversion".

Yet when the album's first single "Pride And Joy" was released ahead of the album's release there were many Page fans who were pleasantly pleased with what they heard. I was one of them. Is it on par with Led Zeppelin? Obviously not. It proved, however, that there was some definite chemistry between Page and Coverdale.

4

"The Release" - Jimmy Page (1982)

With the death of Led Zeppelin drummer John Bonham in 1980 Jimmy Page was first left with the devastation of losing a friend. Then it was time to decide what to do with the rest of his musical career in the wake of Zeppelin's demise. Exit Robert Plant, enter...Charles Bronson?

Page ended up writing the music that would make up the soundtrack to the 1982 Bronson movie 'Death With II' and came up with some great music.

This track is the one that stands out most with fans and for good reason. It definitely has a Zeppelin feel to it.

3

"Satisfaction Guaranteed" - The Firm (1985)

How could Jimmy Page possibly survive without Led Zeppelin? Easy. Get a legendary singer named Paul Rodgers, an amazing bassist named Tony Franklin and a super-tight drummer named Chris Slade. They were called The Firm and they delivered musical satisfaction in spades.

This is one of the two big radio singles from the band's 1983 self-titled debut. The other single? Well you're gonna have to check out song #2 on this list!

2

"Radioactive" - The Firm (1985)

I clearly remember the first time I heard this song. I was about 12 years old, a huge snow storm hit the night before, I had the day off. I distinctly remember coming home from sledding with my friends and seeing this video on MTV while I was thawing out.

I knew little about Led Zeppelin from my older brothers Marty and Chad but didn't know who Jimmy Page was. I just remember being memorized by the sounds he was making on the guitar. The little scratches on the fret board blew me away and the solo? It sounded like a radioactive bolt coming down from the skies. And the dude looked so cool playing that guitar!

At the end of the video I saw the band's name displayed on the TV screen: The Firm "Radioactive".

The next time I saw it my brother Chad was with me. He filled me in on the guitarist. "His name is Jimmy Page and he played for the band Led Zeppelin," he said.

My journey into the fascinating world of Jimmy Page had officially begun.

1

"Midnight Moonlight" - The Firm (1985)

The roots of this Page classic lie fairly deep within Led Zeppelin history.

This was a song that began as a Zeppelin project as far back as 1974. It was to be called "Swan Song". It never found it's way on a Zeppelin album but it was either a case of Page never giving up on the song or the song never giving up on Page and it remained in his musical consciousness for nearly a decade. Finally the song found a home with his new band The Firm in 1985.

This is a beautiful piece of music that soars through time changes, lush acoustic arrangements, heavy, intense electric guitar riffs and a lyric that always gets me: "Bird on the wing, she is flying to me".

"Midnight Moonlight" is my go-to Page song on any day of the week.