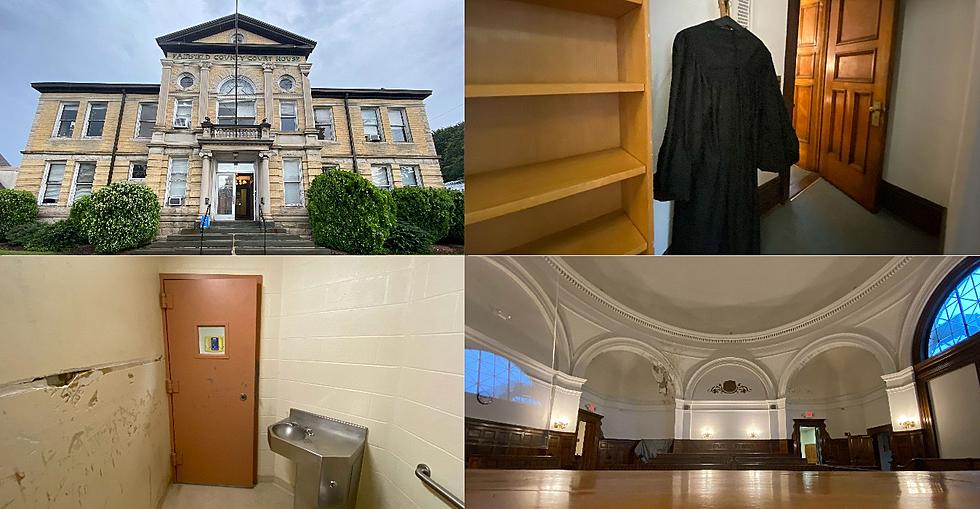 Inside the Beautiful + Intimidating Holding Cells and Grand Rooms of Danbury's Fairfield County Courthouse
Lou Milano
The Native Americans called the area Pahquioque, the first settlers from Norwalk called it Swampfield, but the city was eventually named Danbury and its downtown area is loaded with interesting and historic buildings.
One of those buildings sits empty on the Southern end of Main Street and if you could peel back its green dome, history would come spilling out. Since that is not physically possible, I went another way and asked for a tour, and guess what -- I got one.
Inside the Holding Cells and Grand Rooms of Danbury's Fairfield County Courthouse
One of Danbury's most significant buildings is the vacant courthouse on Main Street. I took a tour of it recently and captured images to share with you. This is a look at the judge's chambers, inside the holding cells and around the grand courtroom of the Fairfield County Courthouse.
I hope this building is preserved for many years to come -- it's worthwhile to hold tight to our history. Buildings like this tie us to our past, preserving them, and insisting the next generation does, brings us all a bit closer. If you mix a strong imagination with a consequential place you end up, as close to time travel as you are ever going to get.
In 1970, Two Men Robbed a Danbury Bank + Blew Up the Police Station
The story of the Pardue brothers, their connection to Danbury and what happened in the Hat City in February of 1970 came to us from Mike Allen. Every Tuesday Mike joins the Ethan and Lou Show on I-95 for a feature called "The Place You Live" and this week it was a local story unlike any I'd ever heard.
John Pardue was a 27-year-old man in 1970 who lived in Danbury, his brother James was 23, and living in Lusby, MD. Before the story finds its way to the Hat City, and the brothers rob the Union Savings Bank on Main Street, they had already racked up quite the list of astonishing crimes.
Prior to Danbury, they robbed banks in Lewisboro, NY, Georgetown, CT and Union, MO. They also killed their father, their grandmother, two other men who helped them pull off the robbery in Georgetown, CT and had, at minimum, a role in the death of an innocent Bridgeport man that they stole a car from. John and James Pardue were hardened criminals before their Danbury bank robbery.
44 Images From Inside the Haunting + Historic Old Jail in Danbury
Rich history and survival is the story of Danbury's Old Jail. It's historical significance in the Hat City is unquestionable, and many residents know some of the facts. What people may not know, is that it took great effort on the part of many Danbury residents to keep it protected. It's not a miracle that it stands today, it's a result of hard work and respect for the City's narrative. Here I share with you some of the facts that make the Old Jail special, the work it took to keep it intact and why I found the space haunting.
Exploring Beyond the Rusty Gates of Danbury's Oldest Cemetery on Wooster Street
I live just down the block from the Wooster Street Cemetery and whenever I pass, I am always struck at how odd it is. You have this quiet, beautiful place that is dedicated to the people who were buried there, in the middle of a busy city and almost no one ever goes there. I decided to go take a deeper look around and see what was beyond the iron gates and stone walls.
Visual Guide of Mark Twain's Redding + Hartford , CT Homes and Years
Mark Twain lived in CT for nearly 20 years, he owned homes in Hartford and Redding. Twain even purchased a second Redding home for his daughter. During his CT years he wrote classics like; "The Adventures of Tom Sawyer", "The Adventures of Huckleberry Finn" and "A Connecticut Yankee in King Arthur's Court."
Each week on the Ethan and Lou Radio Show we are joined in the studio by Mike Allen for a segment we call: "The Place You Live." Mike brings his research findings with him and shares another amazing local story, this week, it was all about Mark Twain's ties to the Constitution State. This is a visual guide of Mark Twain's footprint on Connecticut.
10 Danbury Murals Perfect for Taking a Selfie in Front Of
These are some of the many murals in Danbury that are great to take a selfie in front of.
The Danbury Flood of 1869 is a Local Disaster Lost to Time
Most everyone in Danbury knows about, or has heard of the catastrophic Hat City flood of 1955 where 87 people died. On the other hand, most people we've talked to don't know about the history of the flood of 1869. In "The Place You Live" segment that aired on August 31, 2021, I-95's former News Director Mike Allen shared his research on the failure of the Upper Kohanza dam in Danbury and what it meant for the people in Downtown Danbury that day.
JK's Texas Hot Weiners Has Nearly 100 Year History in Danbury
How does one family owned business survive for nearly 100 years? I don't know the answer, but the folks at JK's Texas Hot Weiners in Danbury do. Not only does JK's serve a unique and delicious product with care, but they do it together and it's evident in their history.