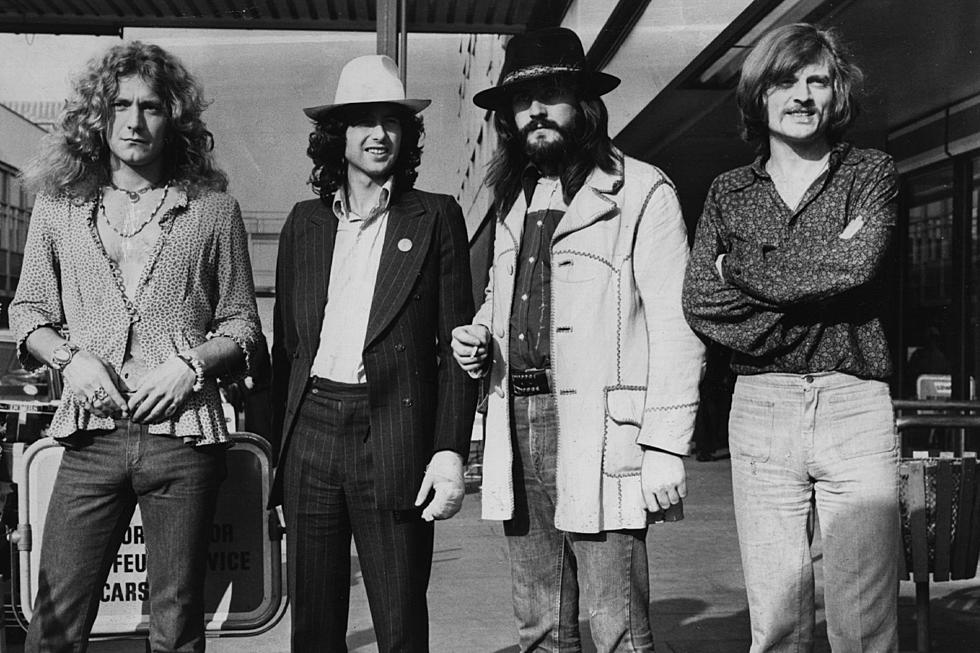 If John Bonham Were Still With Us Led Zeppelin Would Have…..
Evening Standard, Getty Images
It may very well be Rock 'n' Roll's ultimate "What If?" topic. If John Bonham never passed what would have become of Led Zeppelin?
It was 34 years ago this week: July 7th, 1980 that Robert Plant, Jimmy Page, John Paul Jones and John Bonham played their final concert in Berlin, Germany. Bonham died over two months later and the Led Zeppelin as we knew it was no more.
This time of year when the mention of Zeppelin's last show comes up I can't help but wonder what would have happened if Bonham never died. Where would Led Zeppelin be in 2014 with all four members still alive?
Here are five would-be scenarios for the mighty Led Zeppelin:
The Roller Coaster Scenario: Even a group as legendary as Zeppelin goes through their thin years. Look at all the bands who've been together for long periods and they've all been victim to the changing times and musical trends. Aerosmith is the first that comes to mind. My guess is Zeppelin would go through a low period before a resurgence came around and they would become as big if not bigger than they were in the mid-70s.
The LSD Scenario: I'm not talking the drug here. I mean LSD as in "Lead Singer's Disease". It's possible that Robert Plant would get the itch to go out on his own by the mid-80s much like a David Lee Roth with Van Halen. Maybe it would be a Phil Collins scenario. Plant goes solo but still does some work with Led Zeppelin in between.
The Second Singer Scenario: This one branches off of the last scenario. What if Robert Plant leaves the band for a solo career and the band moves on with another singer? Hard to imagine it but just remember that AC/DC and Van Halen did just fine with new singers. And don't forget that it was only a few years ago that Jimmy Page and John Paul Jones thought about hiring a new singer to front a new version of Led Zeppelin. They even went as far as auditioning at least one singer: Myles Kennedy of the band Alter Bridge.
The Break-Up To Make-Up Scenario: It's very possible Led Zeppelin could have gone the way off The Who and gone on a farewell tour, then another and another and…….
The Fade Into Obscurity Scenario: The odds of this are slim to none but maybe Led Zeppelin emptied out the creative well by the time the 70s were over and would end up making music that bombed. Maybe an ill-conceived concept album that went nowhere was in the cards. Again, hard to believe but I suppose anything is possible.
Sadly we'll never know what would have become of Led Zeppelin in the 80s, 90s, 2000s and beyond. Fortunately we have eight studio albums and one posthumous album (1982's Coda) to listen to for as long as we're around.

Led Zeppelin's Final Concert From July 7th, 1980: