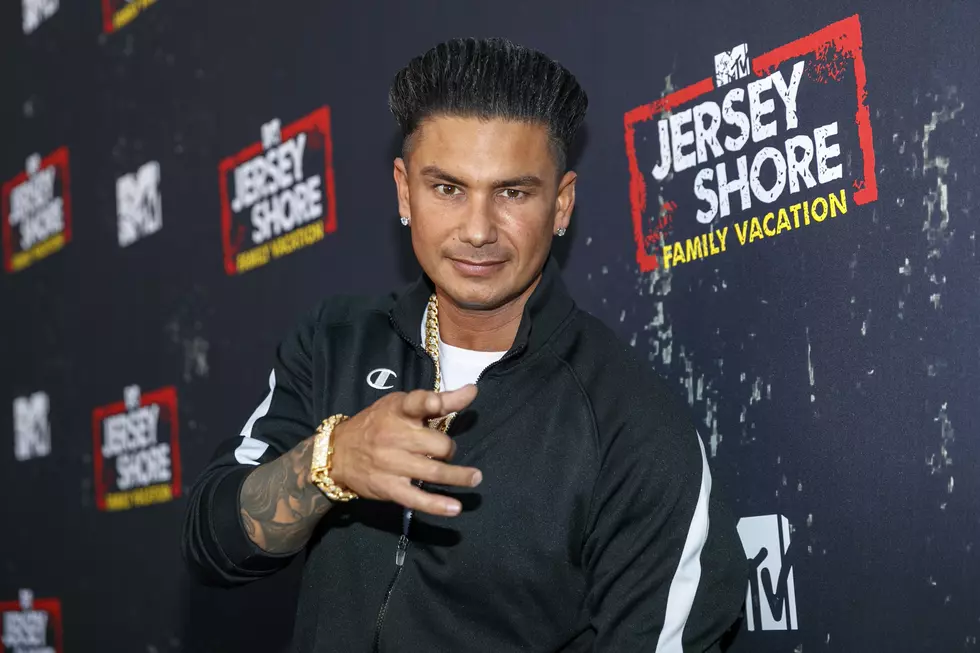 HEY STAMFORD! – Your Chance To Fist-Pump With 'Jersey Shore's' Pauly D
Getty Images for MTV
MTV's "Jersey Shore", what can you say about it? It ranks way up on my list of things that will not and cannot be explained to me. The success the show and its cast members have had is baffling. I say that, but at the same time, I am from the midwest and have watched the show and actually know who "Snooki" is. If there is one good thing that I take away from watching this trainwreck of a TV show is learning the word "Chooch" and its meaning.
I am not a big fan but the massive popularity of the show cannot be denied. So, if you are a fan of guidos, blowouts, 90's music, and good freaking food, then I have an event for you! It's the HEY STAMFORD! FOOD FESTIVAL at Mill River Park in downtown Stamford, CT. Not only will Pauly "Cabs are here!" D will be there, Flo Rida, Vanilla Ice, and more will be performing at the Hey Stamford! Food Festival
It's a two-weekend event including more than 50 food vendors, a beer garden (essential), kids activities (good idea), and performances by the one and only fist-pumping guido Jersey Shore's DJ Pauly D, Flo Rida, Vanilla Ice, Rob Base, Young MC, All 4 One. Wow, Rob Base certainly brings back memories, that was my nickname back in high school and beyond because of his huge hit "It Takes Too."
For the fans of wrestling, there will also be a WWE Superstar Meet & Greet with Happy Corbin (8/13) and Liv Morgan (8/14).  For all you foodies, there will be Zwilling Tastings and Demonstrations Lineup and renowned chef Todd English will be on the Great Lawn cooking things up on August 13th and 14th along with a special appearance by Happy Corbin and Liv Morgan.  Food Network star Aaron May will also be cooking things up with his own demonstrations on the weekend of August 20th and 21st.
Weekend 1 (August 11 – 14)
PAULY D                 Saturday, August 13th @ 7:30 pm
Weekend 2 (August 18 -21)
FLO RIDA               Saturday, August 20th @ 7:30 pm
I LOVE THE 90's TOUR  - featuring VANILLA ICE, ROB BASE, YOUNG MC, ALL 4 ONE       Sunday, August 21st @ 7:00 pm
5 Signs That Prove New York is Outrageously Funny
I grew up in New York State, and I think it contributed to my sense of humor. Recently I took a trip to the Watkins Glen, NY area with my wife and children. We had a lot of laughs and some of those giggles came right from the signs we saw in the Empire State. These are five of the signs that caught our attention, and proved New York is just a funny place.
My New York Vacation Supports Study Findings That the Empire State is the Best for Road Trips
Wallet Hub
recently released study findings on the best road-trip states in America, and New York was found to be #1 overall. The timing of the study was great for me because we were headed on a road trip in New York. I've traveled extensively up and down the east coast but it's been a long time since I took a road trip in the Empire State. We took a trip to the Watkins Glen, Finger Lakes area of New York. We enjoyed vineyards, wineries, breweries, hiking and kayaking, and we did it all in just four days. While on this trip I learned that the Wallet Hub study was right on. The array of experiences, the dramatic landscapes and the hospitality of these small towns all added up to the most enjoyable short vacation my family has ever been on. We visited Watkins Glen, Burdett, Hector and Owego, NY among others, and I strongly recommend emulating my trip.
Mary Badaracco Disappeared From Her Sherman Home in 1984...