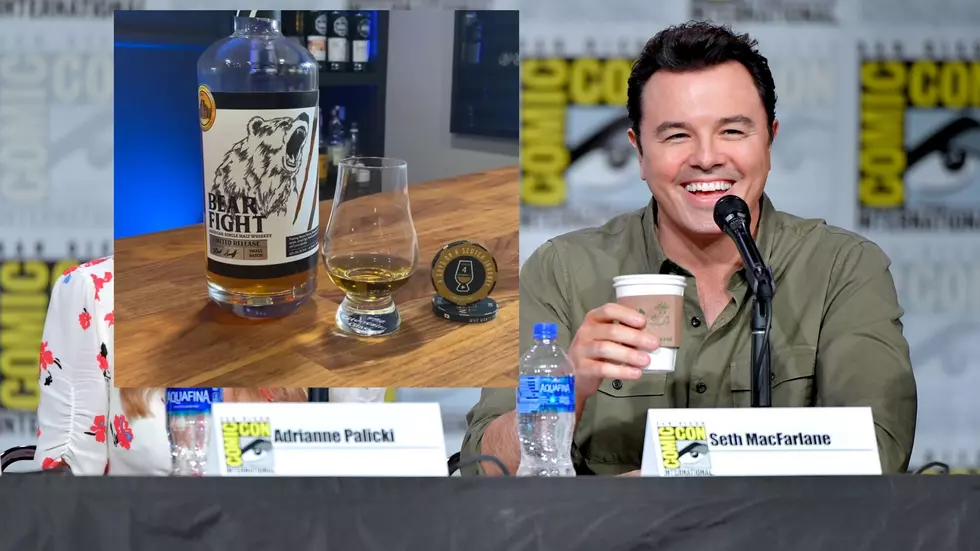 Happy Birthday to Seth MacFarlane Who is Getting Himself Into Some 'Whiskey Business'
Getty Images/YouTube/Scotch 4 Dummies
He is from Kent, Connecticut, and has made us laugh with the Family Guy franchise since 1999, wow, it's been that long? Yes, it has, and this super successful dude from the nutmeg state is branching out from the entertainment industry and into the wild world of whiskey distilleries.
I credit Seth MacFarlane, who turns 49 this week, for most of my kids' knowledge of pop culture and it was cool to find out he is from Kent, Connecticut. According to something called the "Robb Report", I already like it because of the name, Mr. MacFarlane is following the recent trend of Hollywood Stars hawking some kind of adult beverage. Esquire Magazine laid out a whopping 63 celebrity liquors and ranked them.
They all have them from Dan Aykroyd to Bethany Frankel from The Real Housewives of New York City, lots of celebrities, and lots of booze. Blake Shelton, Kate Hudson, Pitbull, Kenny Chesney, Darius Rucker (freaking Hootie has a whiskey) the list goes on and on. I got a chuckle looking at all of them and thought, "they can't all be good, can they?"
Anyway, back to the point of the article, the great Seth MacFarlane now has his own brand of American whiskey, well, at least he is a partner in one. It's called Bear Fight American Single Malt Whiskey and MacFarlane is out and about, front and center as the spokesman with the mission of making "Bear Fight" a household name. Next Century Spirits is the company that actually makes the concoction and is based in North Carolina. From Seth MacFarlane himself:
"There's a lot of whiskey out there," he said in a statement. "So for me to put my name on it, you know it's either great, or I'm getting paid a ton of money. Well, they're paying me almost nothing, which means Bear Fight is damn good whiskey. I don't always stare off to the left side of a photo at something off-camera while holding a bottle, but when I do, that bottle is Bear Fight whiskey.
I love Seth MacFarlane and hope to meet the guy someday, we are right around the same age and we no doubt watched the same television shows growing up. If you purchase some Bear Fight soon, let us know how it was. For more stimulating reading that is crucial to mankind, you can tap or click right here. Check out a recent article written about the new Netflix series 28 Days Haunted which did some filming on location in Preston, Connecticut. Thanks for hanging out with me and see you all again real soon.
5 Abandoned Amusement Parks In Connecticut
We will take a look at 5 amusement parks that no longer exist in the State of Connecticut. They are, in no particular order, Savin Rock Amusement Park in West Haven, Suburban Park in Unionville, Wildwood Park in Dayville, East Lyme's Golden Spur Park, and Roton Point Park located in Rowayton. All, at one time a thriving, well-patronized part of Connecticut's amusement park industry.
6 Of The Oldest Restaurants In The Northeast Worth The Drive
We will take a look at 6 of the oldest restaurants that are within driving distance...
The Griswold Inn is located in Essex and in New York it's The 76' House in Tappan. I was curious and looked at what is the oldest in nearby New Jersey, Pennslyvania, Massachusetts, and Rhode Island.
In New Jersey we will look at The Cranbury Inn located in the township of Middlesex, in Pennsylvania, it will be McGillin's Olde Ale House located in Philadelphia.
In Rhode Island, we will look at the White Horse Tavern in Newport, and in Massachusetts its Union Oyster House in Boston.
A Uniquely Fall Thing You Can't Miss - 9 Connecticut Corn Mazes Worth The Visit
Get crazy with the pumpkin spice and all things Fall. What better way to celebrate Fall than to experience one of Connecticut's incredible corn mazes? Here is a look at 9 Connecticut Corn Mazes you should check out this year.