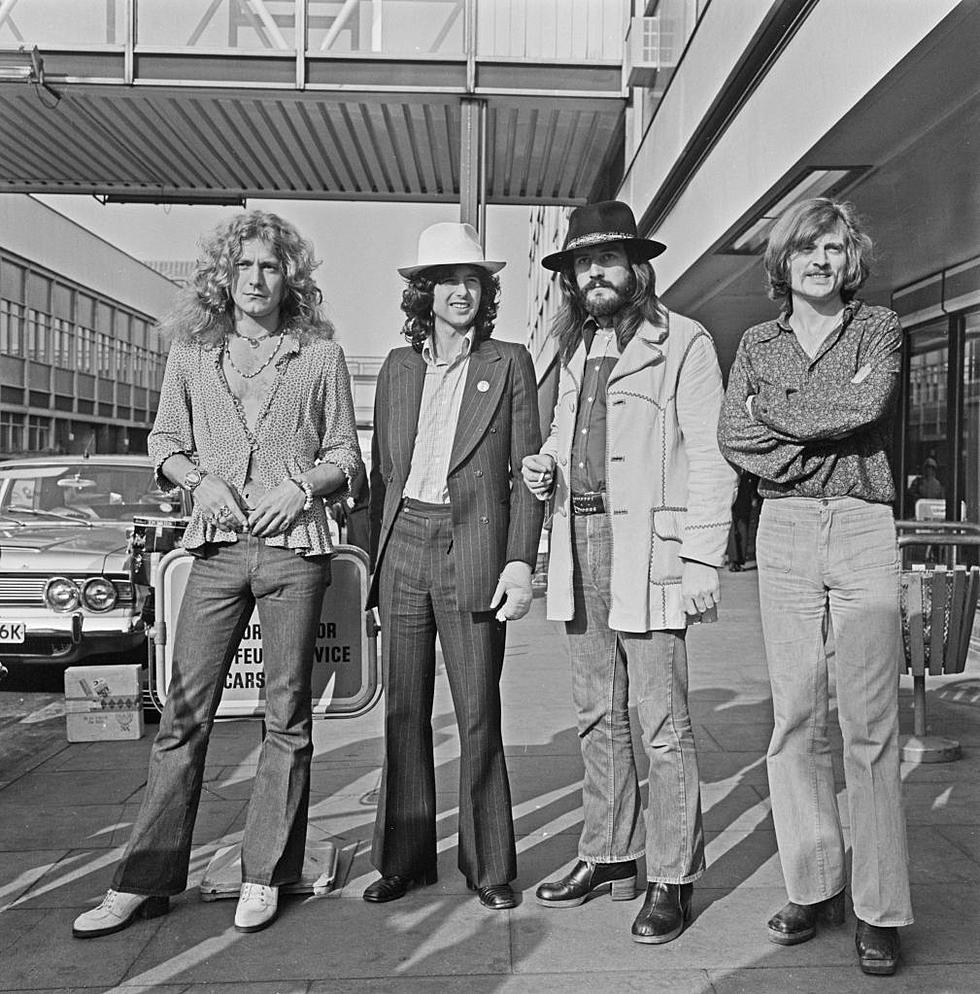 From Zeppelin And Their Graffiti To The Stones And Their Friends St. Mark's Place NYC Has Been Home To Rock History
Getty Images
When it comes to legendary locations in rock and roll history St. Mark's Place in New York City marks the spot.
On this day in 1975 Led Zeppelin released their classic album 'Physical Graffiti' featuring the iconic cover photo of two apartment buildings with windows revealing interchangeable views of cultural icons including astronaut Neil Armstrong, Elizabeth Taylor as Cleopatra, King Kong, Judy Garland and the main cast of The Wizard of Oz among others. That building happens to be pretty close by and you don't need a yellow brick road to get there.
Just punch in "96 and 98 St. Mark's Place New York City" on your GPS and you will soon be standing on hallowed rock and roll ground which is just what a fellow rocker and former music executive by the name of Bobby Pinn did back in 2008. Skip to about a minute and 15 seconds into this video to see Pinn go inside the famous 'Physical Graffiti' building and find out who lives in Room 4A, better known to us Zep heads as letter "H" on the album cover:
Although many music fans connect St. Mark's Place with Led Zeppelin there have been so many other legendary musicians who've passed through, stopped by and left their own physical graffiti on its pavement. Let's take a stroll back in time to find out who else made their mark on East Village's most famous street.
The history of St. Mark's Place dates back to the early 1800s and got its name from the nearby St. Mark's Church in-the-Bowery in the East Village neighborhood of Manhattan. It was in the early 60s, however, when the religion for many who came to St. Mark's was music starting with jazz. In 1962 The Five-Spot opened at St. Mark's Place and it was one of the city's leading jazz clubs where many legendary jazz musicians such as Thelonious Monk, Charlie Parker and Charles Mingus regularly performed. In 1966 Andy Warhol and director Paul Morriseey opened a nightclub and discotheque called The Electric Circus at 19-25 St. Mark's Place in the East Village neighborhood of Manhattan. It served as a showcase for the Exploding Plastic Inevitable, Warhol's multimedia stage show for the Velvet Underground.
By the time the 70s came around the street that ran through St. Mark's Place was simmering with bands on the brink of greatness. It was the New York Punk Rock scene that brought it to its boiling point. In 1973 The New York Dolls were leading the movement along with bands like The Velvet Underground and The Stooges. For the back cover of their first LP released in 1973 The New York Dolls were photographed standing in front of Gem Spa, a newspaper, magazine and tobacco store located on the southwest corner of St. Mark's Place and Second Avenue, at 131 Second Avenue. New York Dolls guitarist Sylvain Sylvain even lived in the basement apartment of St. Mark's Place back in the mid 70s.
By the 80s St. Mark's Place had solidified its place in rock history and it was about to get even bigger. In 1981 The Stones decided to promote their latest single "Waiting On A Friend" by shooting a video there. Keith Richards and Mick Jagger can be seen walking the East Village street lookin' for a friend and they find more than a few on the stoop of 96–98 St. Mark's Place.
Five years after The Stones made some friends at St. Mark's Billy Joel stopped by to shoot his own video. The video for Joel's 1986 hit song "A Matter of Trust" was shot in the aforementioned Electric Circus building. The video also features extensive footage of the block outside of the building on a hot summer day in the city.
St. Mark's Place continued to host high-profile musical moments into the 90s. From 1995 to 1999, the building was home to Coney Island High, a live punk rock music venue which was notable for being the location of No Doubt's very first New York City performance. This building used to be the location of Sin-é, a neighborhood café where Jeff Buckley performed a regular spot on Monday nights. Other musicians such as David Gray and Katell Keineg also performed there before the café closed in the mid 90s.
Here are a few more notable music moments that either happened at or refer to the legendary St. Mark's Place in New York City:
- Lou Reed mentions St. Mark's Place in the third verse of his 1974 song "Sally Can't Dance": "Sally is losing her face/She lives on St. Marks Place/In a rent-controlled apartment, eighty dollars a month/She has lots of fun, she has lots of fun."
- The 1977 Tom Waits song "Potter's Field" includes a St. Mark's nod with the line: "You'll learn why liquor makes a stool pigeon rat on every face that ever left his shadow down on St. Mark's Place."
- The Replacements' 1987 song "Alex Chilton" contains the lyric: "Checkin' his stash by the trash at St. Mark's Place."
- The 2000 They Might Be Giants song "On The Drag" alludes to the allure of St. Mark's Place with the lyrics: "And your boyfriend's getting mad/At all the time you waste/Trying to put your finger on it/The allure of St. Marks place"
- Moe's 2005 song "New York City" pays homage to St. Mark's in the opening verse: "One-eyed man with a scar on his face and a peg leg/Drives his cab fifty miles-per-hour down Broadway/Looks at me with his crooked smile while Gershwin plays/Hits his brakes and points out the freaks on St. Marks Place"
Do you have a St. Mark's Place story you'd like to share? Let us know in the comment section below or through i95's Facebook page!
You can listen to Eric Senich live on Saturdays from 10am to 3pm on 95.1 FM. You can also listen online by clicking here or by downloading the i95 ROCK Mobile App.