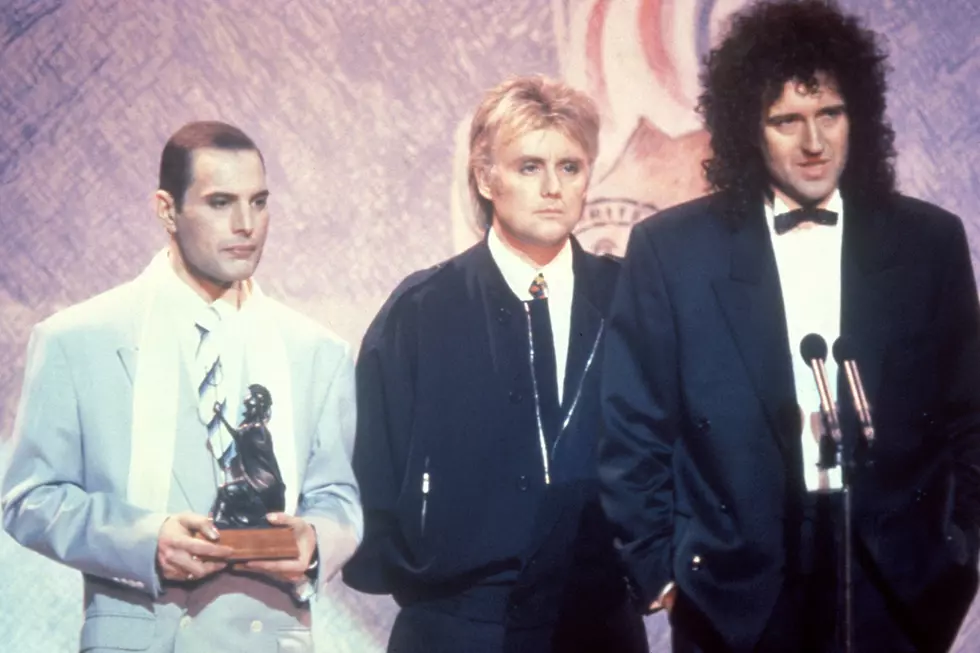 Revisiting Freddie Mercury's Final Public Appearance
Redferns, Getty Images
The 11th Brit Awards, held on Feb. 18, 1990, offered a moment of public triumph for the members of Queen. Privately, however, the band knew their dynamic frontman, Freddie Mercury, was gravely ill.
Rumors about Mercury's health had swirled for years, with the U.K. tabloid The Sun proving a particularly enthusiastic source of speculation; as far back as the fall of 1986, the paper insisted that the singer had been tested for HIV/AIDS. Mercury denied the reports, but — as it had with Elton John during roughly the same time period — The Sun knew sensationalism sold regardless of proof, and continued to publish Mercury gossip while hiring photographers to hound him.
In truth, while the public remained largely unaware of Mercury's AIDS diagnosis — which he reportedly received as early as the spring of 1987 — there were reasons to believe all was not well, among them the fact that Queen opted not to tour behind its 1989 album The Miracle. As guitarist Brian May later explained, although the decision to remain off the road was Mercury's, not even his bandmates really understood the nature of his health woes.
"We didn't know actually what was wrong for a very long time," said May years later. "We never talked about it and it was a sort of unwritten law that we didn't, because Freddie didn't want to. He just told us that he wasn't up to doing tours, and that's as far as it went. Gradually, I suppose in the last year and a bit, it became obvious what the problem was, or at least fairly obvious. We didn't know for sure."
It must have been fairly obvious by February 1990, when Queen took the stage at the Brit Awards to accept that year's Outstanding Contribution to British Music honor. Although the group had already started work on 1991's Innuendo LP, the members had adjusted their work schedule to accommodate Mercury's failing health, and would complete the record by following a pattern of spending three weeks in the studio followed by two weeks off. As they walked out to the podium together, anyone could see that Mercury seemed gaunt — and atypically reserved.
In fact, it was May who'd speak on Queen's behalf, stepping up to the mic to offer thanks after a glowing introduction from Chrysalis co-founder Terry Ellis and a star-studded testimonial video. Crediting "everyone in the industry — and, perhaps more importantly, outside the industry — who stuck behind us all these years" with giving the band "a lot of freedom to pursue what we loosely call our art to any extent we felt like at the time," May marveled at the way they'd wandered out on "a lot of strange limbs which seemed very precarious at the time, but we didn't quite fall off."
With that, and a joke about saying "a special thank you to the British petroleum industry for giving us this magnificent award in recognition of all the amounts of vinyl which we've recycled over the years," the group's time onstage that evening — and what would be Mercury's final public appearance — was over. Leaning briefly into the mic to say simply "Thank you ... goodnight," he exited with his bandmates.
Speculation continued to swirl following the Brit Awards, and The Sun continued prying, but Mercury maintained his privacy almost until the end of his life, declining to make any public announcements regarding his health until Nov. 23, 1991, when he confirmed his diagnosis. A little more than 24 hours later, he was gone.
See Queen Among the Top 200 '70s Rock Songs
You Think You Know Queen?