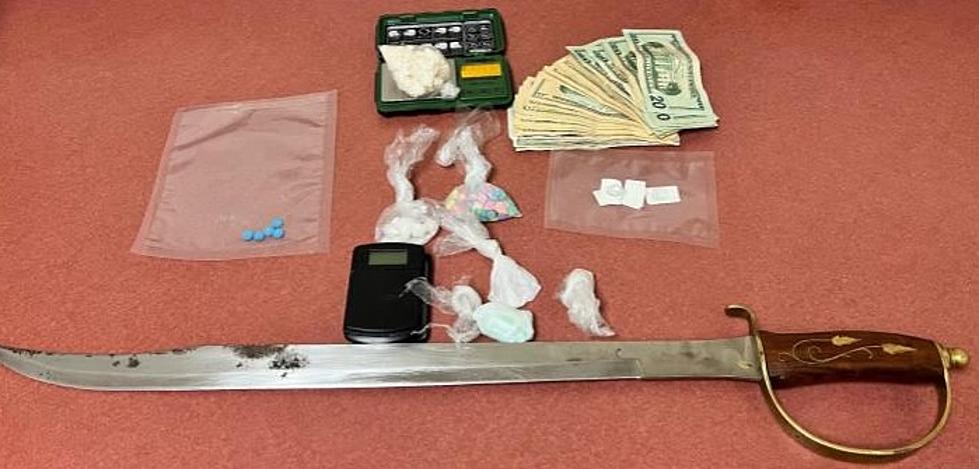 Did Anyone Tell You Danbury Police Pulled a Sword Off the Streets?
Danbury Police
"Medieval Crimes: Danbury Police Take Sword Off the Streets." That is the headline I wanted to use but I've been told it won't work on you.
How about this one? "Sword-id Affair: Cops Bust Three and Turn Up Sword During Drug Arrest." Nothing? Ah to hell with all of you!
You've probably heard by now the Danbury Police made a drug bust on Wednesday (9/13/23) but I'll bet I'm the only one who decided to highlight the weapon they found. Cops turned up a sword or a really big machete in their investigation.
According to a press release from the Danbury Police Department Detectives from the PD's Special Investigations Division (SID) and DEA agents have been investigating and 44 year old Avery Johnson. Johnson was under surveillance until Wednesday (9/13/23) when the investigation came to a boiling point. The press release states the following:
On this date, while under surveillance Johnson was observed meeting people at various locations conducting drug transactions. SID Detectives followed Johnson to the Citgo gas station on Main Street where he met up with two persons later identified as Delvie Horruitinel and James Kaffka. Believing it was another drug transaction SID Detectives stopped both and seized crack cocaine. Both were placed under arrest. Detectives and Agents continued to follow Johnson until he stopped in a driveway on Rowan Street. Upon stopping his vehicle, Detectives placed him under arrest.
Police say Johnson was being investigated as a result of community complaints about him dealing drugs in the area of Beaver Street and beyond. Authorities add that Johnson is a known drug dealer with convictions that go as far back as 1998. A search of Avery Johnson's vehicle allegedly produced the following:
52 Grams of Crack
1 gram Powder Cocaine
4 Glassine Bags of Fentanyl
71 Ecstasy Pills
61 Various Prescription Pills,
1 Digital Scale
$471 Cash
A Sword (Is this the Wire or is it real life in Danbury now? )
Yep a sword! Does that upset anyone else? I just have a hard time knowing dealers are going all Knights of the Round Table out there. Do I have to carry a bow and arrow to be safe in the Hat City? Because I will and I kind of want to now.
Johnson's bond was set at $350,000 and is facing the following charges:
Sale of a controlled substance
Possession of a controlled substance 8 counts
Possession with intent to sell 8 counts
Possession of Drug Paraphernalia
Weapon in a motor vehicle
Possession of a controlled substance within 200' of a housing complex 8 counts
We asked Danbury Mayor Dean Esposito about the bust on Thursday (9/14/23), listen below.
P.S. Full disclosure, I own a sword but I'm not bopping down Main Street with that bitch. People keep giving me exotic weapons as gifts and I just can't understand why?
Top 16 Signs You Got Your Dental Work Done in a Danbury Hotel
On Monday (4/17/23) we learned that Danbury Police broke up what could be a very dangerous operation. The Danbury Police Department arrested a man, they say was performing illegal dental work out of the La Quinta Hotel in the Hat City. In honor of this Earth shattering and potentially hilarious news, I bring you the Top 16 Signs You Got Your Dental Work Done in a Danbury Hotel.
CT's Top 25 Things to Do According to Online Travel Video Outlet
Ledger Travels recently (7/16/23) released their list of the Top 25 Things to Do in Connecticut. These are the Top 10.