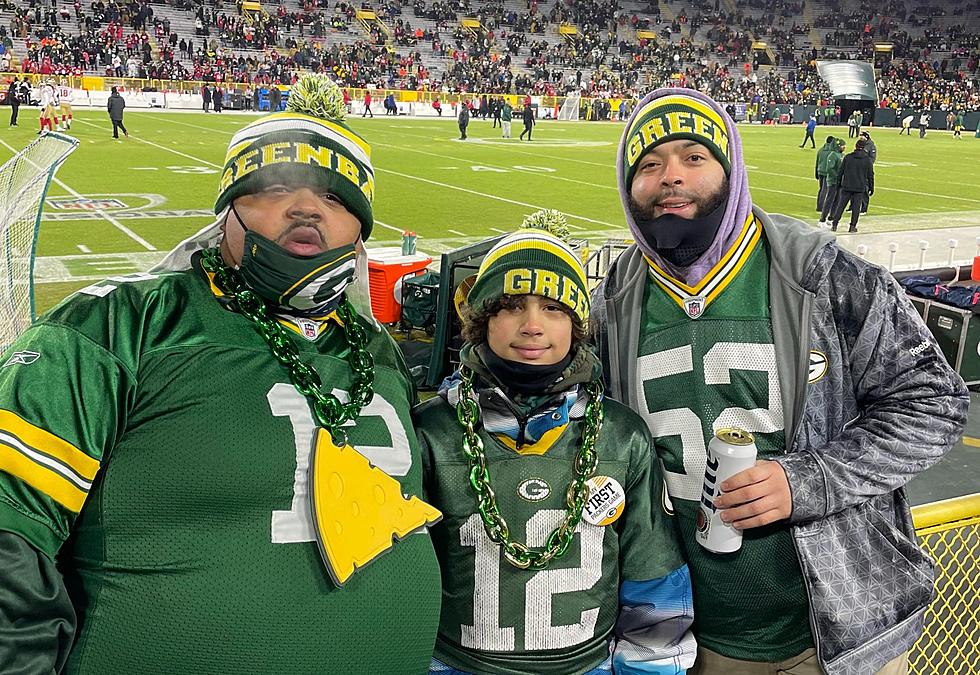 Danbury Father + Son Make Memorable Trek to Lambeau Field for Packers Playoff Game
Juan Reyes
Above is a photo of my wife Erica's cousins. On the left is Juan, Juan's son JJ in the middle and Juan's brother Javier on the right. Juan has a reserved, quiet personality, until you get him talking about football or his beloved Green Bay Packers, then he's got a lot to say.
On Saturday (1/22/22), the Danbury residents to went to the historic Lambeau Field in Wisconsin to see Green Bay Packers take on the San Francisco 49ers in the Divisional Round of the NFC playoffs. The 49ers would topple the Packers in a wild 13-10 finish but the loss will mean little, in comparison to the memories made this past weekend.
Danbury Father + Son Make Memorable Trek Lambeau Field for Packers Playoff Game
Juan, JJ and Javier are Danbury residents with a love for football, the Packers and family. The trio made a memorable trek to the "Frozen Tundra" on Saturday (1/22/22) and watched their favorite team lose to the 49ers but they will not look back and see a loss, instead they gained a moment in time that can never be erased. Juan is my wife's cousin, JJ is his son, Javier is Juan's brother and they are just three of my many "in-laws."
Sports fanaticism is very rarely about sports, at the center of it, is usually family, the sport is just the activity.
P.S. - I grew up in Brewster, NY and have been a Raiders fan my whole life, so I had to ask Juan the question that everyone asks me, why the Packers? He said "I moved to the states at 6 years old from the Dominican Republic, since CT has no pro teams, I picked based on players.
Those were the days of Favre, Sterling Sharpe and Reggie White." That is as good an answer, as any in my book, there usually isn't much that goes into the original decision to be a fan of a team, it kind of happens.
Brewster Gas Station Vacant for Years Could Now Be Brought Back to Life
Currently, gassing up in Brewster is a monumental pain in the ass. With a few exceptions, the gas stations in Southeast and the Village of Brewster are at best, inconvenient. The funny part is that most of them have convenience store attached to their name. In both the Village and Southeast the majority of the gas stations are either difficult to pull into or out of. Basically, trying to make a left in this town is impossible. Things may get better soon, thanks to a project that is underway to fix an old gas station.
Virtual Tour of New Fairfield Summer Camp for Sale on Candlewood Lake
Camp Candlewood was a Girl Scout camp for many years in New Fairfield, CT. The camp sits on the shores of Candlewood Lake, the largest lake in the Nutmeg State. The Girl Scouts of Connecticut decided to sell the property along with Camp Katoya in Milford and use money from the sale to improve other Girl Scout facilities.
You Know You're from Putnam Lake, NY If...
Putnam Lake is a Hamlet of the Town of Patterson, NY. "The Lake" was, and continues to be a great place to raise a family but it most certainly is not boring. People from surrounding communities have a lot to say about "Lakers", they just don't do it to your face.
Putnam Lake has a personality all it's own. "The Lake" is loaded with great people with wonderful personalities that all seem to have a few things in common. This is why it will be easy for those of you who lived there, to identify with the "You Know You're From Putnam Lake If.....Examples.