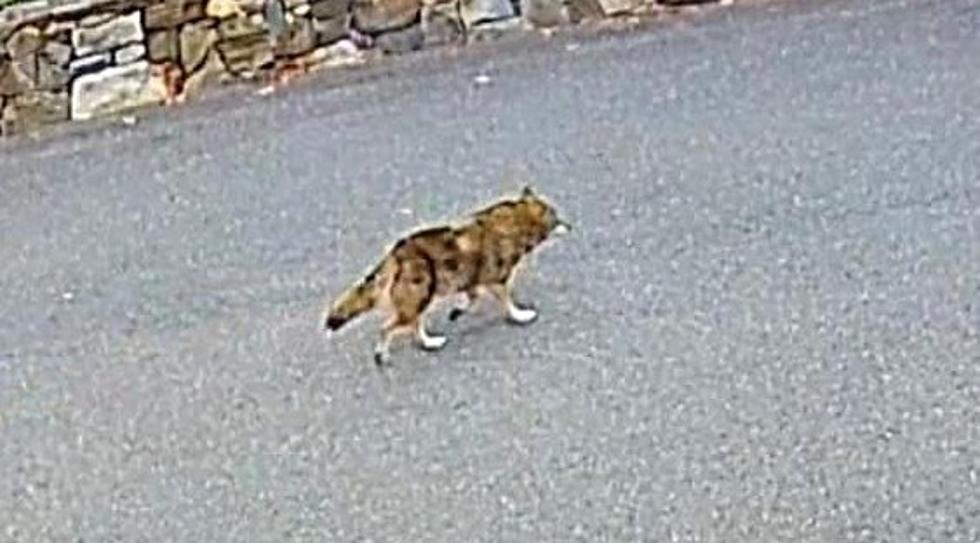 Daytime Coyote Sightings in Danbury, Keep An Eye On Your Small Pets
Tina Rodrigues Approved Image
It's cold, and they are hungry, and they are out there looking for prey. Monday night, I heard the howls, then, early Tuesday morning, neighbors spotted at least one coyote on the prowl.
This is not the first time a coyote has been spotted in the Stadley Rough, Great Plain area of Danbury. About a week ago, two coyotes were spotted traveling together through the neighborhood, and since many of the people in the area have small pets, it's become a neighborhood concern.
Is it unusual to see coyotes in the Danbury, CT area?
According to the Connecticut Department of Energy and Environmental Protection, the answer would be no.
The coyotes we see here in Connecticut are called Eastern Coyotes and were first spotted in the state in the 1950s. Over the years, the packs of coyotes have grown, and now they can be spotted in just about any part of the state.
Why are we seeing coyotes in these populated Connecticut neighborhoods?
Food sources are the number one reason we see these animals in and around our neighborhoods. Their diets consist mainly of mice, woodchucks, squirrels, rabbits, turkeys, deer, some plant fruits, and your garbage. They will also attack small pets, and poultry, and reports of them killing a pet outside in a yard is not out of the ordinary.
Many pet owners are not aware of coyotes being in a specific area and let their pets roam in their yard only to have a confrontation resulting in an attack that causes serious injury or even death to their pet.
When do coyote sightings typically happen in Connecticut?
These attacks mostly occur in the early morning or later in the evening, so if you have a small pet, then your best course of action is to accompany that pet outside or walk your pet on a leash, and, of course, always be aware of the danger.
What should I do if I come in contact with a coyote?
Animal experts all say that if you are confronted by a coyote, especially during the daytime, when they are more likely to attack a human, you should yell, wave your arms, and if possible, throw something at the coyote, never run away.
Just keep in mind that coyotes are generally wary of humans, so it shouldn't take much to drive them out of your yard, however they are much more dangerous when they are in a pack, and are more likely to attack you, your pet, even your children. The good news about this is that those particular coyote/human encounters are rare.
If you do spot a coyote in the area, or your having issues with them in your yard, you should contact the DEEP Wildlife Division in Connecticut at 860-424-3011, or you can contact the Danbury Animal Control on Plumtrees Road at (203) 748-6456.
RANKED: Here Are the 63 Smartest Dog Breeds
Does your loyal pup's breed make the list? Read on to see if you'll be bragging to the neighbors about your dog's intellectual prowess the next time you take your fur baby out for a walk. Don't worry: Even if your dog's breed doesn't land on the list, that doesn't mean he's not a good boy--some traits simply can't be measured.
LOOK: Here Are 30 Foods That Are Poisonous to Dogs
To prepare yourself for a potential incident, always keep your vet's phone number handy, along with an after-hours clinic you can call in an emergency. The ASPCA Animal Poison Control Center also has a hotline you can call at (888) 426-4435 for advice.
Even with all of these resources, however, the best cure for food poisoning is preventing it in the first place. To give you an idea of what human foods can be dangerous, Stacker has put together a slideshow of 30 common foods to avoid. Take a look to see if there are any that surprise you.
LOOK: Stunning animal photos from around the world
From grazing Tibetan antelope to migrating monarch butterflies, these 50 photos of wildlife around the world capture the staggering grace of the animal kingdom. The forthcoming gallery runs sequentially from air to land to water, and focuses on birds, land mammals, aquatic life, and insects as they work in pairs or groups, or sometimes all on their own.