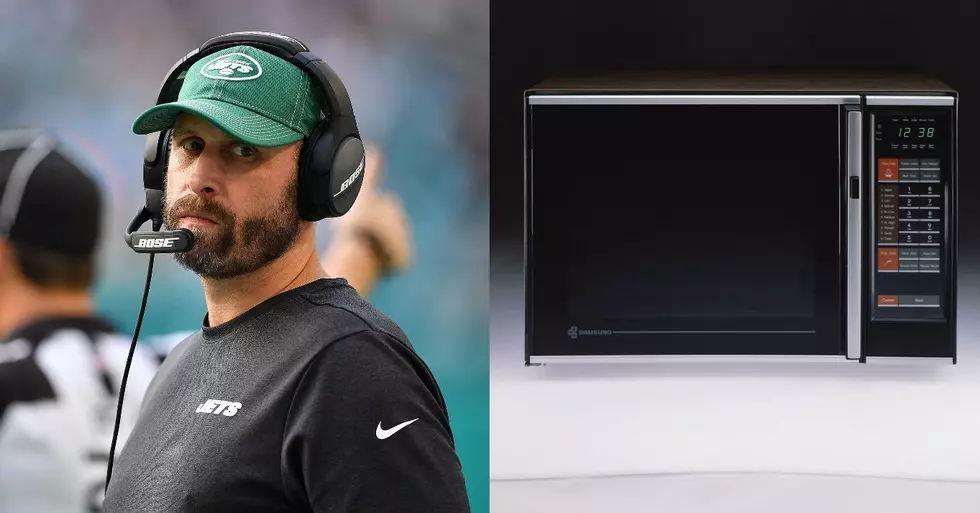 Better Coach, Adam Gase or a Microwave?
Getty Images/TSM
Last week Jets CEO Christopher Johnson called NY Jets Head Coach Adam Gase a "brilliant offensive mind." That quote came on the heels of the Jets Week One loss to the Bills. Sunday, the "brilliant offensive mind" got his team into the end zone once, in the fourth quarter in a 31-13 loss to the San Francisco 49ers.
That "brilliant offensive mind" is 30-36 in his career as a Head coach. He's given credit for so much and has done nothing. Adam Gase is a bad politician that keeps getting re-elected and I am tired for Jets fans.
I don't pay attention to the Miami Dolphins because, why would you? So, the first real attention I paid to Adam Gase was his press conference when he was introduced as the Head Coach of the NY Jets. I saw it immediately, this guys stinks. He's not even good at sucking because he lets these accolades about him being a "genius" and a "quarterback whisperer" linger.
I am supremely confident that I can do a better job coaching the Jets or any team than Adam Gase can do and I'm not kidding one bit. If you are a Jets fan, you should be offended every single day that the organization employs him.
They allow this to continue out of arrogance, they don't want to be wrong but they are. I know many of you Jets fans are Mets fans so you are familiar with a losing mentality that drags from decade to decade.
The Mets are finally about to get Steve Cohen, an owner that cannot be worse than the Wilpon's, congratulations on that. Now it's time to defund the Jets until the Johnson family can either leave or prove that they are willing to hire competent humans to run your football team.
Sam Darnold could be a really good quarterback in this league but the clock is ticking and mistakes are being made on epic levels by a guy that is not capable. Adam Gase is that guy.
Asking if Adam Gase or a microwave would be better fit to coach the Jets is not fair to the microwave but I'll still be Democratic about it.
Enter your number to get our free mobile app
9 Memorable Sports Illustrated Swimsuit Covers