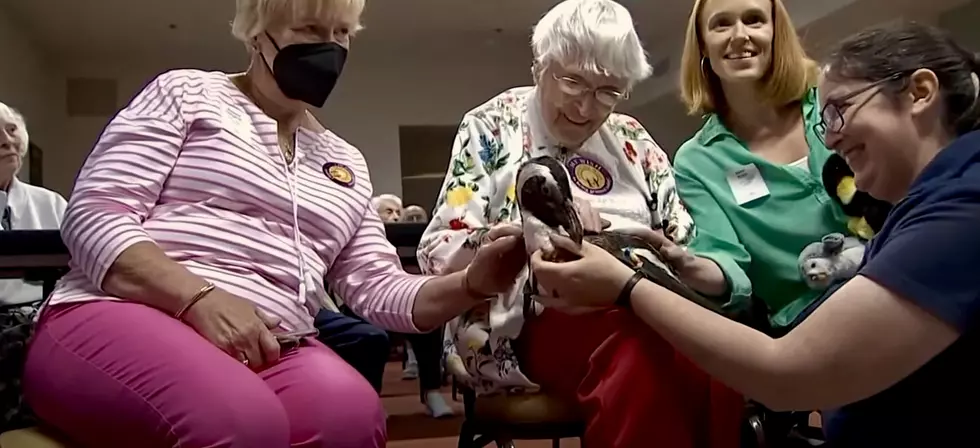 104-Year-Old Connecticut Woman's Penguin Wish Comes True
YouTube Video From WUSA9...
Bertha Komor turned 104 last December, and she told her friends and caregivers at Village Gate of Farmington that she's always wanted to pet a penguin and her friends made that wish come true.
On Wednesday, June 1, staff members from Mystic Aquarium brought a 35-year-old African Penguin named Red Green to the retirement home so Bertha could check off 'petting a penguin' from her bucket list.
Bertha told NBC Connecticut that "I never thought it would happen." She attributes her long life and happiness to her husband of 72 years. Together they had three children, four grandchildren, and six great-grandchildren.
The Twilight Wish Foundation helped make Bertha's wish a reality. Their purpose is to celebrate seniors by making their dreams come true. Check out the video of Bertha and how they made her want to come true. Because I am also a huge Penguin fan, let's lay out some fun penguin facts.
A group of penguins in the water is called a raft, but on land, they're called a waddle!
The black and white "tuxedo" look donned by most penguin species is a clever camouflage called countershading.
Penguins evolved to fly underwater.
Contrary to famous holiday cartoons, you'll never see penguins and polar bears together in the wild.
Many male penguins gift the females with rocks to woo them.
According to some animal experts, the penguin is one of the most streamlined animals in the world.
CT Man Overcomes Emotional Trauma With Wildlife Photography
Tim Kaiser is a former I-95 radio personality that I lost touch with some years ago. Tim reappeared in my Instagram direct messages with photos and a story I had to share with you. His story, is one of overcoming life's obstacles and finding beauty in a world with so much pain.
I asked for Tim's permission to share a letter he wrote me and he said yes. The words below are his, they reflect his emotional suffering and his brave journey to combat life's challenges with the beauty of nature. This is the story of how a CT man has overcome emotional trauma with photography and nature. The pictures below were all taken in Washington and Woodbury, CT.
Yale's Mascot - Handsome Dan XIX
Buddy the Beefalo Documentary Image Gallery