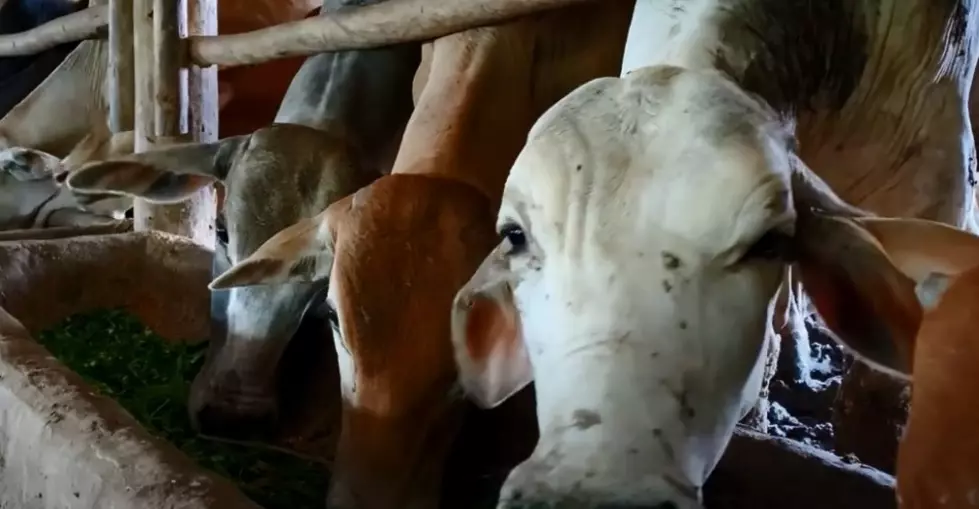 10 Educational Steps to Keeping a New Milford Cow Happy
New Milford NOW!
How does Dan Weed and Deerfield Farm keep their cows happy?
It's a 10 part, laborious process that they explained in the short (3-min) film. The film was posted by New Milford NOW!, shot and edited by Grant Dupill with cooperation from Deerfield Farm. It's called "Keeping the Cows Happy: Corn Silage Production in New Milford, CT."
10 Educational Steps to Keeping a New Milford Cow Happy
These are the 10 steps to keeping a New Milford Cow Happy. I already reviewed them and I'm going to need one more go-round.
Those are probably the 10 steps to keeping any cows happy but there may be something special about New Milford cows, it's a special place.
Oh, I almost forgot STEP #11 - Don't wave steaks in their face.
Film Below 
I reached out to the videographer Grant Dupill to ask him more about this project, why he chose to highlight Dan Weed and his passion for New Milford.
Tell us about this project...
"Hey Lou good morning and thank you for your kind words. I am a videographer by trade and currently work for the Town of New Milford creating mainly digital media to inform residents of Town activities, events, and provide a link to government through live-streams and other channels. Part of what I do is highlight our businesses and individuals that make the community so unique and awesome.
Why Deerfield? Why Dan? Why did you think this was a worthwhile short-story?
Dan Weed is a local multi-generational farmer and I am currently in the works of a feature piece on him and Deerefield Farm. I have been shooting some b-roll and action shots of his various activities this Summer as part of that, and after filming the corn chopping felt there was enough of a story and material to make a quick explainer piece out that footage as many may nit understand what "cow corn", a huge part of agriculture here really is about and how it is turned into feed for livestock. I find farming to be fascinating and the people that do it are amazingly hardworking and generally super cool people and wish to highlight their endeavors as it is part of New Milford's rich history.
You really love your town? 
And yes, I do absolutely love this Town and wish to continue to create media that not only informs, but speaks to it's diversity and beauty."
I also got a chance reach out to Farmer Dan Weed and I asked him some of the same questions.
I asked him why he did this project? 
"Grant works for the town of New Milford, promoting small business.  As a small business he asked if it was OK to film us harvesting crops this season. I said of course."
We hear about challenges that farmers face, is the struggle real?
"Every year as a farmer is a struggle. This year the struggle has been input costs. Fuel is a major expense and our fertilizer went up %60 this year and we can't raise our prices that high to equal out."
You seem to love your community, tell us how you feel about New Milford....
"I love New Milford! I was born in New Milford hospital, I was raised on a farm at sunny valley. My parents still farm that land.   I love what New Milford has to offer, from the great restaurants, farms,  people , the the scenic areas. Best town is the USA!"
P.S. This film is pretty and relaxing, on the whole, it's pretty relaxing. I just find it comforting that this beautiful place is just down the road. I find it comforting that people still make their living off the land, and spend all day outside. There are some days when I've been staring at a screen for over 12 hours. I love my job but that is not how life was meant to be lived.
Danbury Police Say They Busted Repeat Criminal Busted With Drugs, Guns + Cash
Danbury Police arrested Joel Albarran on Thursday (6/16/22) and say they found illegal drugs, guns and cash after a search. Albarran's bond was set at $250,000 and he faces the following charges:
The First Night of the Danbury San Gennaro Festival Was a Huge Hit
The Italian culture can be explained in one word, Sunday. Being an Italian-American means, there are certainties on Sunday, Food, family and laughter. Trust me when I tell you, everyday is Sunday at San Gennaro.