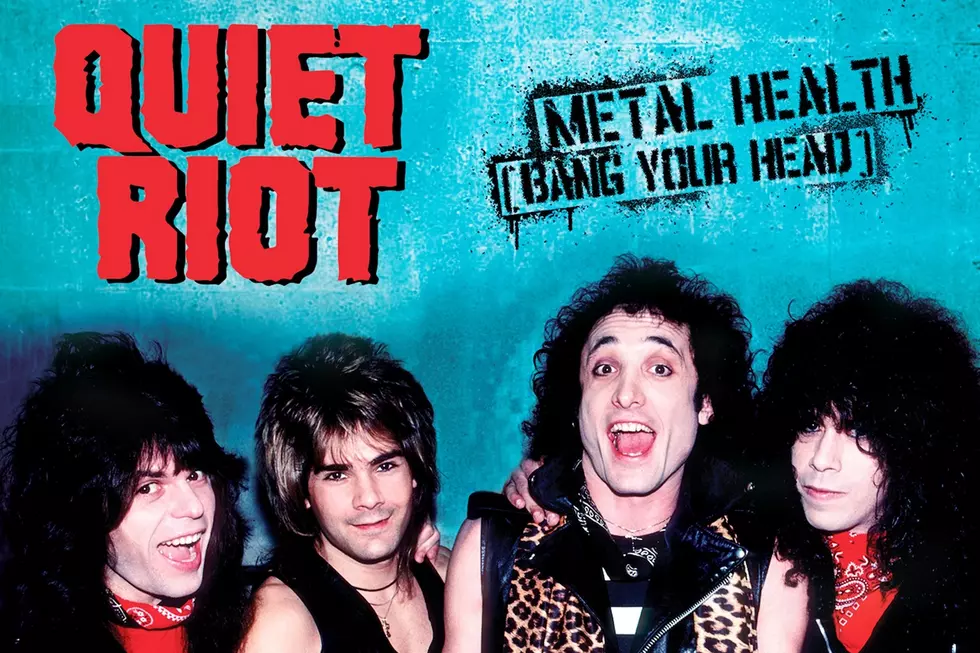 How Quiet Riot Scored Their Anthem With 'Metal Health'
Pasha
Quiet Riot singer Kevin DuBrow stood at the lip of the Glen Helen Regional Park stage on May 29, 1983, and delivered a simple exhortation to the roughly 300,000 people sprawled out before him: "Bang your head!"
The Los Angeles rockers kicked off day two of the second and final US Festival in San Bernardino, Calif., warming up the stage for Motley Crue, Ozzy Osbourne, Judas Priest, Triumph, Scorpions and Van Halen. They closed their 40-minute set with "Metal Health (Bang Your Head)," the title track off their recently released third album. The single and LP had recently begun to gather steam, and by the end of the year, Quiet Riot would have a definitive metal anthem — and the biggest album in the country.
They struggled mightily to get there. Formed in 1973 by six-string wunderkind Randy Rhoads and bassist Kelly Garni (later replaced by Rudy Sarzo), Quiet Riot gigged relentlessly on the Sunset Strip to no avail, releasing two Japan-only albums in 1978 but failing to secure U.S. distribution. They disbanded shortly after Rhoads and Sarzo were drafted into Osbourne's solo band, reuniting two years later at the urging of producer and Pasha Records founder Spencer Proffer.
Pasha had distribution through CBS Records, and Proffer was looking for a band to cover Slade's 1973 U.K. glam-rock smash "Cum on Feel the Noize" in the hopes of getting it through the CBS pipeline. When he met DuBrow — who was then fronting a solo band of the same name — he made a deal with the cocksure singer: Cut a version of "Cum on Feel the Noize," and Proffer would record three of their originals for free.
Watch Quiet Riot Play 'Metal Health (Bang Your Head)' at the US Festival
DuBrow agreed and hit the studio with drummer Frankie Banali, guitarist Carlos Cavazo and Sarzo, who had become disillusioned with playing music after Rhoads died in March 1982. They revived the Quiet Riot name and recorded the beginnings of Metal Health, including a riotous rendition of "Cum on Feel the Noize" that succeeded despite their best efforts to sabotage it.
Sarzo's experience touring the U.K. with Osbourne inspired the "Bang your head" refrain to Metal Health's title track, which was originally called "No More Booze." "The 'Bang your head' line was pure Kevin, but the idea came from Rudy," Banali told Classic Rock in 2015. "He told Kevin about English fans playing air guitar and moving their heads as if banging them on the stage. So Kevin took the ball and ran with it."
The song's midtempo stomp was inspired by one of Quiet Riot's mega-selling contemporaries. "Kevin and I spent a lot of time working on that song, and at that point in time, we were huge fans of AC/DC, so we wanted something that had a very simple, straight-ahead groove at a certain tempo," Banali told Songfacts in 2017. "And then Kevin just ran with the lyrics, mostly from personal experiences. Especially the line, 'I've got a mouth like an alligator,' because as we all know, Kevin spoke his mind quite often."
Proffer convinced an apathetic CBS to let him finish making Metal Health, which came out on March 11, 1983. He was one of the few people at the time who saw the title track's potential.
"I thought Quiet Riot's 'Bang Your Head' could be an anthem for the time," Proffer told Richard Bienstock and Tom Beaujour in their 2021 book Nothin' but a Good Time. "But it was a bitch to get it played. I had to mortgage relationships in a couple of markets. I called program directors personally. And there were only four or five markets in the country that played 'Bang Your Head.'"
The few markets that took a chance on the song saw immediate returns. "They put it on the air, and within two to three days, that record soared to be the most requested record on their stations," Proffer said. "And that was the beginning. Then a guy I was socially friendly with named Les Garland became head of programming at MTV. Les called me up and he goes, 'Hey man, you've got a really cool record happening in Texas and Oklahoma. Would you give me a video?' I said, 'Sure.'"
Watch Quiet Riot's 'Metal Health (Bang Your Head)' Video
The band recorded the "Metal Health (Bang Your Head)" video at the California Institute of the Arts for a measly $19,000. DuBrow, dressed in the red straitjacket and iconic facemask that adorned the cover of Metal Health, rages inside a padded cell before escaping and joining his bandmates onstage, playing to a rowdy audience of CalArts students cast as extras.
The gambit paid off. "Les put it on the air at 3 in the morning, the phones went berserk," Proffer recalled. "Four days later he moved it to midnight, the phones went berserk. Five hundred thousand units later, my friends at CBS, they were my best friends, man. I couldn't do more for them!"
Keen to strike while the iron was hot, CBS and Pasha released released "Cum on Feel the Noize" as the second Metal Health single a few months later. It rocketed to No. 5 on the Billboard Hot 100, and Metal Health dethroned the Police's Synchronicity atop the Billboard 200, becoming the first metal album in history to top the chart. In the wake of its success, "Metal Health (Bang Your Head)" also entered the Hot 100, peaking at No. 31 in February 1984.
It was a defining moment in hard rock and for Quiet Riot, whose flame would begin to flicker on 1984's slapdash Condition Critical. But for the time being, they were determined to savor the spotlight after years of toiling in obscurity. "It's real satisfying after hearing the same words all the time in the old days," DuBrow crowed to Kerrang! in a 1983 cover story. "'Quiet Riot? They'll never make it!' I have to laugh at that."
Top 30 Glam Metal Albums
There's nothing guilty about these pleasures.