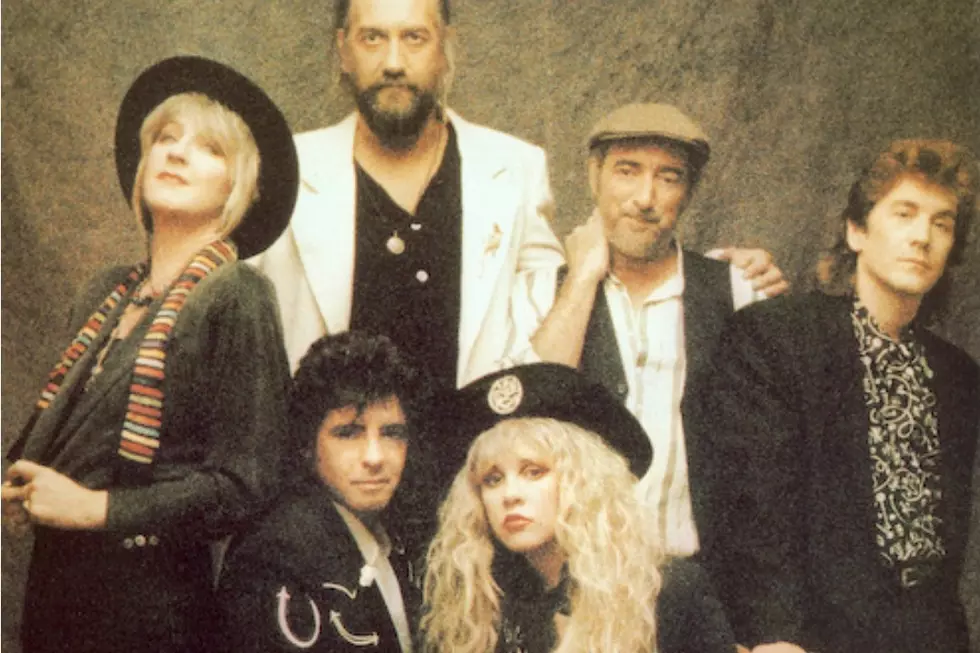 How Fleetwood Mac Tried to Move on With 'Behind the Mask'
Warner Bros.
By the time they achieved massive mainstream success in the mid-'70s, Fleetwood Mac had already been through more lineup changes than most bands manage in their entire careers. Rumours, their best-selling album, was partly inspired by a pair of collapsing relationships between bandmates.
They were accustomed to forging on in the face of personal and professional drama, in other words — but even so, the trials they faced before recording 1990's Behind the Mask, their 15th studio album, proved particularly threatening. All things considered, it should have been an easy time for Fleetwood Mac, who battled back from some early '80s doldrums with 1987's commercially resurgent Tango in the Night.
With another multiplatinum hit at their backs and a fresh slew of Top 40 singles marching up the charts, the band might have been able to settle into the sort of groove that had proven difficult in the years after Rumours' unwieldy success, if not for one thing: the inconveniently timed exit of guitarist Lindsey Buckingham, whose songwriting and meticulous studio work had increasingly come to define their sound.
Buckingham's departure was confirmed in the summer of 1988, causing the band to scramble to fill his parts before their tour for Tango. It was just the kind of painful and potentially disastrous conflict that the band had unfortunately become known for, but as drummer Mick Fleetwood later admitted, the split was a long time coming — and exacerbated by moves the other band members had made in the years leading up to it.
Admitting the group essentially tricked Buckingham into co-producing Tango in the Night by hiring a producer they knew he wouldn't want to work with, Fleetwood told Q the guitarist's long exit from the band ultimately came down to his unwillingness to tour. 
"He didn't want to go out on the road, and we knew that, and he kept putting us off," explained Fleetwood. "We said, 'You – out of anyone with the amount of work you put into this album – you're not going out on the road? That's crazy! You want to piss this down the drain? Don't you want people to hear this?' But by saying we were going anyway, we got him off the fence. He said he'd do it."
Buckingham had a list of conditions for the tour, however. "He said he wanted two, maybe three, other guitar players, percussion players, all sorts of interesting things. So, now we were over a barrel," Fleetwood recalled. "'Whatever you want,' we said, 'Just let's get out there.' For a while he looked as if he was going to do it – but he changed his mind after we booked the tour. It was not amusing."
As many problems as Buckingham's sudden change of heart may have caused, Fleetwood professed no hard feelings after the split: "He'd realized he'd been forced into a situation and had cracked. He said that touring would have destroyed him and been hell for everyone else, and that's not what this is all about. He made the right decision," Fleetwood said.
Buckingham, for his part, didn't "blame them for any tactics they might have used. It was natural. I was trying to be a nice guy, but I really didn't want to do the tour. I said no, then I said, 'Oh, okay.' They said, 'Good, let's all go out to dinner and have fun,'" he conceded to Q in 1992. "I didn't even show up at the restaurant — that's how close I was to not doing it. I finally said I could not do it. It wasn't just the touring. I had to jump this bridge and take a little responsibility for my own happiness and creativity, because it's a little bit overdue. It was tough telling them, not a happy day."
It was ultimately on the Tango in the Night tour that Fleetwood Mac tested out Buckingham's successors. Drafting rhythm guitarist Billy Burnette from Fleetwood's side project the Zoo and adding Bob Seger sideman Rick Vito on lead guitar, the new lineup solidified its chemistry in front of thousands of fans before heading into the studio for Behind the Mask. "It was almost predetermined that they would join after Lindsey left," Fleetwood told the Pioneer Press. "They turned what could have been a catastrophic event into a smooth transition."
Listen to Fleetwood Mac Perform 'Skies the Limit'
Vito, speaking back then to the New Jersey Record, said he and Burnette "play well off one another. He's not some frustrated lead guitarist, but rather he's extremely inventive on rhythm guitar. He'll craft parts that are uniquely his own, as well as being complementary to what I'm doing. We got to know each other musically by playing together and exciting the people. It was a real confidence booster that carried over when we headed into the studio."
Fans may have been disappointed by Buckingham's absence, but Fleetwood Mac ultimately saw it as restoring a spark that had been increasingly absent during the past few years of his tenure. "We had been sitting around for years not doing too much, and Fleetwood Mac had started to drift apart," mused Fleetwood after Behind the Mask's arrival. "But his departure brought about a real commitment by the rest of us to what we're doing."
Long-time singer and keyboardist Christine McVie agreed. "I like the fact that we really did pull it off," she told Rolling Stone. "The record was well arranged and well thought out, despite the fact that Lindsey wasn't there."
Fleetwood confirmed that McVie filled whatever leadership void remained. "Christine really took the bull by the horns this time," he said during a conversation with the Boston Globe. "And with Lindsey gone, the older members of the band enjoyed getting back to how we used to make albums. It was very much a team effort. ... No offense to Lindsey, but he was becoming obsessive in the studio and we were beginning to take a backseat."
The newly collaborative spirit Fleetwood felt was reflected in the Behind the Mask songwriting credits, which were spread fairly evenly between an expanded roster of writers that now included Burnette, Vito, McVie and singer Stevie Nicks, as well as their attendant collaborators. But if the atmosphere was more relaxed in the studio — Buckingham even showed up for a cameo, contributing acoustic guitar to the title track — it didn't necessarily add up to music that captivated fans.
While it would be unfair to call Behind the Mask a flop, it didn't come anywhere near the level of sales success the band enjoyed with Tango in the Night, topping out at No. 18 during a relatively brief stay on the chart and sending only one song, "Save Me," into the lower reaches of the Top 40. Although "Save Me" was an adult contemporary hit, as was "Skies the Limit," the album couldn't help but feel like a comedown.
Fleetwood Mac were also far from settled on the lineup front. The band's 1990 tour would prove to be the only one mounted by the six-piece roster responsible for Behind the Mask; by the end of the year, both McVie and Nicks would depart, along with Vito. McVie returned for the group's next outing, 1995's little-heard Time, but most of the next decade was spent with the band in varying degrees of flux.
The classic Rumours-era lineup finally realigned for 1997's wildly successful live album The Dance and subsequent tour, and while McVie left again after that, she's currently back in the fold for yet another tour and new album — a cycle that Vito unwittingly predicted when he weighed in on the risks of joining a band with so many stormy chapters in its past.
"Who knows what will happen? But I think the turbulence that seems to surround this band is part of its allure," Vito said in 1990. "They always seem to be flirting at the edge of the precipice. But they always seem to endure."
Rejected Original Titles of 30 Classic Albums
Titles are more than just words on the album covers. They're reflections of the music and themes inside – and sometimes they make all the difference in the world.
Rock Feuds: Stevie Nicks vs. Lindsey Buckingham