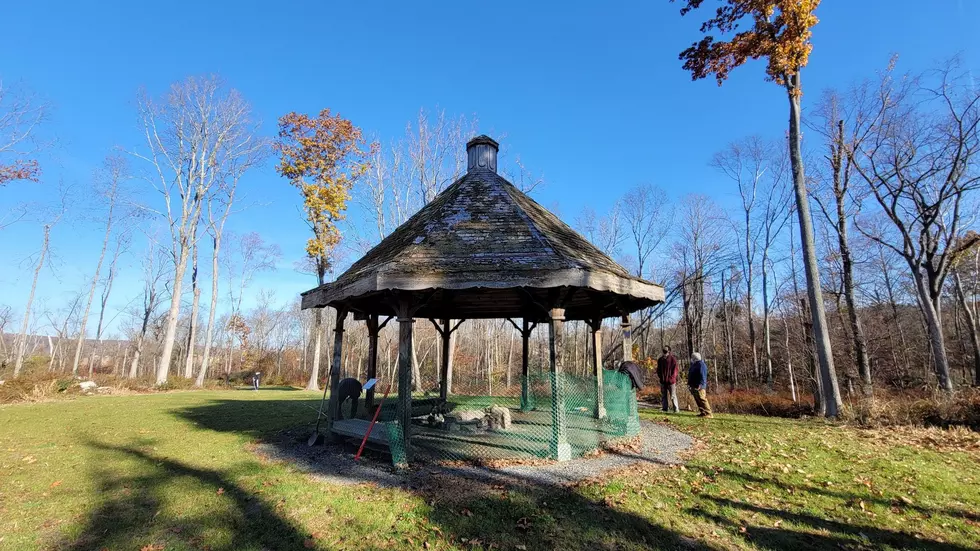 Eagle Scout Looks To Restore Gazebo At Brookfield Greenway
SRG Facebook Image
In what looks to be a very aggressive project, a Brookfield Eagle scout has his sights set on restoring the old gazebo at the Brookfield Still River Greenway.
His name is Connor Carlson, and he is an Eagle scout with Troop 135 in Brookfield, and as part of his Eagle project, he intends on restoring the old gazebo that has been a part of the Still River Greenway long before the Greenway was even renovated.
Over the years, the structure fell into disrepair, and with the strong storms over the last few years, it is in danger of collapsing. It was recently fenced off to keep people away from the gazebo, which has been deemed unsafe.
Connors vision includes a massive overhaul of the structure, and according to a website, "Help Save The SRG Gazebo" created specifically for the project, he explains what this job will entail:
Beginning in April 2021, Brookfield BSA Troop 135 will be working to restore the Still River Gazebo. We will straighten, strengthen, and rebuild the structure until it is once again a lovely spot to relax with friends and family. In addition, we will add a handicap ramp so that everyone can easily approach and enjoy the gazebo. To accomplish all this, we need you to support our project, to help fund building supplies and the work of a professional roofer. My birthday is June and that means that our mandatory completion date is May  first.

 
Connor is asking the public for any type of support, and there are a few ways to help in this restoration. You can make a monetary contribution through a PayPal page set up, or you can send a check to help fund the project to Brookfield Troop 135, PO Box 139, Brookfield, CT. 06804.
Enter your number to get our free mobile app
9 Famous People You Didn't Even Know Where From Connecticut