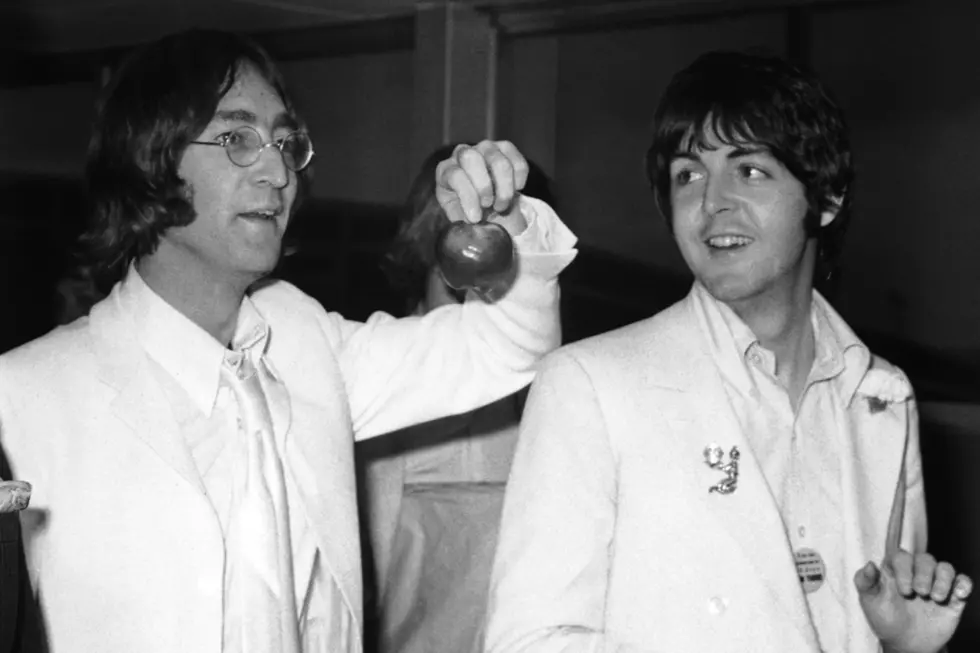 The Day the Beatles Began Recording the White Album
Hulton Archive, Getty Images
The Beatles began working on a new album in May 1968, nearly a year after the release of the triumphant Sgt. Pepper's Lonely Hearts Club Band and a few months after the major movie blunder Magical Mystery Tour. They had been writing songs (including "Dear Prudence," "Mother Nature's Son" and "Sexy Sadie") during a trip to India earlier in the year, and later made demo versions at George Harrison's bungalow in Esher, England.
Astounded by the amount of material they already had (23 tunes were finished at Harrison's place), the Beatles decided that a single LP wouldn't be enough to contain the sheer volume of music they had written. So the band prepared to make its first double album.
Recording for The Beatles (which would eventually simply be known as the White Album) began at 2:30PM on May 30, 1968, at EMI Studios on Abbey Road in London. All members were present for the first day along with John Lennon's new girlfriend Yoko Ono, who would become a fixture at Beatles sessions for the rest of the band's run.
Over the next few months, the Beatles would become more fractured, with members working in separate studios on their own songs, culminating in Ringo Starr quitting the band – although he returned after a couple of weeks and after much begging from his bandmates. But at the first session, all four Beatles worked together on Lennon's "Revolution 1" (simply called "Revolution" at the time). He had started writing the song – a response to the antiwar protests that raged on in America and the recent assassination of Martin Luther King Jr. – in India and continued working on it after returning to England.
The quartet laid down 16 takes of the song, although the last one was markedly different, stretched out to more than 10 minutes and ending with six minutes of feedback, screaming and moaning, some of it from Ono. The White Album's infamous "Revolution 9" sound collage came from the improvisational coda.
The first part of the song would undergo its own changes. In order to get Harrison and Paul McCartney's approval to release "Revolution" as a single, Lennon had the band record a faster version of "Revolution," which was released as the b-side to "Hey Jude" more than four months before the White Album came out.
The original, more deliberate version was renamed "Revolution 1" and kicked off side four of The Beatles (which also included "Revolution 9" but not the single version of the song). The band's most varied collection of music was released as a double LP on Nov. 22, 1968, in the U.K. and three days later in the U.S.
The Stories Behind Every Beatles LP Cover
In some ways, the Beatles' album art could be just as fascinating as the music inside.
Who Was the Fifth Beatle?